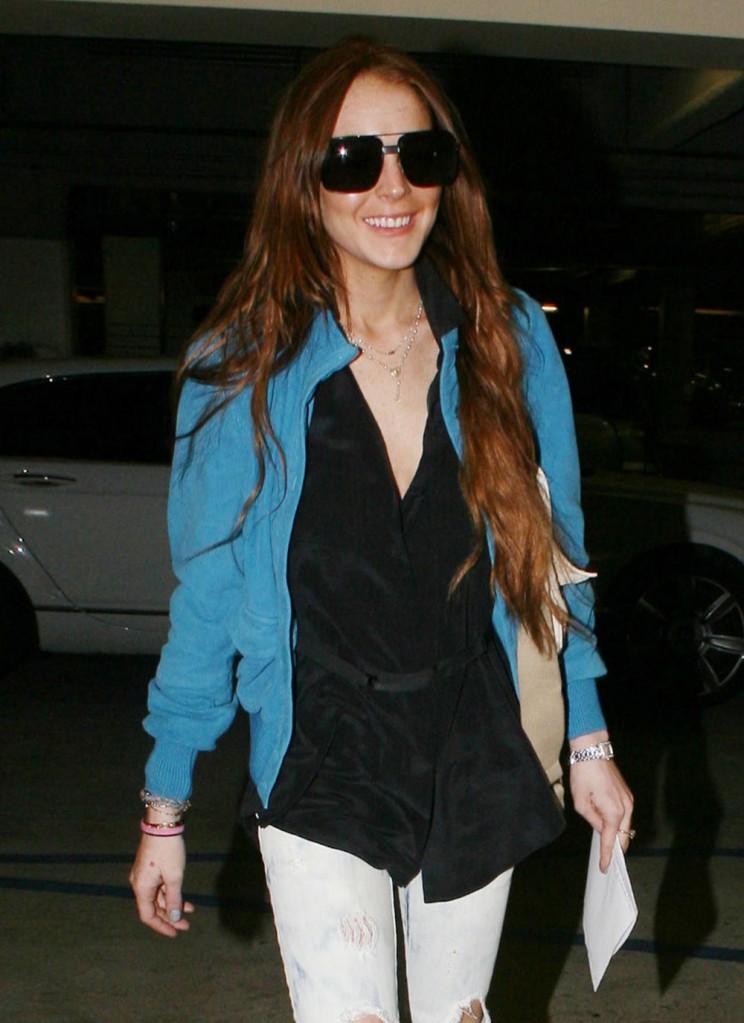 The tabloids are full of news about the Lindsay Lohan and Samantha Ronson split this week. The National Enquirer reports that Lindsay was so heartbroken when Sam split up with her that she asked her to marry her. Star Magazine also claims that Lindsay wants Sam back, but adds that she's trying to get a cut of Sam's earnings, which she feels she's entitled to as the more famous person who helped Sam increase her DJ fees several fold. Lindsay is also said to be partying and doing drugs to cope with the breakup and is thought to be in a bad place, which we've been hearing for a while now.
For Lindsay, the only one who can stop her freefall is Samanth, and she's been obsessively trying to track her ex's every move. "She called one of her friends at 3 a.m. the other night because she heard Sam was out and she wanted to know where she could find her," says an insider. "She's totally stalking Sam, she's so obsessive and desperate!" Lindsay showed up at three different L.A. clubs on April 9, hunting for Samantha…

When Lindsay's not chasing after Sam, she's bombarding her with phone calls, begging the DJ to take her back – but to no avail. "Sam's not budging," says the insider. "She's hurt by the split too, but being with Lindsay was just too much drama all the time. She's had enough."

One of the problems Sam has with Lindsay is that she always paid for everything. And now, even though they're broken up, Lindsay thinks she deserves the same treatment and is demanding palimony from! "Before Lindsay, Sam was making $10,000 a DJ gig," notes an insider. "Now she makes $100,000. Lindsay wants a cut, like 10 percent of her future earnings for the next five years."

Perhaps in an effort to derail her palimony plans, Samantha gave Lindsay hope for a reunion during one call, urging her to check into rehab and hinting that when she completes treatment, "we'll see" about getting back together, says a source.
[From Star Magazine, print edition, April 27, 2009]
Breakups can be incredibly painful and hopefully Lindsay will be able to pull herself out of this downward spiral and move on. She's been boozing and doing drugs according to many reports and will need to get sober in order to get her head cleared and recover from her addictions to both substances and drama-filled relationships. I don't want to keep reading about her for the next few months and years and would rather know that she's in a better place emotionally.
Lindsay Lohan is shown out on 4/15/09. Credit: Fame Pictures