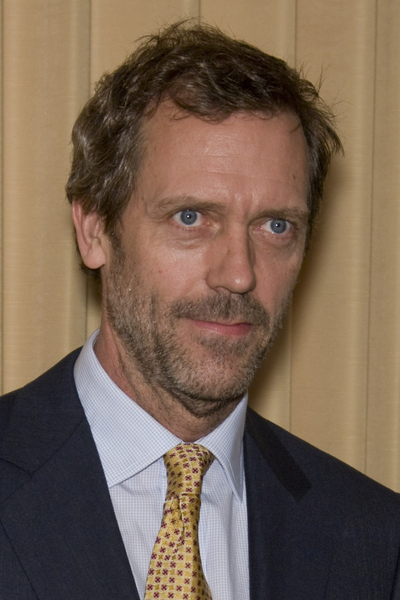 There has been an influx of British actors into American television over the course of the past decade, and one of my favorites is Hugh Laurie. When I hear him speak in his beautiful English accent, I get a little swoony. But in character as American Dr. Gregory House, he scares me a little. House is a great character for him, I think because Hugh Laurie really stretches out his range. Dr. House is such a self-centered bastard, where Hugh comes across as an old-fashioned, eccentric, soft-spoken English gentleman.
There's a fury in Hugh Laurie though, especially when he sees a wrong he wants to correct. Recently, on the set of House, an assistant director was shouting at some extras. In general, the guy was a bully. Hugh took note, and instead of taking the crew guy aside and having a word, Hugh ripped into the guy in front of people. The National Enquirer has the story:
Normally a laid back, perfect gentleman, Hugh Laurie suddenly scared the hell out of his House mates when he ripped into an assistant director for bellowing and harassing extras.

After Hugh heard Bully Boy rip into the extras telling them to "shut up and pay attention," he reacted with a huge Hugh and cry – springing from his seat, getting in the jerk's face and snarling: "These are people, my friend, and you will treat them as such or you will NOT be working here!"

Bully Boy immediately backed down, but when he tried to walk away, Laurie stopped him and demanded: "Don't you have something you'd like to say to these good people… like 'I'm sorry!'?"

Chastised Chump sheepishly offered apologies to everyone and swiftly split!
[From The National Enquirer print edition April 27, 2009]
I think Hugh did the right thing. Sometimes bullies need to be publicly shamed, or at least taken down a notch. Hugh is one of the highest-paid men in television, and I'd bet that he gets a say in which crew members stay or go. It's always nice to hear about a big actor standing up for those younger (or less experienced) actors who are struggling.
It reminds me of my first job out of college, actually. I had a pretty good relationship with my boss, but he had a hair trigger temper. One day, he took out his problems on me for no reason. He screamed at me and belittled me for what seemed like an hour. Then I quit, walked out and started to make my way home. An hour later I got a groveling, apology-filled call from the guy begging me to come back. After I had left, several of the guys I was working with basically took our boss to the woodshed, and threatened to quit too. The boss was humbled and he never spoke to me or anyone else like that again… or at least until we all lost our jobs several months later.
Here's Hugh Laurie is shown at the PRISM Awards on 4/24/08. Images thanks to PR Photos.com.