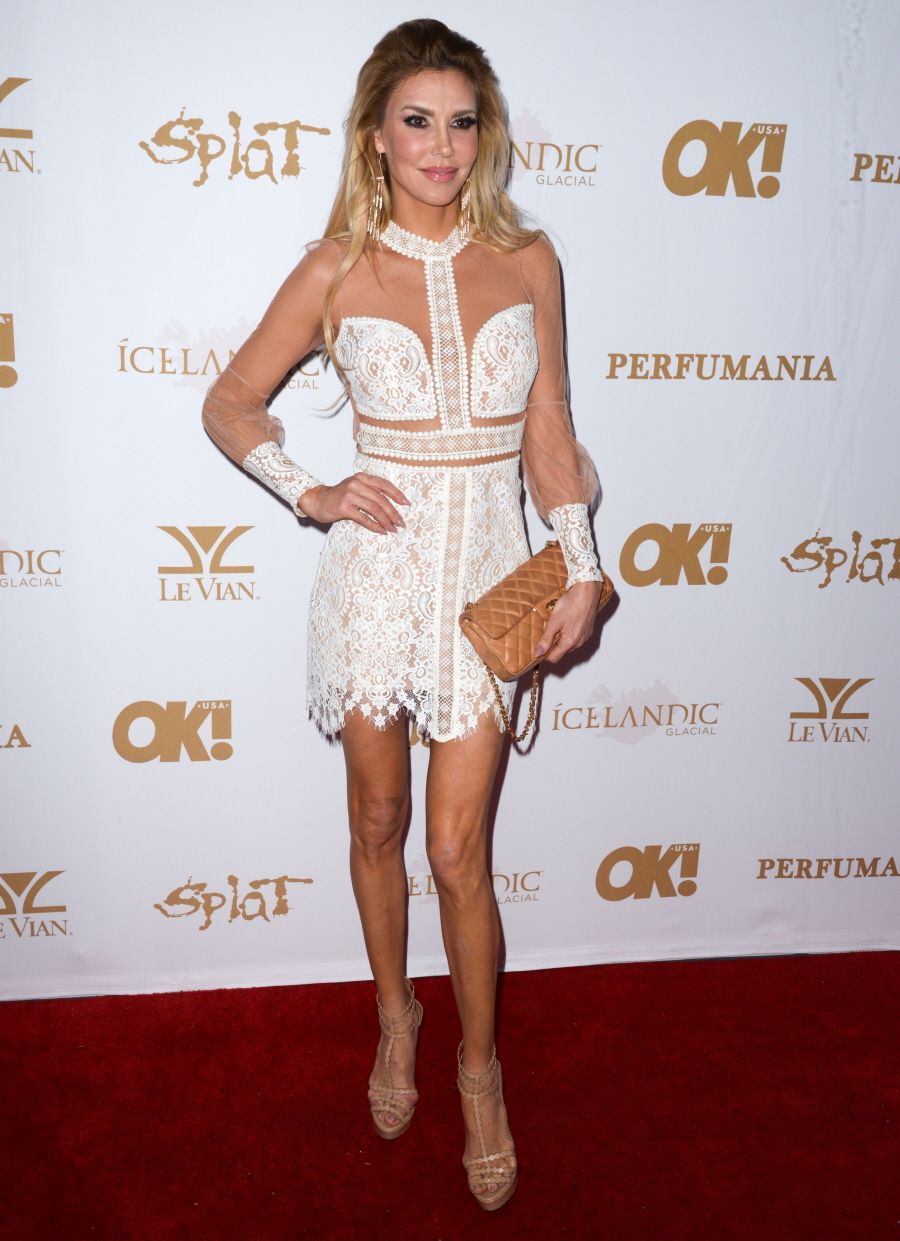 Here are some photos of Brandi Glanville at the pre-Grammy party hosted by OK! Magazine on Friday. Her dress is not good at all, but Brandi has some strange affection for white-on-nude dresses, this is like the third time she's worn a dress like this in the past few months. Anyway, on Friday, Brandi sat down with Dean Sheremet for her podcast. The podcast doesn't get released until the 15th, but Brandi must have authorized some advanced leaks:
On the former Real Housewives of Beverly Hills star's podcast, Brandi Glanville Unfiltered, the exes talked about how they both knew their relationships were over in the same moment. "Do you remember when we were playing pool in Canada?" Glanville asked. "I mean, like, vividly."

"It's weird that you say that moment, because that was the moment that I knew that it was kinda, it was it," Sheremet, 35, admitted. "That was a very, very bizarre thing and it was the beginning of the end."

"I just got the chills," Cibrian's ex exclaimed. "There were other things, but in that moment in time is when it all, I was like, 'Holy f**k, this is happening.' And it was so bizarre to me, because I knew it, but I didn't want to believe it. And I feel like you were kind of in the same boat, maybe?"

Sheremet agreed, adding, "I don't think I wanted to believe it up to the point where I signed my divorce papers. You don't want to believe it."

Glanville quipped, "Oh, I didn't sign mine. That motherf**ker had to work to get my signature, and then I got nothing." Sheremet responded, "Welcome to the club."

While Glanville, 43, shares custody of her two sons, Mason and Jake, with Cibrian, Sheremet said he was happy he never ended up having children with his ex-wife. "That was the one thing that I was really thankful for, that we didn't have kids. It made it a much cleaner break," he explained. "For you, unfortunately, it was living in L.A., and the love triangle, and kids involved, and the back and forth. I feel your pain."

After a very tumultuous few years, Glanville says she does not "have an issue" with her 42-year-old ex and his new 33-year-old wife. "I always sit with them, or near them at, you know, the school events," she said before adding, "It ebbs and flows. I wish that we could get along, and then, you know, something will happen with the kids."
The reference to Brandi and Dean playing pool in Canada while LeAnn and Eddie worked, that's something both exes have referenced before. Brandi detailed (in her first book) how she learned that Eddie and LeAnn were fooling around, and how LeAnn could basically barely hide it, she was so obvious. Dean described the moment in his interview last year – go here to re-read that interview. Oh, and apparently, Brandi and Dean also bonded over how many cease-and-desist letters they've gotten over the years from LeAnn. Which is just funny.
Photos courtesy of WENN, Getty.