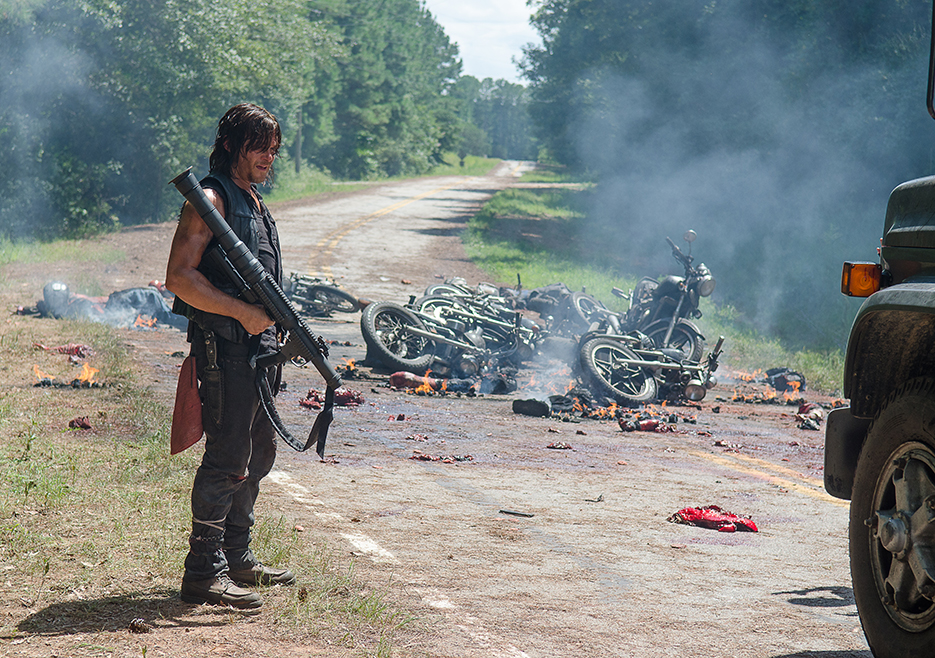 Spoilers for the midseason premiere of The Walking Dead, which aired last night, follow
Well we heard The Walking Dead was going to bring it when it finally came back and they definitely delivered. I can't believe the amount of things they crammed into last night's episode. Several characters died (Ron, Sam and Jessie), Carl got his eye shot out, Maggie and Glenn were reunited, and Daryl, Abraham and Sasha came to save the day. There were so many intense moments that I fast forwarded some scenes which were too hard to take. They really made you feel like you were part of that horrific world. It all culminated in a fabulous lake of fire which drew the walkers in and consumed them. When we saw the bodies strewn all over the following day I wondered how Rick was ever going to rebuild the community as he pledged, because it would require a massive amount of cleanup.
Here's a recap from E! of the major scene when everything seemed to happen all at once. Yahoo has a more thorough recap if you'd like the play-by-play:
As last fall's midseason finale foreshadowed in its final moments, Rick's plan to get through the walker herd that had overtaken Alexandria by camouflaging themselves in zombie guts proved to be too much for the mentally unstable kid. He panicked after seeing a walker kid, stopped moving, and began making way too much noise for his own good. It was all over from there. The walkers descended upon the dumb kid, ripping at his neck, causing Jessie to scream at the sight of her child being eaten alive. Naturally, she was next to go.

Preoccupied with her imminent death, Jessie wouldn't let go of Carl's wrist, leading Rick to jump to action after a few sad moments where the happy future he thought he might have with the pretty Alexandra Breckenridge flew out his head. As he chopped her hand off at the wrist, someone's gun made its way onto the ground and into Ron's hands. Out of his mind after just having watched his family brutally die, he aimed the weapon at Rick, blaming him and his plan for their deaths. And well, that's where things somehow got even worse.

Hoping to protect Rick and keep the sound of gunfire from alerting even more walkers to their presence, Michonne literally cut Ron in half with her sword. Seriously, she basically split the kid in two. It was horrendous. Of course, Ron couldn't die without one last awful moment to cap off his horrible existence. (Remember how this plan was only necessary because he tried to kill Carl in the garage of the house they were hiding in, letting walkers in in the process? God, Jessie's kids were the WORST.) His finger still squeezed the trigger, but his body being sliced in half screwed up his aim, sending the bullet right into poor Carl's [eye].
I want to know why Rick's initial plan was to make it all the way to the quarry. That seems way too risky for all those people, especially the kids. Obviously it was, because Sam blew it for everyone as expected. Also, why trust Father Gabriel with a baby? That issue was brought up on Talking Dead and they assumed that the group had no other option. (Carrie Underwood was on Talking Dead along with the Wolf who got shot by Carol just as he trying to redeem himself. That actor, Benedict Samuel, was Australian and surprisingly hot.)
EW has interviews with showrunner Scott Gimple and with Walking Dead creator Robert Kirkman about this episode and particularly how it deviated from the comics. In the comics Carl got his eye accidentally shot out by Douglas, the leader of Alexandria, who was turned into Deanna (now deceased), in the TV version.
If you haven't seen the episode yet you can watch it without a login on AMC's website.