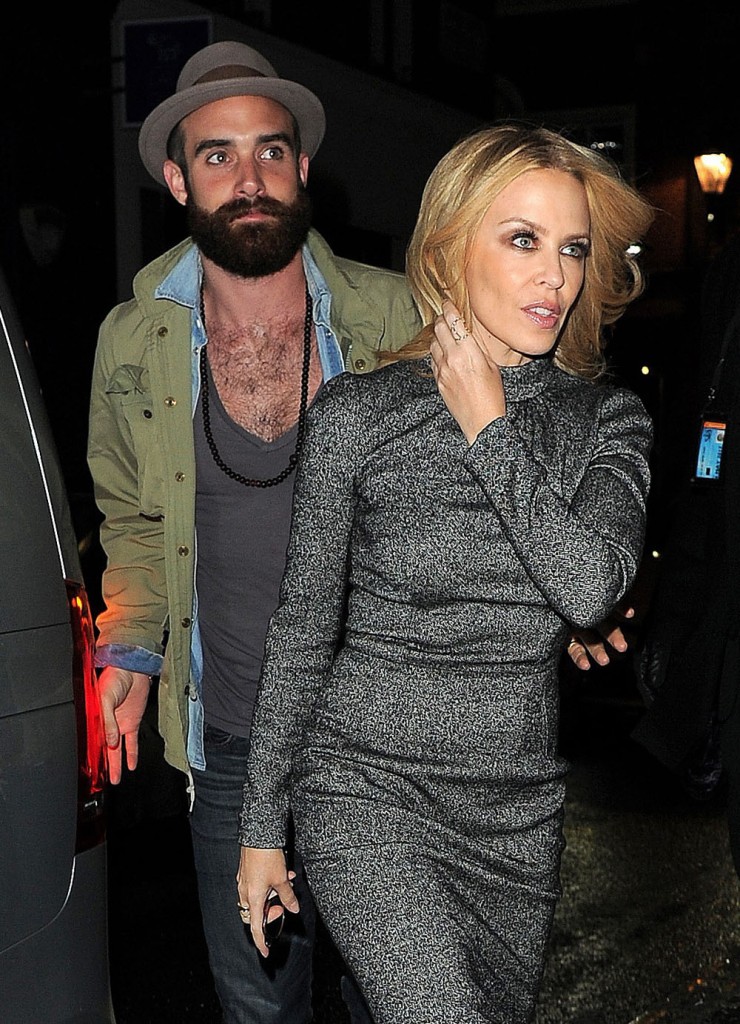 We haven't talked about Kylie Minogue's love life in some time. She's never been married. She was engaged to Olivier Martinez back in 2007, they split up amid reports that he was cheating (which she denied and she also credited him for helping her through breast cancer treatment). Then she dated Andrés Velencoso from 2008 to 2013, he's a hot Spanish model and is about ten years younger than she is. Kylie admitted that breakup hit her hard and said that "there's still heartbreak and emotional sadness and all of the things that come with bad break-ups, even if you're not married."
Now Aussie Kylie, 47, is engaged for the second time. She met British actor Joshua Sasse, 28, during a guest stint she did on Sasse's ABC musical, Galavant, in which he plays the lead. They've been together since last fall and did the very British thing of announcing their engagement in The Daily Telegraph. (Benedict Cumberbatch and Sophie Hunter also broke their engagement news in The Telegraph.)
Wonderwall has some more background on this. They allegedly got engaged in January, and Kylie was rocking a giant engagement ring at the NME awards last week:
According to the U.K.'s The Sun, Joshua has been called Kylie his "fiance" and was doing so at the NME Awards.

"Kylie may have been keeping tight-lipped, but Josh isn't as keen to keep it a secret," a source said. "He was proudly calling her his fiance to several guests and even joked that being with her meant he wouldn't have any trouble getting into parties."

The Sun believes that Joshua proposed while on a Swiss skiing trip in January.

Kylie, in the past, has gushed about her man, once saying, "I have a love of my life which is just a beautiful thing. I am kind of on cloud nine most of the time because of Mr Joshua Sasse, my beau."

Last year, she told You magazine that the 19-year age gap wasn't a concern to her.

"I can't actually put into words how happy I am," she said. "We just completely fit together. He gets me, I get him."
I'm younger than Kylie and it's very hard for me to imagine dating a guy under 30. He's not incredibly young though, and he seems established in his career. (Plus he's so hot!) Maybe they just hit it off.
Here's Kylie's engagement ring. It looks like a precious stone (is that aquamarine?) surrounded by two lines of diamonds. I've never seen a ring like that before and it's gorgeous. It's a little big for my tastes but damn it's pretty. I can't say the same for that doily dress with those silver platform shoes.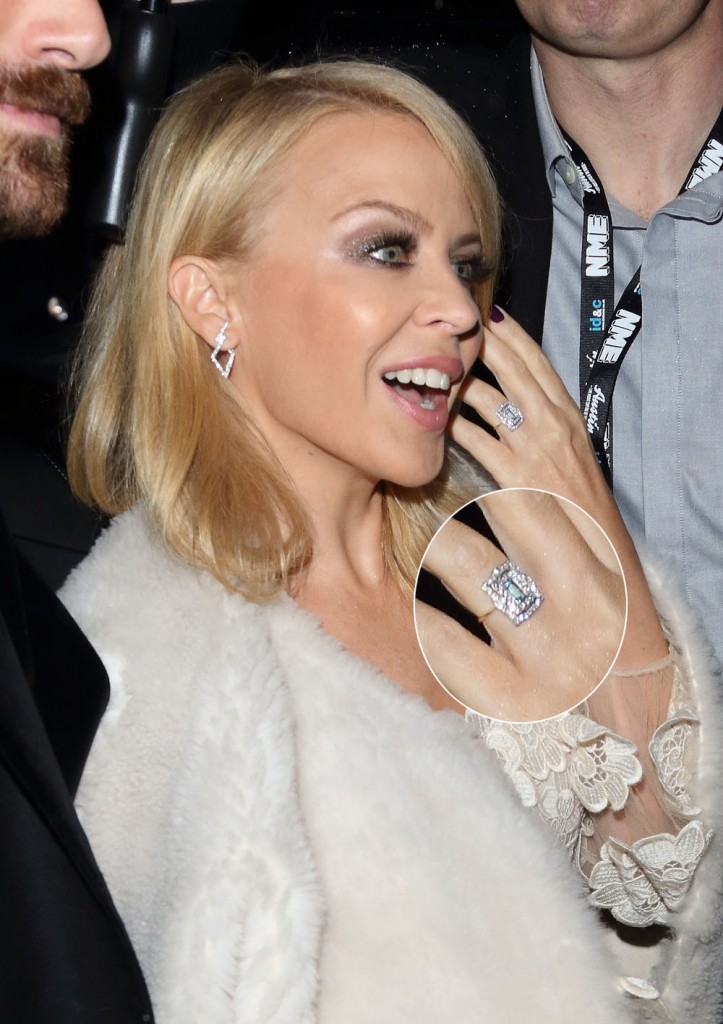 Oh and Kylie Instagrammed this photo thanking fans.
photo credit: WENN.com, FameFlynet, Pacific Coast News, Instagram