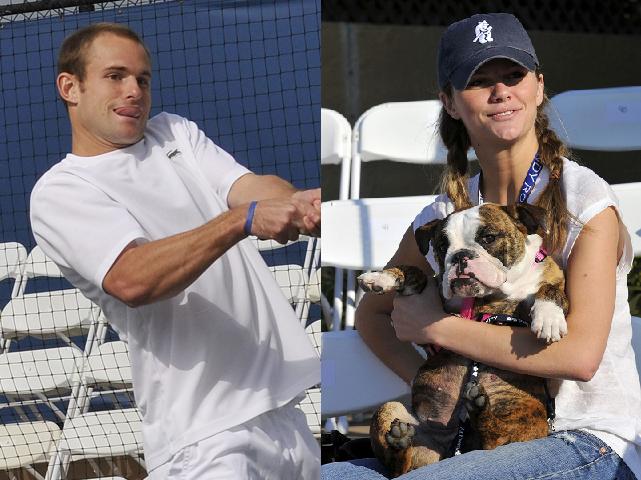 Tennis star Andy Roddick married model Brooklyn Decker on Friday in Chapel Hill, North Carolina. I was really hoping the headline would be "Andy marries Brooklyn in Brooklyn", but alas, a Southern wedding was in the cards. The couple met in 2007 when Roddick's agent contacted her agent – how romantic. Not exactly a "cute meet" but they seem happy. Roddick proposed to Brooklyn about a year ago, and the couple didn't seem to be in any rush to marry. Perhaps because they're so young? Andy is 26 years old, and Brooklyn is 21. US Magazine has more:
Tennis player Andy Roddick is officially off the market. The athlete, 26, wed his longtime girlfriend, Sports Illustrated model Brooklyn Decker, 21, in an intimate ceremony Friday evening, Usmagazine.com has confirmed.

"It was really simple but beautiful," a source tells Us. "Just close friends and family."

Roddick and Decker exchanged platinum wedding bands by Tiffany & Co. during the ceremony, which included a performance by Elton John.

The nuptials were intended to be low-key without "a big Hollywood crowd as [Andy and Brooklyn are] not like that," a source told Us prior to the event.

News of the Friday ceremony was first reported last week by the New York Post, who said Decker celebrated her upcoming wedding with bridesmaids during "a big bachelorette weekend" on April 11 in Chapel Hill, North Carolina.

"They just bounced around and had a great time," added the paper.

The couple met in 2007 when Roddick asked his agent to contact Decker's agent after seeing her in SI. He proposed to Decker in March 2008 but said they weren't in any rush to walk down the aisle.

"With their hectic travel schedules, Andy and Brooklyn plan to enjoy their engagement," said a statement posted on their Web site.
[From US Magazine]
Sounds like a nice wedding. But what's with celebrities never releasing information about the food, my favorite part of any wedding article? Anyway, they're both very cute and wholesome-looking, and it's the first marriage for both. Previously, Roddick dated the equally cute and wholesome-seeming Mandy Moore – if I remember correctly, I believe their managers set them up too. Does Andy not believe in meeting women in bars?
Though it has nothing to do with their wedding, this photo was way too cute to pass up: here's Brooklyn and her adorable bulldog at the 8th Annual Andy Roddick Tennis exhibition at the Boca Point this summer. Images thanks to WENN.com .