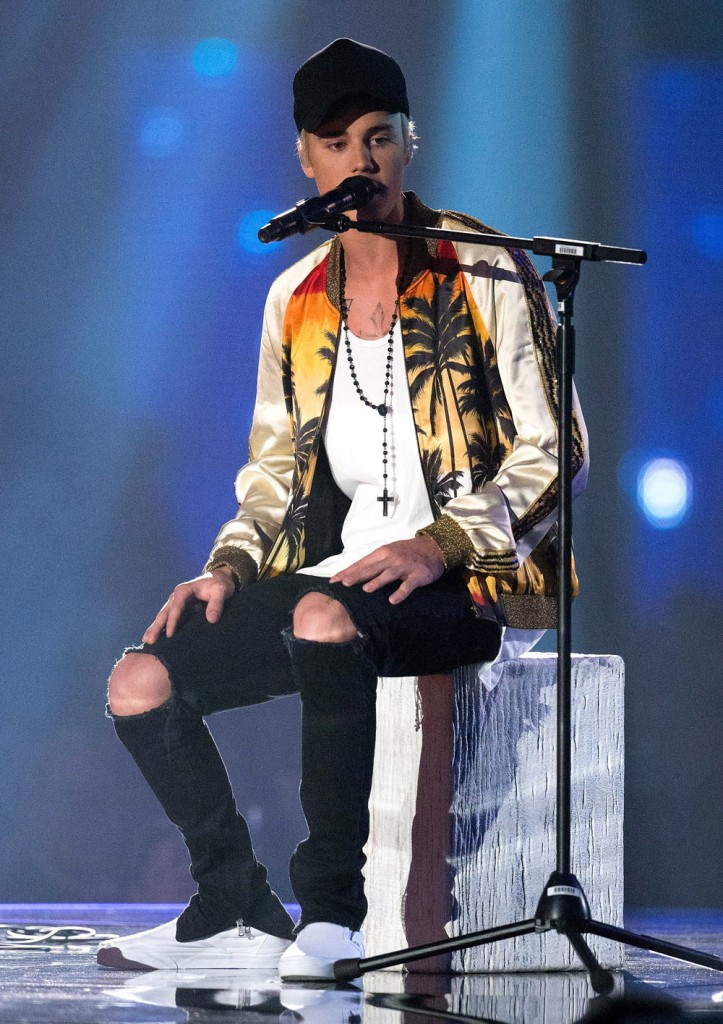 Justin Bieber performed at the Brit Awards on February 24. While performing, Biebs sported the Saint Laurent tropical print, satin bomber jacket shown above. This is very progressive of Biebs because it is, in fact, a woman's jacket. How do I know it's a woman's jacket? Because Kourtney Kardashian tweeted a pic wearing the same splashy number during New York Fashion week:
NY diaries. pic.twitter.com/WLzJpXXX0N

— Kourtney Kardashian (@kourtneykardash) February 11, 2016
The same jacket two weeks apart? What gives, you two:
Justin Bieber doesn't abide by gender rules when it comes to fashion. In fact, he rocked out in a palm tree–theme ladies' bomber jacket at the Brit Awards February 24 in London.

The "What Do You Mean?" singer, 22, layered the tropical topper by Saint Laurent over a long white tee and black skinny jeans, accessorizing with a black baseball hat and a beaded, rosary-esque necklace.

But the Biebs isn't the only one to take a shine to the beachy bomber. Brief fling Kourtney Kardashian wore the Saint Laurent jacket first during New York Fashion Week in February, and even posted a pic of the sunny zip-up on Twitter.

"NY diaries," the mom of three, 36, wrote on February 10, alongside a snap of her shopping in the garment, which she paired with a nude shirt and black denim pants.
I wonder if he borrowed the pants too? Kourt is going to be ticked when she sees those holes in the knees. By the way, that jacket is $2,690 at Nordstrom. The when-it-was-convenient lovebirds are supposedly done as a couple so we can rule out Biebs having accidentally grabbed this from the floor as he left. Maybe he saw her Twitter and thought – "That screams Brit Awards!" and she FedExed it to him.
If it was a loaner, Biebs had the opportunity to return the jacket to Kourtney last Saturday at his 22nd birthday party in Bel Air. In addition to Kourtney attending, Bieber's "non-exclusive" girlfriend Hailey Baldwin, Kylie Jenner, Scooter Braun, Ashley Benson, Joe Jonas, The Game and Sean Diddy Combs were also there. Diddy gave Biebs a Bad Boy letterman's jacket as a gift – did Biebs leave all his jackets in Canada?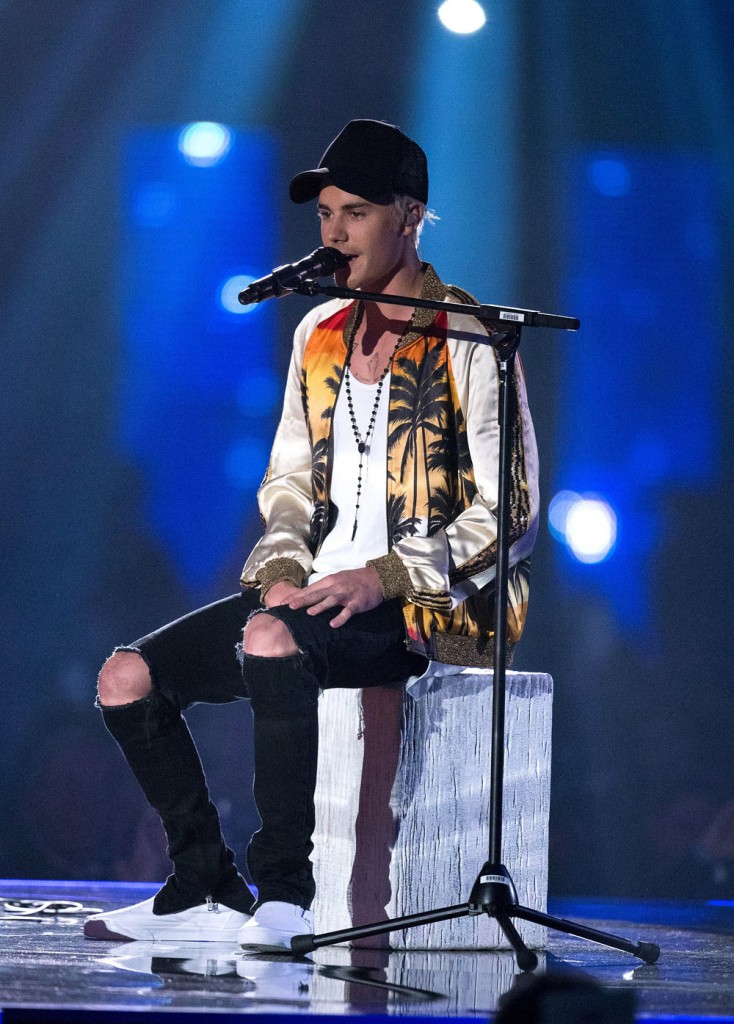 Photo credit: WENN Photos
From Justin's B-Day party