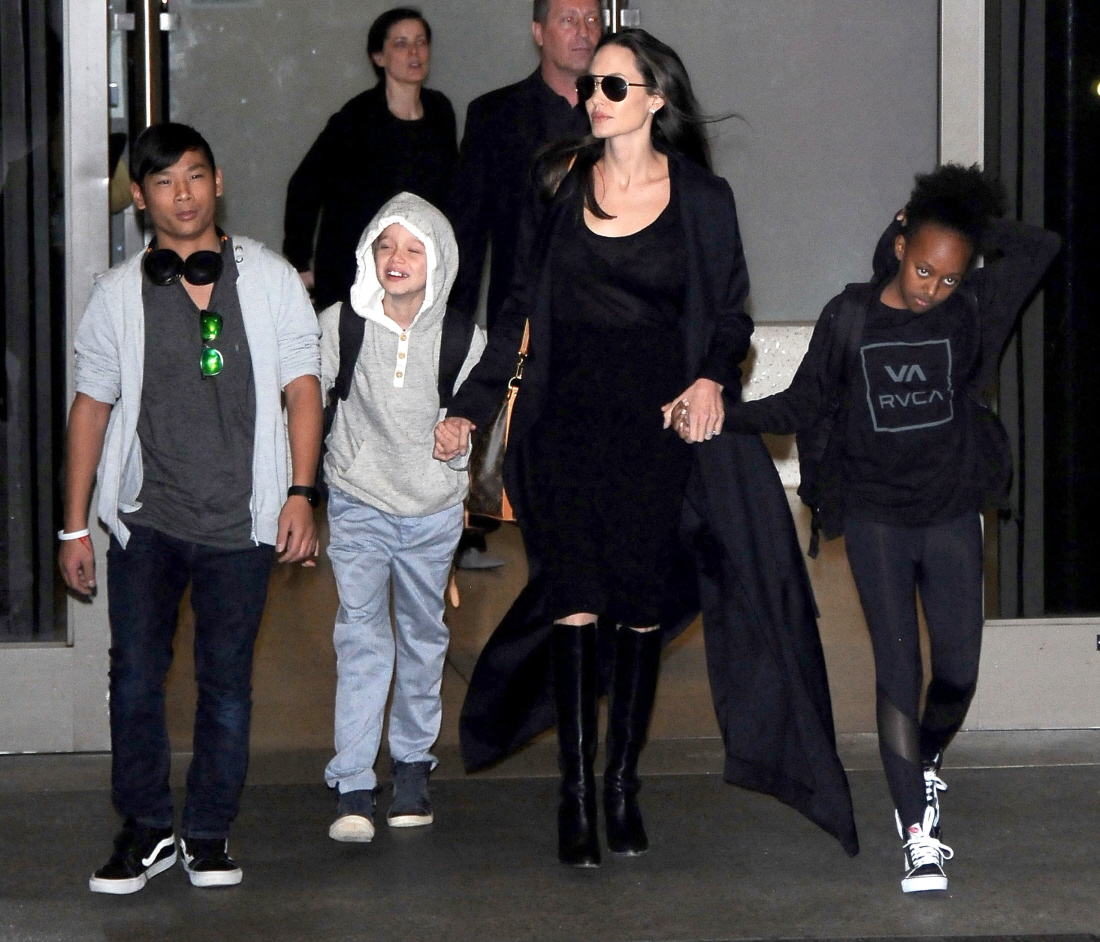 Here are some photos of Angelina Jolie and three of her kids returning to LA after three months spent in Cambodia. I have no idea where Maddox, Knox and Vivienne are, because only Shiloh, Pax and Zahara got to return to LA with Angelina. I suspect that Brad has the other three? Or maybe Maddox stayed behind in Cambodia for a little bit longer? He's getting to that age where he can be left alone, perhaps? I have no idea.
Actually, while the photo agency says that Angelina and the kids were returning from Cambodia, the Daily Mail says they were actually flying in from London, where they stopped and visited Brad Pitt on the set of the World War Z sequel, which… isn't filming yet? I'm not even sure they have a script for the sequel yet. IMDB says that Brad is actually working on that untitled WWII romantic drama with Marion Cotillard.
Apparently, it was a short visit between Brad and Angelina. Which bugs me. The tabloids have been claiming for weeks/months that Brad and Angelina are having problems, and I don't want to believe it. Except that they've spent a lot of time apart in the past six to eight months. While I know – I mean I KNOW – that the tabloids are always going to claim that Brad and Angelina's relationship/marriage is hyper-dramatic, I'm starting to get the feeling that there might be some genuine drama between them.
Anyway, they're coming off an awards season where they barely engaged with any of the hoopla. Brad came out for the Golden Globes, but his "date" for the evening was Ryan Gosling, and neither of them did the red carpet. Despite the fact that Brad was a producer (and he had an on-screen role) for Oscar-nominated The Big Short, he did not attend the Oscars. Even Ryan Seacrest and Giuliana Rancic were announcing Brad and Angelina's imminent arrival on various red carpets, trying to pretend that Brangelina would grace everyone with their presence. I was feeling it too – there was so little big-time glamour this awards season. I missed Brangelina.
PS… I really like Angelina's boots. I like her whole ensemble, if I'm being honest.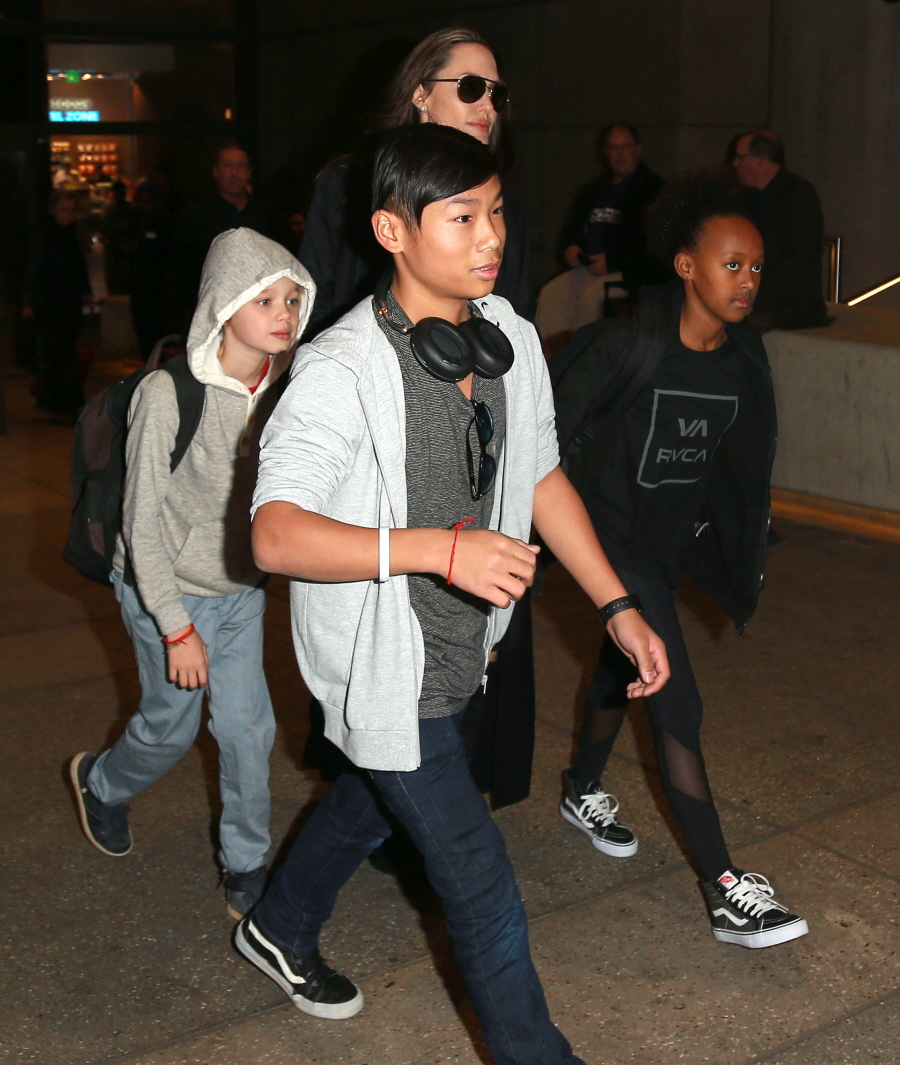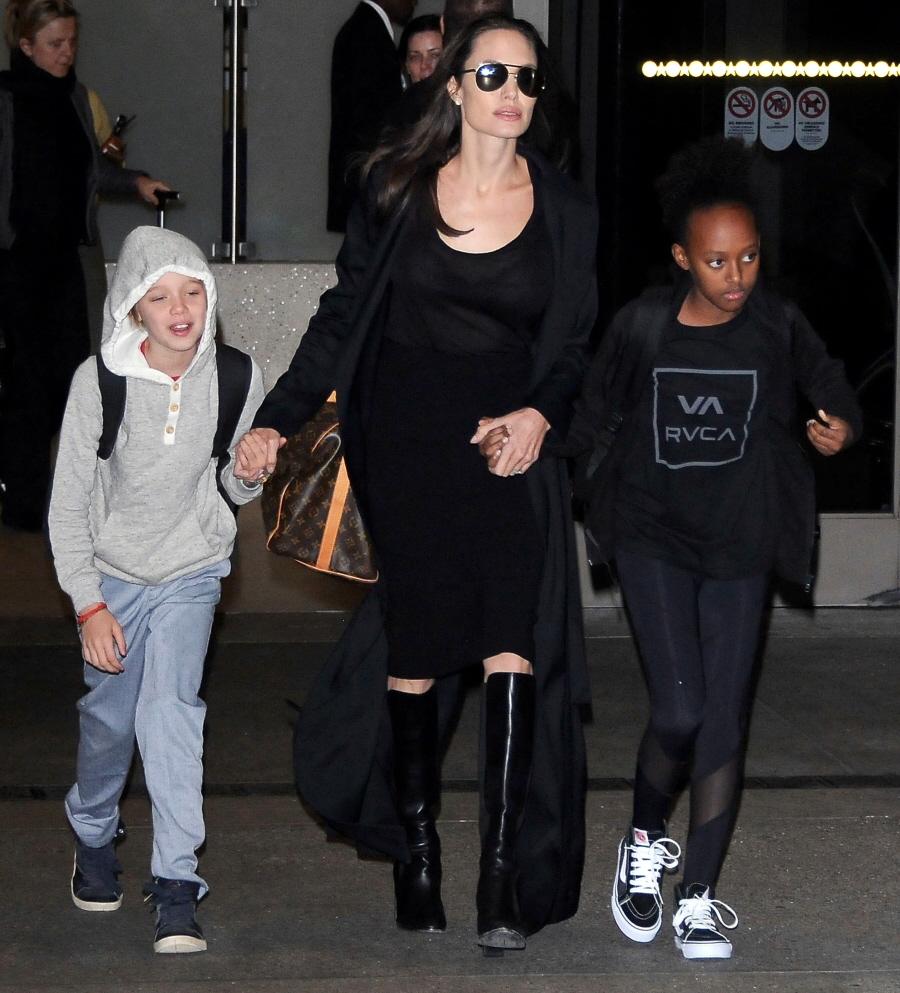 Photos courtesy of Fame/Flynet.