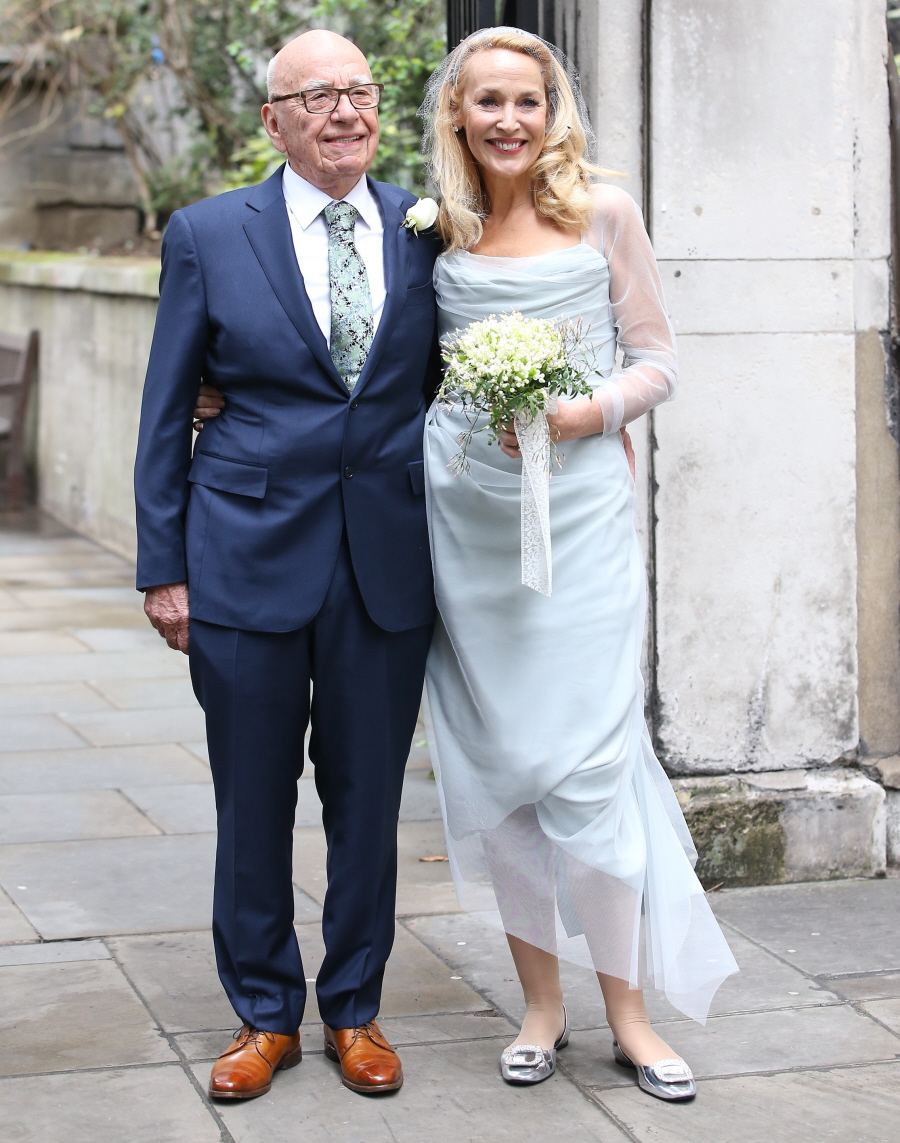 I'll say it: I like and even admire the way Jerry Hall did her whole wedding weekend to Rupert Murdoch. We see so much wedding stuff shoved down our throats about "special day" this and "princess" that, and all of it is aimed at younger women. It's nice to see a 59-year-old broad with decades of life experience under her belt get married HER way. She chose things that were special to her, but they weren't part of some princess fantasy. It's nice. Anyway, following Friday's civil wedding ceremony in London, Jerry and Rupert did their church-service wedding on Saturday. These are the photos from where Jerry and Rupert happily posed for paparazzi.
The bride wore a pale blue Vivienne Westwood dress and flats. Apparently, Jerry and Vivienne are friends and Jerry loves Westwood's designs. This is not a dress she's had in her closet – although Jerry does have many Westwood dresses in her closet – because this was apparently made for Jerry, for her specifications. She apparently wanted an "ice blue" dress because that's her favorite color and because "something blue" and "something borrowed" (I guess it's a loaner). As for Jerry's diamond… it's not as impressive as Mariah's crazy engagement ring, but Murdoch did shell out £2.4 million for the marquis-cut, 20-carat diamond.
All of Jerry's kids and all of Rupert's kids came out for the wedding, plus an intimate guest list of 100, which included Rebekah Brooks (Murdoch's long-time friend and business associate and CEO at News Corp.'s UK operations), Bob Geldof and more. The Daily Mail had a lengthy write-up and it was full of fun gossip – go here to read. Apparently, Jerry does not like Rebekah Brooks at all. Jerry had a "hen party" which just consisted of a girls' night in with friends, but Murdoch had a stag night with his sons in Las Vegas (it involved a magic show and a steak dinner). Hall and Murdoch are reportedly honeymooning on Murdoch's yacht, Vertigo.
Two of my favorite details came from that Daily Mail write up. One, a friend of Jerry's told the Mail: "He is simply dazzled by her and she doesn't have to worry about him going off with someone else, which makes a change after Mick. Also unlike Mick, Rupert is a man who likes being married. In fact, he told her that very soon after they met and it went down well as Jerry craves security." Security… with a 84-year-old billionaire. They've also been fighting about Donald Trump – Jerry hates Trump and Murdoch "understands" Trump. My second favorite part? Everything about how Mick Jagger is reacting. Murdoch might even buy Jerry's London home from Mick (Mick still owns it) because he likes the property so much. And Jerry didn't tell Mick in advance of the engagement announcement, and when he found out, Mick was "absolutely staggered and horrified… He has been seething because this means that Rupert Murdoch is going to become a part of his extended family, and Mick has a real problem with that." I love that Mick still has opinions about Jerry.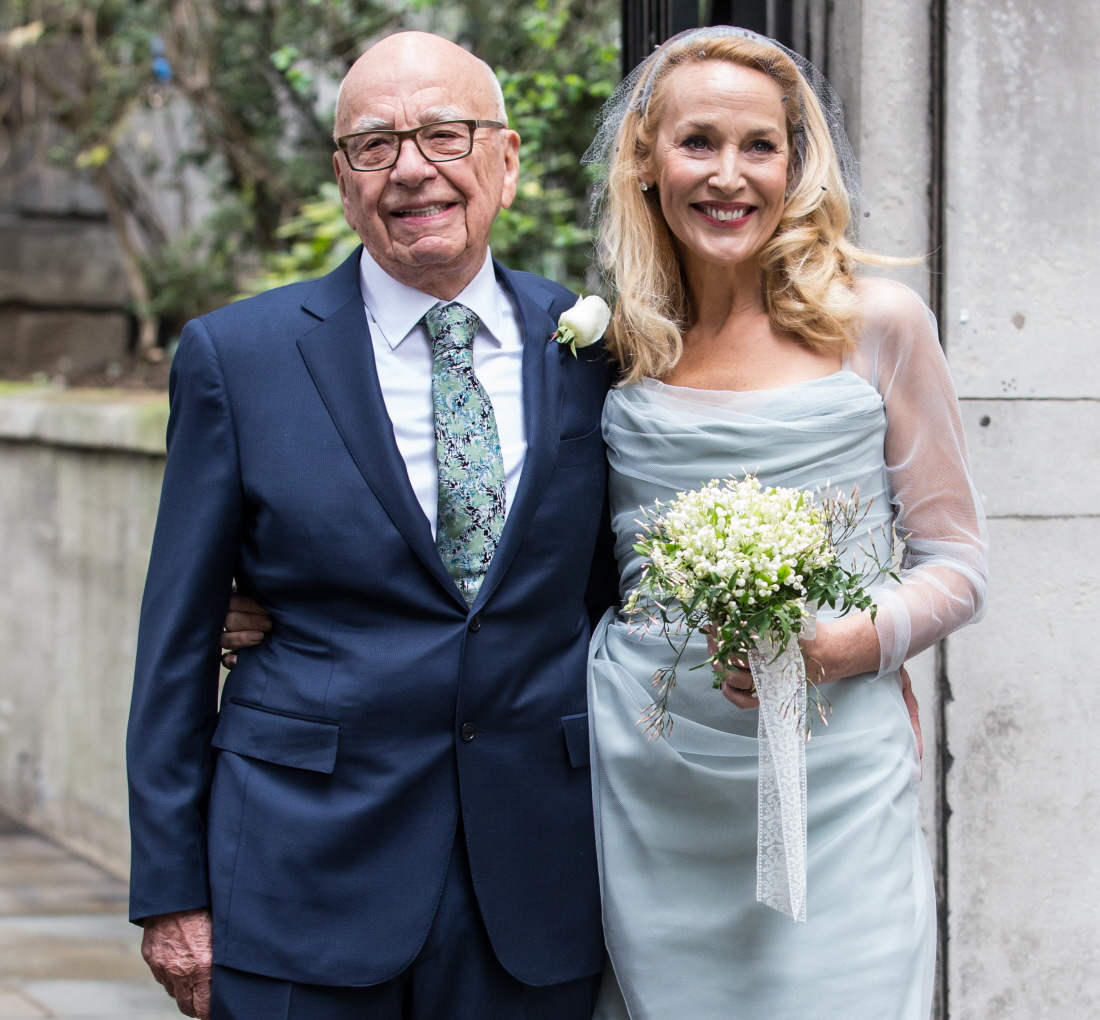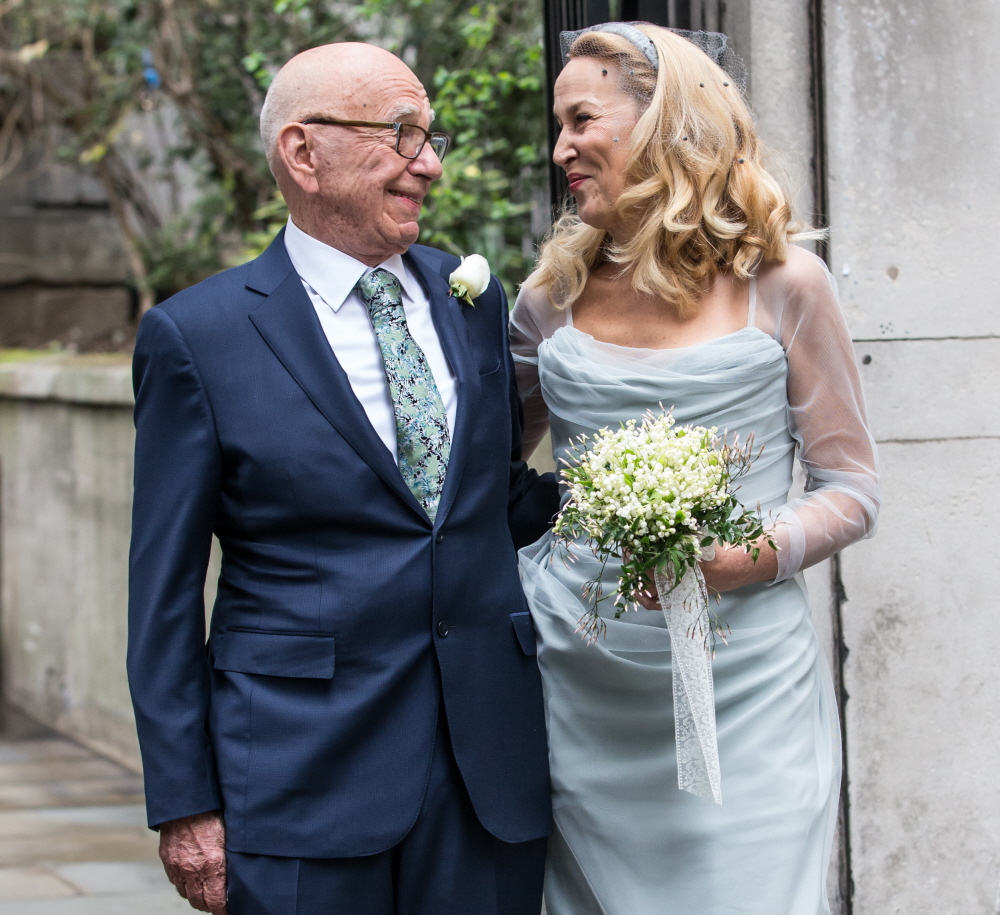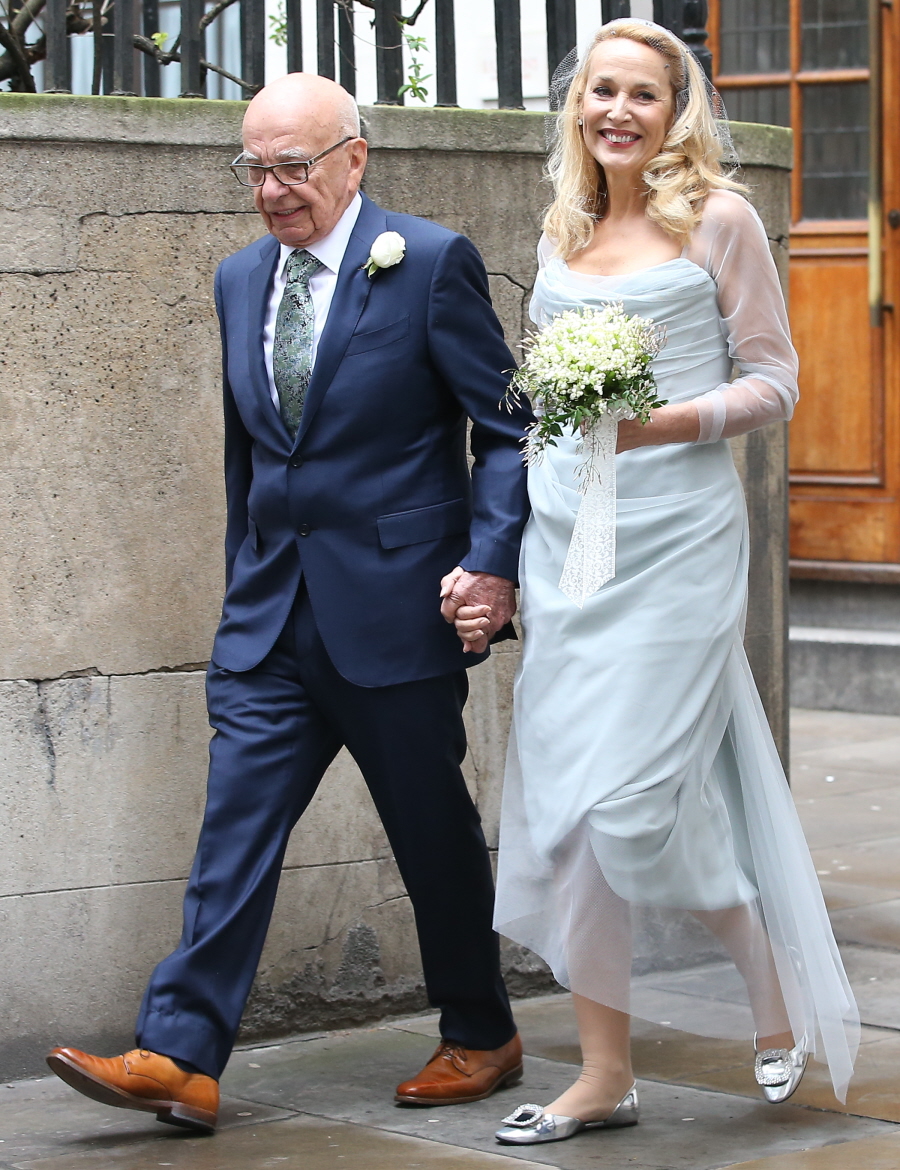 Photos courtesy of Fame/Flynet.