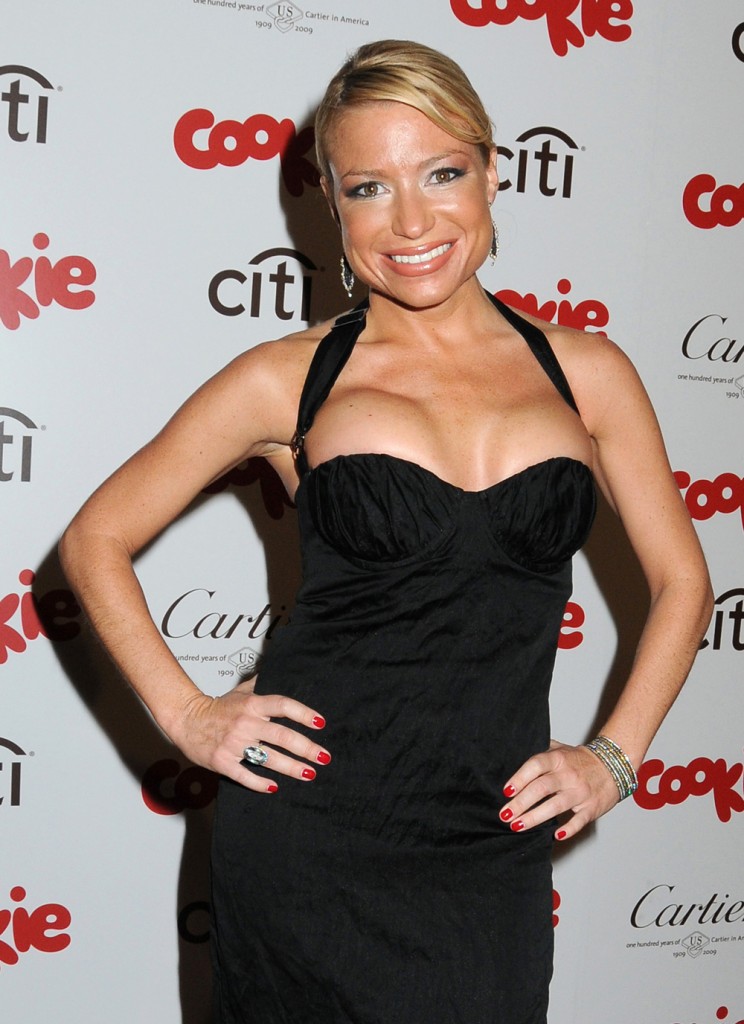 So Madonna fell off the horse. Lots of jokes were made. While horse falls can be deadly, she walked away relatively unscathed, even though she tried to make a big deal about it in order to blame the paparazzi. Just how unscathed is she? Well Madonna is resuming her two hour workouts with shyster trainer to the stars Tracy Anderson tomorrow. With a normal person you'd say, "Wow, she must be doing really well!" But don't forget that both Madonna and Tracy are completely insane (and not in the trendy, cute use of the word "insane") when it comes to working out. If Madge were in a coma, Tracy would be by her bedside for two hours a day, duct taping weights to her hands and lifting her rippled bicepts so she didn't get flabby. Then ripping the glucose drip from her arm.
Don't worry about Madonna, who fell off a horse in the Hamptons over the weekend.

"She's going to be fine. She fell on her butt," her trainer Tracy Anderson told Usmagazine.com Monday at Cookie Magazine's Smart Cookie Awards in NYC. "She's fine."

How fine?

"We're going to train tomorrow," she told Us.

When it comes to working out, "We have our set training," Anderson said. "She's like a professional athlete. She can't mess around with her training. I mean, she has to be able to perform in front of 70,000 people who are sucking the life out of her, and she's singing and dancing. There are no shortcuts when you're training in that way."

Anderson – who also works with Madonna's pal Gwyneth Paltrow – said the singer trains six days a week, two hours a day, absolutely."
[From Us Weekly]
Can you believe the nerve of those 70,000 people who pay hundreds of dollars to see Madonna perform? They're sucking the life out of her! What needy, selfish bastards. Here's the part where I say the requisite "I'm glad Madonna is okay" bit. I'm glad Madonna is okay. Moving on – I wonder what Madge would look like if she just cut it down to a more reasonable one hour a day workout? She might be a rather fetching lady.
Tracy Anderson (you remember her, the con artist who's swindled hundreds of people out of thousands of dollars) doesn't exactly have a look I'd want, which I find confusing. You know how when you go to get your hair cut, you want a stylist with a good do? You never want to go to the one who's still working the 1986 hair. Anyway, Tracy's got this compact, squatty frame that makes her look like a little boy. A little boy with the most obvious pair of bolt-on implants I've ever seen. They might as well be outside her skin, given how blatant and unsightly they are.
Tracy's also got oddly round poofy cheeks for someone who's as tiny as she is. Some incidences of chipmunk-type cheeks like that are said to be due to bulimia. Children's Hospital's website notes that bulimics often get "'chipmunk cheeks,' when the salivary glands permanently expand from throwing up so often." Tracy's admitted in interviews that she downs cookies all the time, yet the rest of her body sure doesn't show it. Unless she's hiding those cookies in her cheeks, it's all very questionable.
Maybe that fall off the horse will knock a little sense into Madonna and have her find a healthier fitness trainer.
Here's Tracy at the Smart Cookie Awards at Lincoln Center in New York City last night. Images thanks to WENN.com .