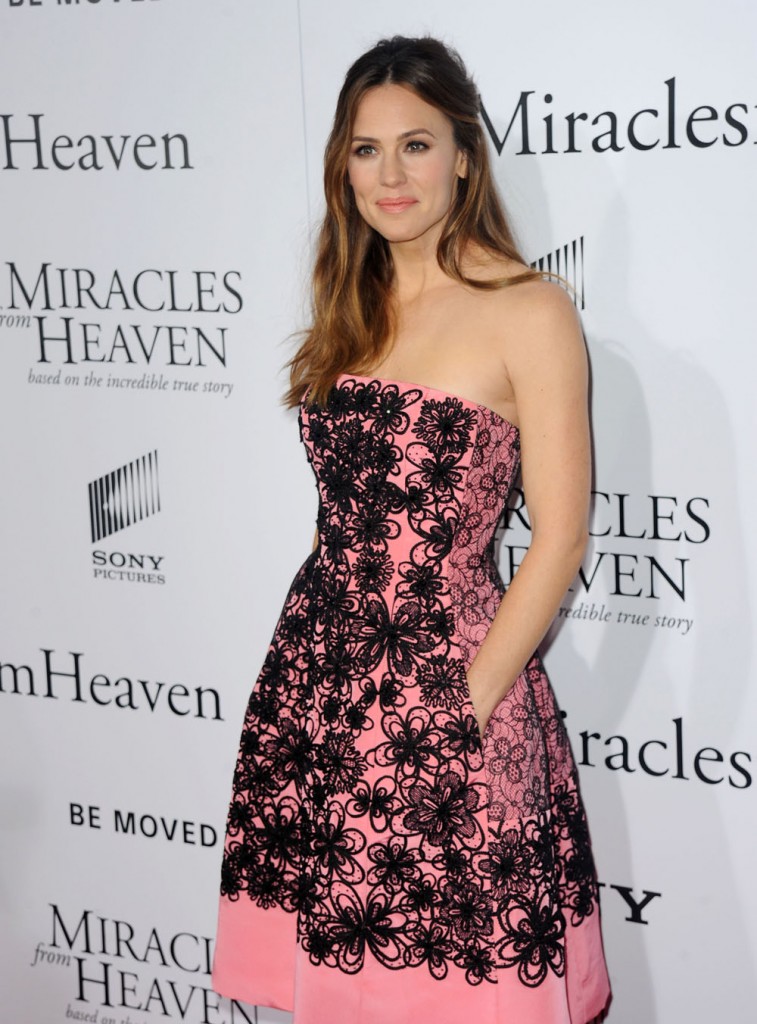 These are photos of Jennifer Garner at the Miracles from Heaven premiere yesterday in LA. She's in a bright pink strapless dress with black floral overlay that's quite a departure from the black dresses and more conservative looks we're used to seeing her on the red carpet. This isn't her usual style and looks like something we'd see on Zooey Deschanel but I like it, it suits her. She lightened her hair and been wearing some obvious extensions lately but they look good, I like this younger look on her.
Remember how all the stories about Jennifer Garner and Ben Affleck's conscious uncoupling continued to emphasize that he was living in a guest house on the property? At some point he was renting Brooke Shields' mansion down the street from his family's estate, but then all the reports had him living in the guest house, a separate home entirely. Well there was a subtle shift in this narrative recently. An article in US Weekly's print edition last week dropped the news, in a little sidebar story, that Ben was staying the room next door to Jen. Now there's yet another "how they're doing" story, this time in E! and it's filled with all the platitudes we've come to expect about them, along with the important detail that they "will continue to live in the house together." This is different and someone wants us to know about it. Here's E!'s report:
"They will continue to live in the house together and have no plans to change that arrangement," a source told E! News exclusively.

"They are in a really good place right now," the source said. "A lot of the dust has settled and they have become accustomed to their new life, which is separate but together in a lot of ways. They continue to make the family their first priority and they have always been on the same page about that."

A month after Affleck and Garner's breakup announcement, the actor was linked to his children's 28-year-old nanny. He has denied anything romantic went on between them. She no longer works for the family. Garner recently broke her silence on the split and the nanny in a bombshell interview with Vanity Fair.

"We had been separated for months before I ever heard about the nanny," the actress said. "She had nothing to do with our decision to divorce."

"Now that the Vanity Fair article is out, neither of them feel the need to talk about the past or the divorce," the source told E! News. "They feel like everything has been answered and they just want to move forward. There is a lot of love between them. They don't know exactly what it's going to look like, but for now what they are doing is working for the family."
If only all divorces could go so smoothly, but are they really going to divorce? Are they one of Lara Wasser's March divorces or have they put a hold on it? E! goes on to report that Jennifer is off working, you can see some photos of her on the set of The Tribes of Palos Verdes below, and that these two are "trading off with the kids." And in case you didn't get the message that's been hammered home the last few months the insider adds that "They have a good system in place. Everyone is happy right now." Someone just needs to get Instagram and hire social media experts in their twenties to handle it because this PR is old school and it's too much. Just post a cute family pic every few days and go easy on the hashtags. That would work so much better than sweater swapping for the paparazzi and giving insider quotes constantly.
These photos of Garner in the water are from the set of her film The Tribes of Palos Verdes, based on the novel of the same name. Other photos of Garner out with Affleck and their kid are from November. Credit: FameFlynet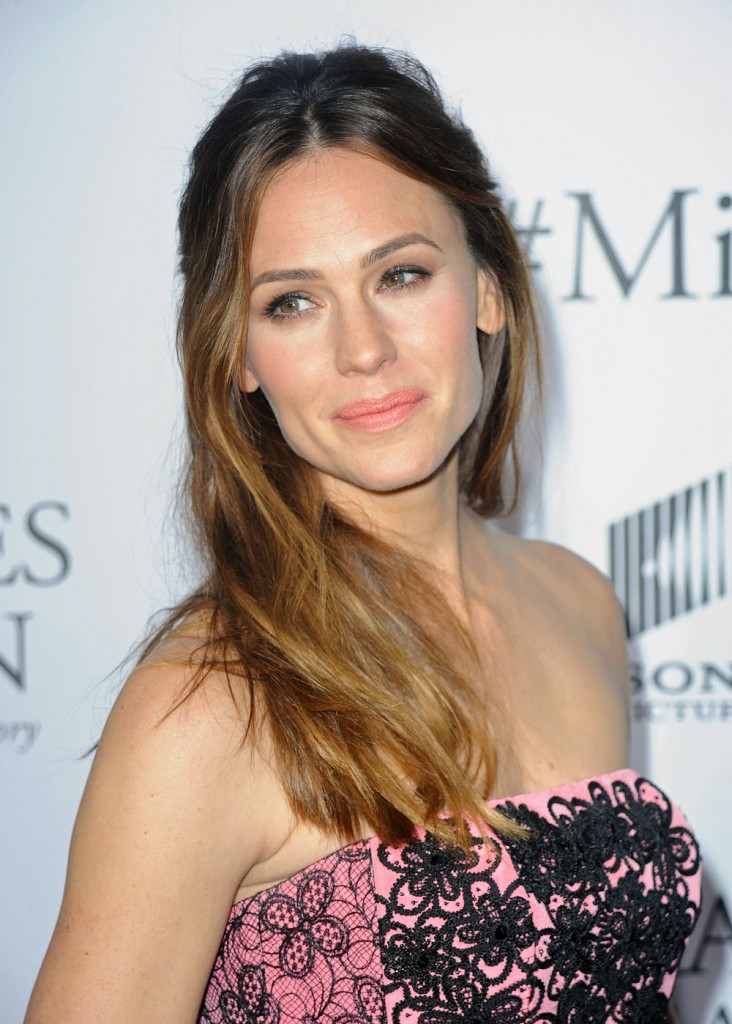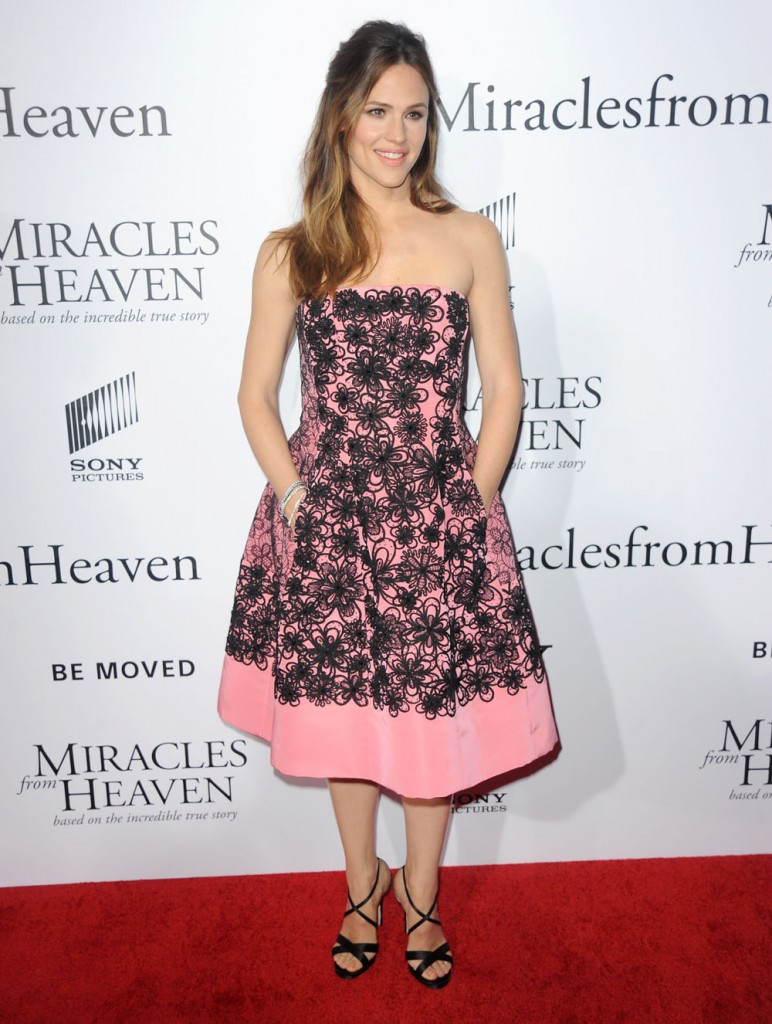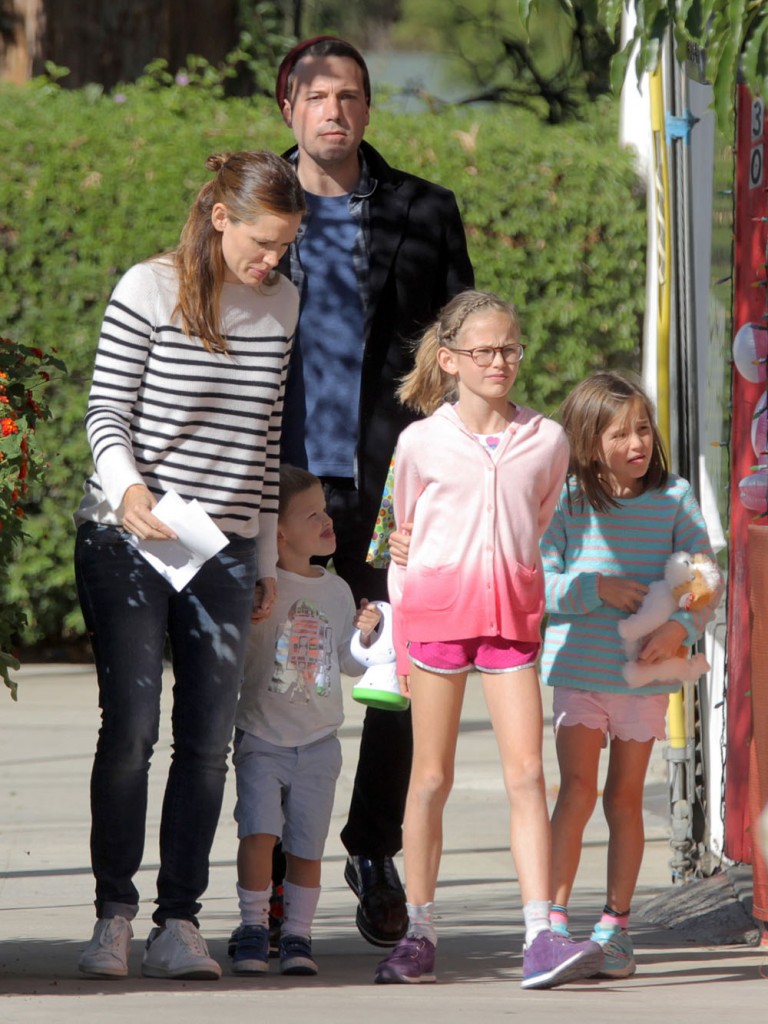 Photo credit: FameFlynet