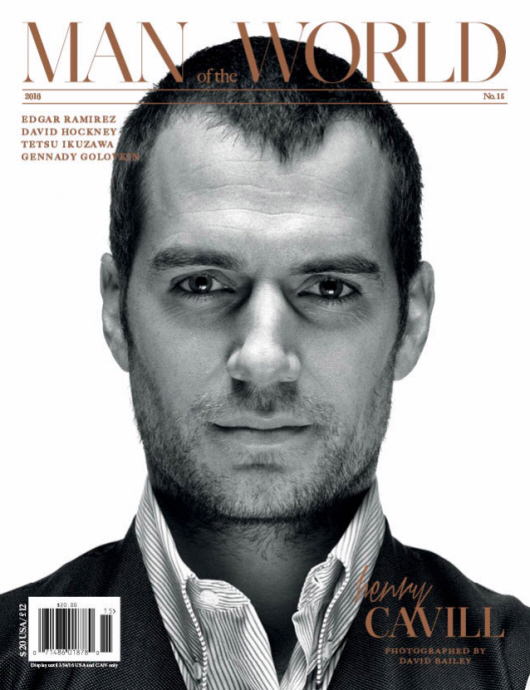 It's still amusing to me that Henry Cavill is hustling for Batman vs. Superman: Dawn of Justice much more than Ben Affleck. What has Ben done, really? He's appeared on a few TV shows and he and Jennifer Garner are playing that stupid maybe-we'll-reconcile game in the press. And that's it. Meanwhile, Cavill's the one on magazine covers and he's the one really talking about the movie. I'm not sure that's a smart choice, because Cavill comes across as somewhat smarmy in print interviews, right? And yes, I'm thinking about his recent Elle interview. I guess Cavill's smarm is better than whatever's going on with the Batfleck these days. Anyway, Cavill covers the new issue of Man of the World. The interview is… interesting, actually. Cavill admits some stuff that most celebrities will never acknowledge.
He's not doing this just for the art: "I'm slightly wary of saying this, because it can be frowned upon, certainly by members of my community and people outside my community. But I'm not just doing this for the art. The money's fantastic and that's something which I deem — and again, it is frowned upon — very important."

He enjoys the good life: "You've got to enjoy life! I mean, you've got to. When I'm making money I'm spending it on nice stuff, whether that be lavish holidays for me and my friends or just seeing something and going in a shop and saying, 'Yeah, I want that for the house,' I'm buying it. Spending money on my friends, buying dinner for everyone, drinks for everyone, it's a nice place to be, and I like people to feel cared for."

Life in first class: "People will be calling me a c–k as they're reading this, but travel's great as long as you're going first class. I mean, traveling to New Zealand in economy, it sucks. Especially if you're over six feet. But first class? I'm not going to ever pretend to be coy about that. I love it."

Why he's dating a 19-year-old: "I didn't get to mess about and be a university kid, but I get to mess about now. And I've actually got money to spend on nice places, rather than having to go to grotty pubs that stink of piss. I don't like to focus on things that I missed out on. I also got huge benefits, and that's really good."
Do you admire his honesty or do you think he sounds like a superficial jackass? Or both? I think a lot of movie stars and celebrities feel this way, but they don't want to brag about the stupid money they're making, or the incredible perks they get. They'd much rather bitch about how they're so mistreated and how no one understands their plight or their artistic temperament. So I do appreciate the fact that Henry is more of a normal bloke, and that he's willing to pull back the curtain on how amazing it is to have those perks. But the whole "I never got to be a normal college kid, that's why I'm banging a 19-year-old" thing? Ugh. He's 32 years old. It's past time to stop caring about not having the college experience.
Photos courtesy of Getty, WENN, MOTW.