Donnie Wahlberg and Jenny McCarthy did a brief Q&A video for People Magazine, that's above. They're promoting the third season of their reality show, Donnie Loves Jenny. It's currently running on A&E, the channel which has brought us gems like Married at First Sight, Parking Wars and American Hoggers. As we've come to expect from these two, they were goofy and over the top as usual. There's something sweet about them though, especially when you consider how delusional they are. Donnie was asked to complete the sentence "The sexiest thing about Jenny is…" and then proceeded to praise her hands (he called them man hands but she brought it up) legs, face and butt, touching her the entire time. Of course they grabbed each other's asses and he even shook her ass around, calling it "hand twerking." Here's some of what they told People: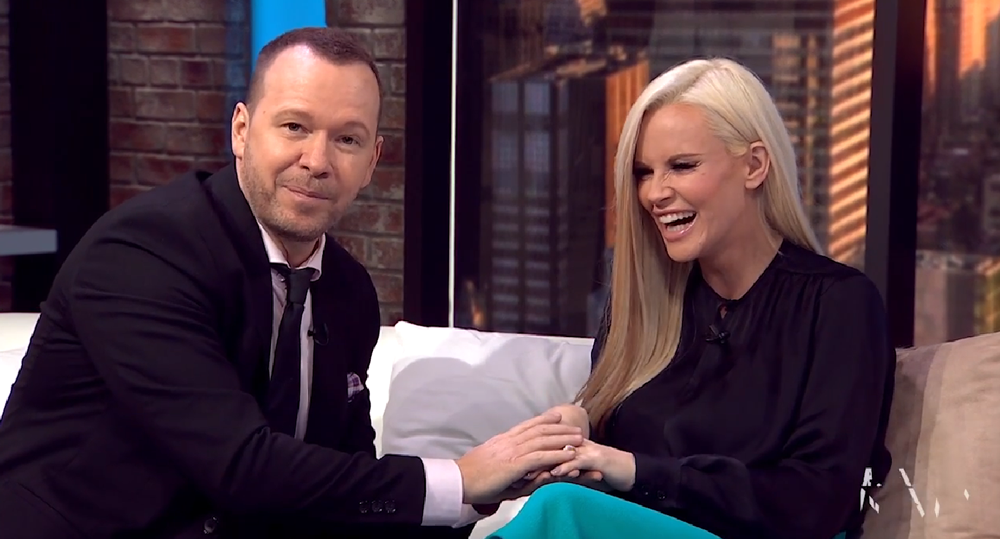 Donnie reads: The sexiest thing about Jenny is…
The man hands, they may look manly to some, but they really feel great upon my bum. The foreleg [lifts up her leg and mimes biting it], it's like when Fred Flinstone was eating the brontosaurus rib. Then of course the face of an angel. Look at the perfect lips, the incredibly structured chin, the angel eyes.

And then of course she's a fan of my bum [he stands up and she grabs his butt], but I have to say this dress and this bum. [She stands up and he squeezes her butt]

Those are the sexiest things about my Jenny.

Jenny reads: The funniest headline I've ever read about myself was…
Donnie: One was Jenny McCarthy says Donnie Wahlberg has a perfect penis. That was a good one.

Donnie reads: One thing no one would know about Jenny is…
That aside from all the wild humor, and crazy jokes and beautiful good looks she really has the most incredible heart in the whole world and I am the man that is lucky enough to wake up to all the love and that amazing heart every single day. I know I've been very jokey through this whole process but she has a heart of gold and I'm a lucky man. I love you.
Donnie was joking around, but he seems to really think that Jenny, who currently resembles an elf, looks like an angel. She's beautiful to him. Many of us think she would be much better looking if she stopped getting crap injected into her face, but she probably doesn't care as long as Donnie is constantly hanging all over her. Love is blind, right? These two are like if Tom Cruise in his couch jumping days was married to someone exactly like him, except they really seem to be crazy about each other instead of just crazy. What's going to happen when the honeymoon period wears off though? Are they going to watch these interviews and cringe? They should be cringing now.