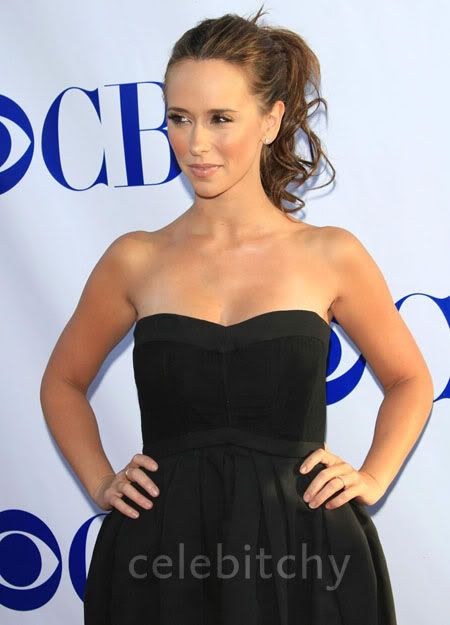 The stars of CBS television were on hand to promote the network at the Stars Party held at the Wandsworth Theatre in Westwood, California yesterday. Hewitt wore a cute black strapless dress with a wide skirt and flats.
Hewitt said in a recent interview that working on "Ghost Whisperer" helped change her perspective on the supernatural. She said she didn't believe in ghosts before she worked on the series as a medium, but now she's open to the idea.
Hewitt says the show helps people realize that life is not forever and that you should spend time with people you love when you have the chance:
"Go and say your 'I love yous' and your 'I'm sorrys' and spend time with the people you love and really make it count because life is a fleeting thing."

The show has also changed Hewitt's perception about death. Although she used to be afraid to broach the subject, Hewitt now tries to see it in a positive light.

"Death is not a horrible thing. It's a painful thing for those who are left behind. But for the person who leaves, it's like, I was here and I did something tremendous and great and people are going to remember me for it, whether it's a million people or just five. And when you look at it that way, it becomes a positive thing."

She also didn't believe in ghosts before, and hasn't seen one either.

However, after spending one season playing Melinda, Hewitt has changed her mind. Well, sort of.

"I think I have to believe in it a little in order to play Melinda every day," she stressed. "You know, there probably are these energies, spirits and ghosts and, maybe, we should have a little more appreciation for them."
[From The Star, Malaysian paper]
She also said that people expect her to be like her character Melinda and help them contact the dead in their time of grief:
"People want me to come to funerals and just sit there and help them out. And it's a very odd thing because I'm not really sure what I would do for them."
She said she doesn't mind people paying attention to her boobs and that "there's a hundred other body parts that I feel completely insecure about and would rather no one ever talked about. So if they focus on breasts, it's fine with me."
Hewitt attended the event with her boyfriend of over a year, Scottish actor Ross McCall. They seem really happy together and I bet they get engaged soon.
Thanks to WENN for these pictures. Jennifer Love Hewitt, Alyson Hannigan, and Charlie Sheen are pictured.