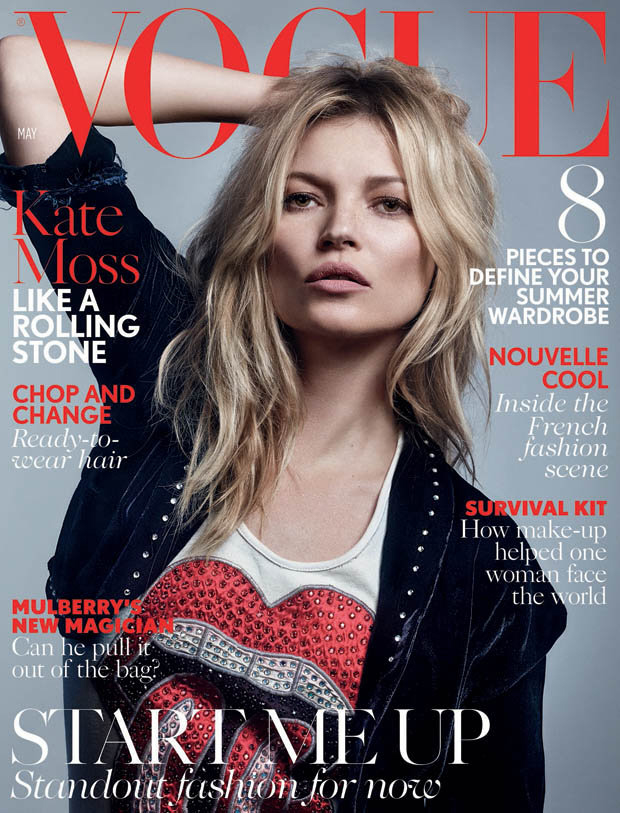 It's difficult to even describe, as an outsider to British culture and celebrity, what Kate Moss means to Great Britain. Like, she's one of the most iconic British people in the world right now. She's arguably the most famous British model of all time. She's been well-known, beloved and gossiped about for more than two decades. There has barely been a month in 20 years when Kate isn't somewhere, doing something or covering some magazine or walking some runway or part of some scandal or being discussed in some way. And throughout it all, she barely ever speaks in public. Finding a quote from Kate Moss is like finding the Holy Grail.
So, she covers the May issue of Vogue UK. Guess how many times she's covered British Vogue? 37 TIMES. Seriously. That's practically twice a year for 20 years. Kate got the cover this time to… like, pay homage to fifty years of the Rolling Stones. That's what the Union Jack-flag photo is all about, it's an homage to the famous photos of Mick Jagger draped in a Union Jack. Still, why not put Mick Jagger on the cover? No, they had to use Moss. Again. For the 37th time.
Meanwhile, did you hear that Kate is leaving her long-time modeling agency? She was discovered by Sarah Doukas of Storm Models when she was 14 and she's been with Storm ever since. Kate is 42. So… nearly 30 years. And she's done.
Kate Moss has left Storm Models, the agency to which she has been signed since she was first discovered by its founder Sarah Doukas in JFK airport aged 14, the company confirmed to us this morning.

"After a successful 28 year relationship, Kate is moving her business in house, and we will continue to maintain an active involvement in our on-going deals for her," read a statement from the agency, which is responsible for the fashion careers of hundreds of major fashion models including Cindy Crawford, Jourdan Dunn, Liu Wen, Behati Prinsloo and, until recently, Cara Delevingne. The agency does, however, still have one Moss on its books in the form of Kate's little sister, Lottie.

Moss – who has established herself as a shrewd businesswoman in recent years with many collaborations and additional ventures to her modelling – will, moving forward, manage the majority of her modelling commitments herself, collaborating with the agency on an ad-hoc basis. The move, however, is said to be amicable.
If this was anyone else, I might think that the model was pissed that she wasn't getting consistent work in her 40s. But this is Kate Moss and she still works all the time. I've heard that she still has plenty of offers for advertising and magazine work and she can pick and choose what she does. So what's this about? Her divorce? A new phase in her career? I have no idea.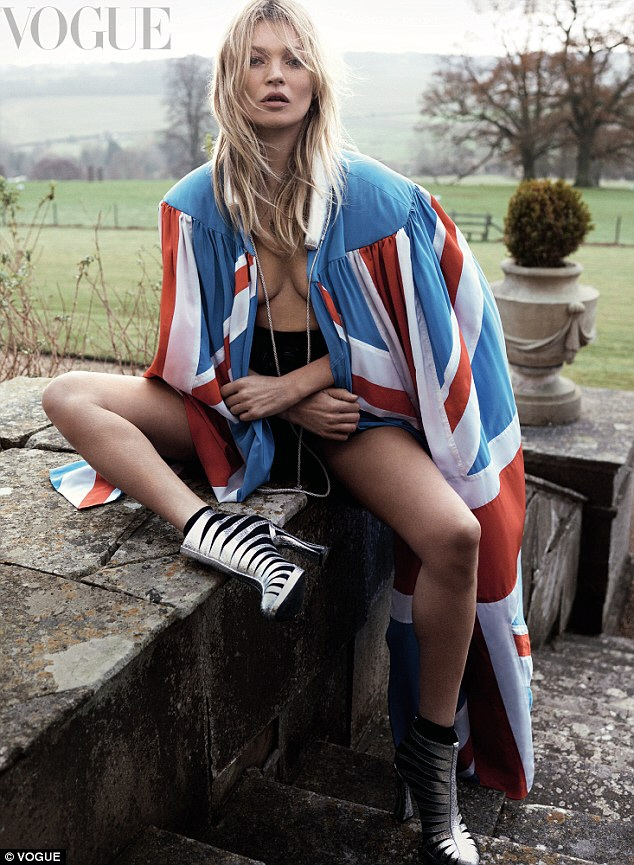 Photos courtesy of Craig McDean/Vogue UK.