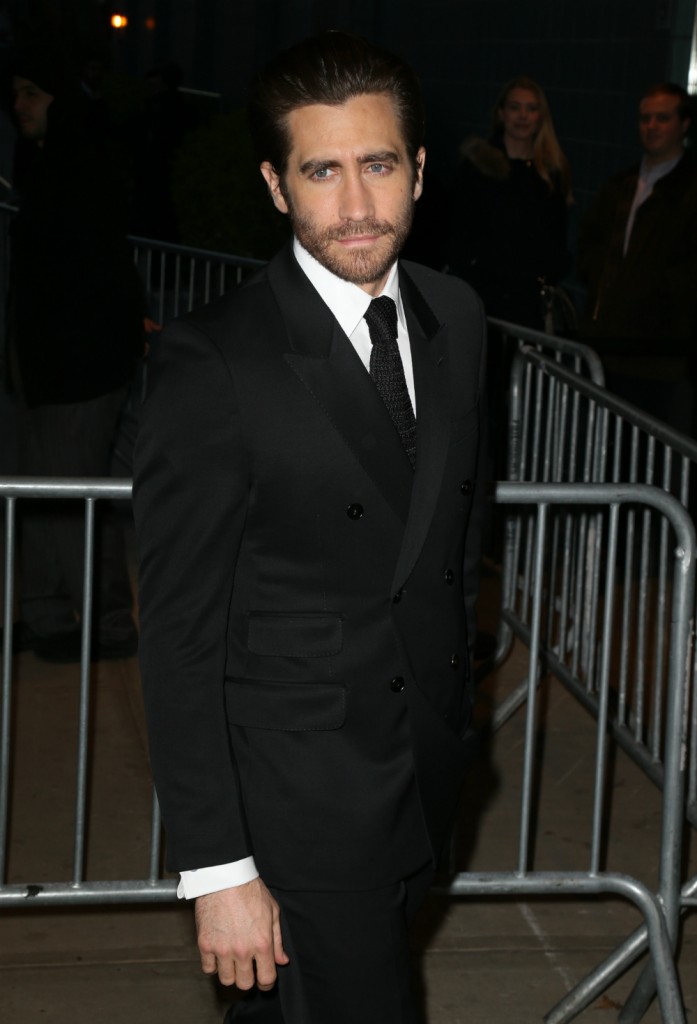 I think Jake Gyllenhaal is a truly talent actor and I love Donnie Darko with a white white hot passion. And yet, I keep forgetting about him off screen. His new film Demolition opens tomorrow. The trailer is moody and suggests a complex plot which might be humorous enough to hold my interest.
While promoting Demolition on The Jeff Cagle Interview for People, Jake sheepishly fielded questions on his infatuation for his The Good Girl co-star Jennifer Aniston. First he diverted with sarcasm, then he took the fifth only to break it with a halting admission.
Jake Gyllenhaal has starred with some of Hollywood's biggest actresses throughout his career – everyone from Anne Hathaway to Rene Russo to Rachel McAdams to Natalie Portman to Reese Witherspoon. But it was Jennifer Aniston, Gyllenhaal's costar in The Good Girl, who left the actor almost speechless.

"She's a rough one. Not likable. So hard to compliment," Gyllenhaal joked to PEOPLE and Entertainment Weekly editorial director Jess Cagle in the latest edition of The Jess Cagle Interview.

Gyllenhaal was 22 years old when The Good Girl came out, and the film found him playing Aniston's onscreen love interest. "I will say, I had a crush on her for years. And working with her was not easy," Gyllenhaal said of making the film with Aniston. "I was – um, yeah. That's all I'm going to say. It was lovely. It wasn't hard, that's what I would say."
If I didn't know better, I would think this was a bona fide – and lingering – crush. But let's face it; I don't know any better.
Last year was the ten year anniversary of Brokeback Mountain. Jake was all of 27 when he made that movie. Obviously the role was huge for his career but what might have been even more important to him was his friendship with costar Heath Ledger who died only three years after the movie came out. Jake spoke about Heath's death to Cagle:
"Personally, it affected me in ways I can't necessarily put in words or even would want to talk about publicly. In terms of professionally, I think I was at an age where mortality was not always clear to me.

"I think you live in this bubble, too, of making films … There are real friends, and there is a real community. There is also that [new Macklemore song] where he says, 'The curtain closes and nobody notices' … I think that's true, and I think that's okay. But I think at the time, I assumed everyone would notice – and they did with Heath dying, but I think it [gave me] the experience of, 'This is fleeting.' And none of the attention or synthesized love that comes from the success of a film really matters at all. What matters is the relationships you make when you make a film, and the people you learn from when you're preparing for a film. That changed a lot for me.
Maybe that is the secret to Jake's cloak of ambiguity, he only allows us his professional persona. Really, that's all any actor owes the public. As a person who wishes she could stop wearing her emotions on her sleeve, I admire the hell out of him for keeping his cards close to his chest. Knowing this, I imagine I won't forget about Jake anymore.
Photo Credit WENN Photos and Getty Images