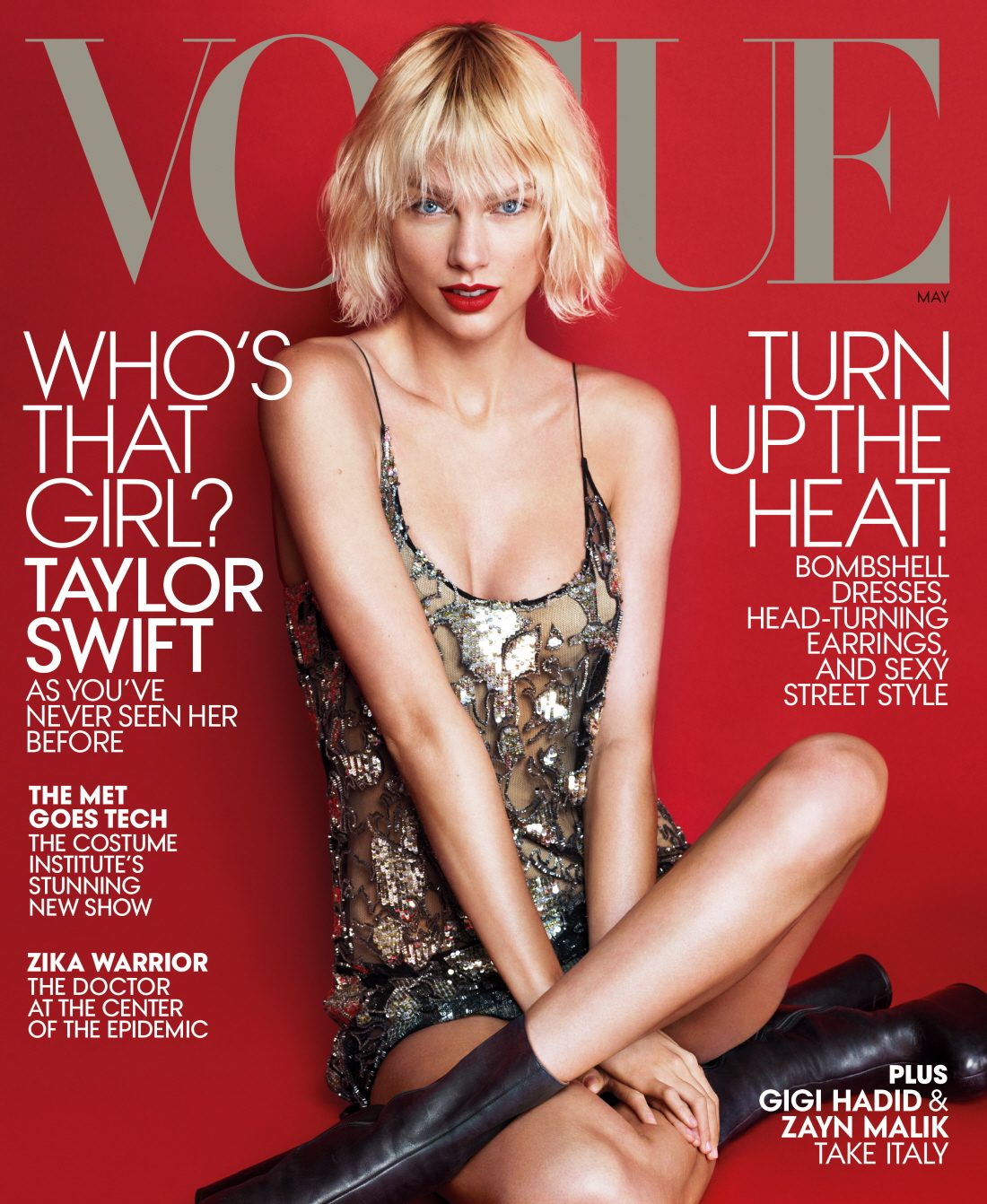 My God. Just… my God. This is possible the worst Taylor Swift cover image I've ever seen. And that fact that it's American Vogue and that Taylor is the co-host of this year's Met Gala and Taylor is like the biggest thing in music right now… there's absolutely no reason for Vogue to use this image for their cover. It's SO WRONG. Does Anna Wintour passive-aggressively hate Taylor or something? This is Exhibit A for why bangs need to stop happening. Anyway, there will be plenty of time to pore over this Vogue profile – you can read the full piece here. Taylor is usually a pretty good interview, and this Vogue piece is a breezy read. She's matured to the point where he's not taking swipes at people, but she's still the Swifty we know and love/hate. Some highlights:
Her future plans: "I have no idea. This is the first time in ten years that I haven't known. I just decided that after the past year, with all of the unbelievable things that happened…I decided I was going to live my life a little bit without the pressure on myself to create something."

She'll never give up music: "I'm always going to be writing songs. The thing is, with me, I could very well come up with three things in the next two weeks and then jump back into the studio, and all of a sudden the next record is started. That's an option, too."

But she wants a more well-rounded life: "I would really like to take a little time to learn things…I want to be a well-rounded person who can make a good drink…to be able to save somebody if they're drowning…I do things like this… I got it in my head that I couldn't do a split, and I was really upset about it. And so I stretched every single day for a year until I could do a split. Somehow I feel better knowing that I can."

Her relationship with Calvin Harris/Adam Wiles: "I'm just taking things as they come. I'm in a magical relationship right now. And of course I want it to be ours, and low-key…this is the one thing that's been mine about my personal life."

On the Kanye West drama in February: "I think the world is so bored with the saga. I don't want to add anything to it, because then there's just more."

On the men in her life: "You know, I went out on a normal amount of dates in my early 20s, and I got absolutely slaughtered for it. And it took a lot of hard work and altering my decision-making. I didn't date for two and a half years. Should I have had to do that? No. I guess what I wanted to call attention to in my speech at the Grammys was how it's going to be difficult if you're a woman who wants to achieve something in her life—no matter what."

Whether her girl-squad is actually a bad thing: "Ugh. I've had people say really hurtful things about me, and so I've kind of learned how to gauge it: 'This is, like, low-to-medium-level hurtful.' There are a lot of really easy ways to dispel rumors. If they say you are pregnant, all you have to do is continue to not be pregnant and not have a baby. If the rumor is that you have fake friendships, all you have to do is continue to be there for each other. And when we're all friends in fifteen years and raising our kids together, maybe somebody will look back and go, 'That was kind of ridiculous what we said about Taylor and her friends.'"
I glanced through the whole piece and I'm giving Taylor a slow-clap for not engaging with Kanye West in any way. If this was three years ago, she would have had unnamed sources or her girlfriends do the heavy lifting on taking someone down, but Taylor just breezes past the subject of Kanye with what amounts to a shrug. Good for her. The only eye-roll moment I had was this: "I went out on a normal amount of dates in my early 20s, and I got absolutely slaughtered for it." That, to me, is a fundamental misreading on Taylor's part. I never cared that she dated guys, and she's a celebrity so of course her boyfriends will get attention and media coverage. She was "slaughtered" (not even) in the press for using those relationships as barely-concealed blind item/hit-piece songs. She literally has a song called "Dear John" about John Mayer. She literally has a song "Style" about Harry Styles. It was petty and juvenile.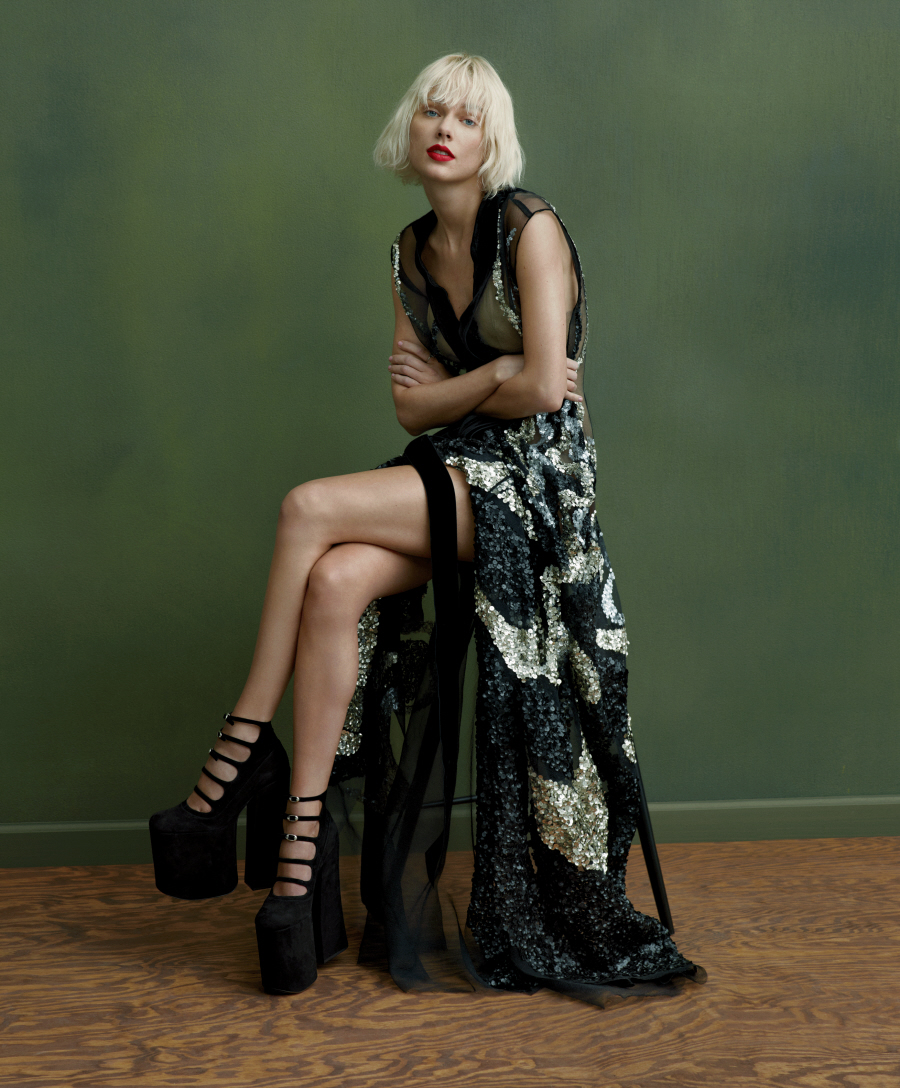 Photos courtesy of Mert Alas and Marcus Piggott/Vogue.