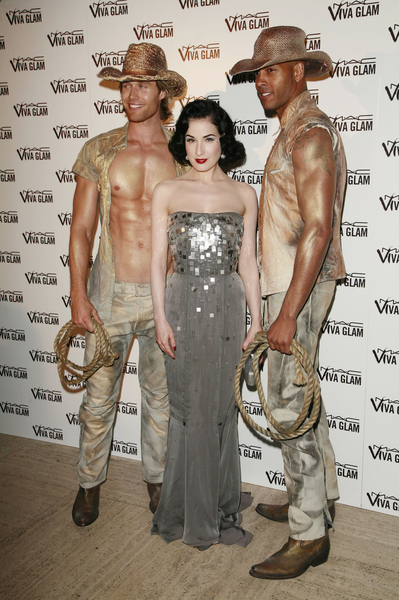 Marilyn Manson's ex-wife Dita Von Teese has come out with this statement…
"Amateur pornography is a great thing. You can find something for everyone on the Internet," Contactmusic quoted her as saying.

She insists that she is just like other people who like watching others having sex.

"As long as no one's hurting anyone or involving children, then hey, what's wrong with that? People love watching people having sex. I'm no different," Von Teese said.
Does she have an opinion on when it involves animals? Just kidding. Really, what Dita Von Teese does is just a sort of porn (okay, it's arty porn, but she's still naked or provocative, and fabulously sexy) so you could hardly expect her to be against it, would you?
Dita Von Teese's replacement, Marilyn Manson's new girlfriend Evan Rachel Wood has come out and said this about her relationship with MM.
Wood says, "I've seen blogs . . . that say I should be condemned to death simply because I've fallen in love. Surely the fact that we are both prepared to go through all this proves just how important — and real — our love is, no? Everyone is so worried that I'm losing myself, but really I'm finding myself. I've never been more comfortable in my own skin."
I always feel kind of bad for the other woman, and she seems to suffer by far more slurs than the husband. Evan Rachel Wood wasn't the married one. It's like Angelina Jolie always gets to be the bad guy who 'stole' Brad, Jennifer gets to be the career driven bitch who denied Brad kids, and he is some kind of innocent bystander. Relationships fall apart, sometimes just because you're bored. Although I'm pretty sure life with Marilyn manson could be many things, but boring isn't the adjective that comes to mind.
Update by Celebitchy: There's a completely unsubstantiated rumor going around that Evan Rachel Wood is pregnant with Marilyn Manson's spawn, and I think spawn is the right term considering it's Manson we're talking about.
Dita Von Teese is shown in the header photo at the Mac Viva Glam Aids fundraiser on 6/27/2007. I thought it was a fitting picture for obvious reasons. Thanks to PRPhotos.