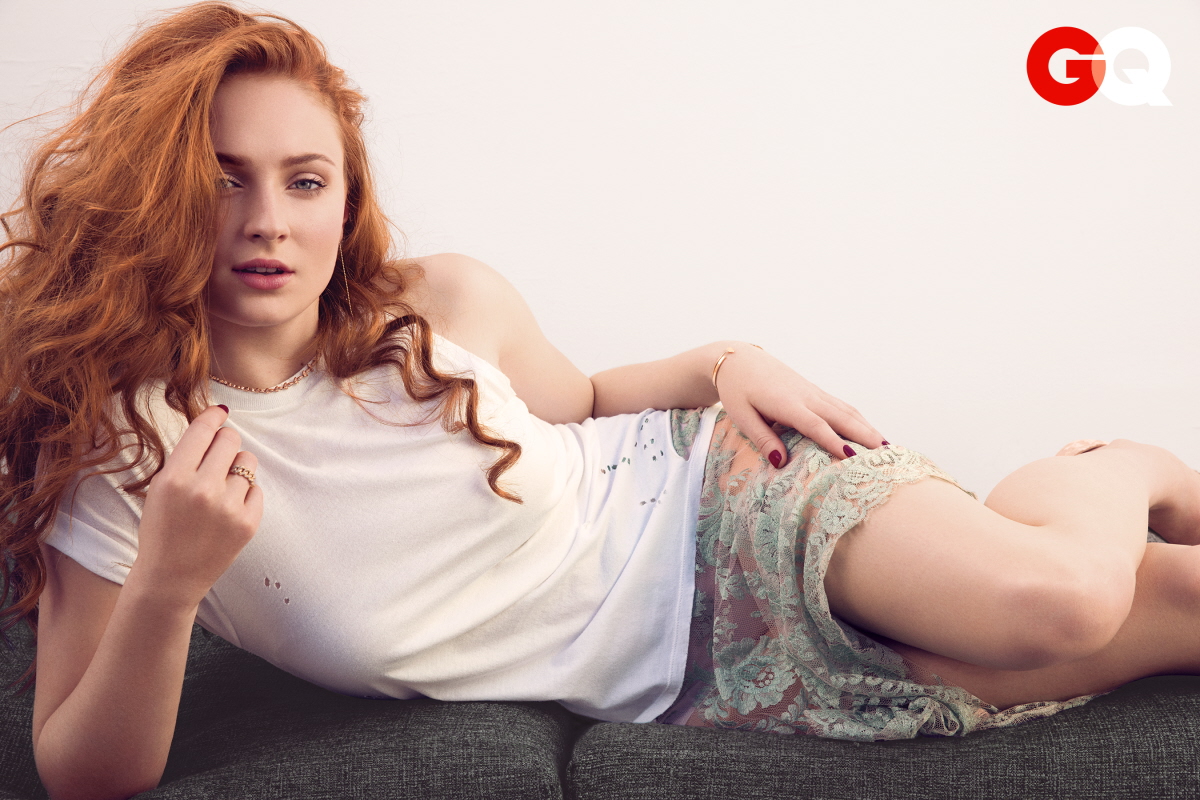 Do you sometimes get the feeling that the ladies of Game of Thrones love to "take the piss" out of Kit Harington? I do. Several of them have openly mocked Kit and his mopey sadface in previous interviews. It's not that the cast members don't like him or enjoy him, but it definitely feels like he gets teased A LOT. Well, Sophie Turner has a great interview in the May issue of GQ (with Ryan Reynolds on the cover). In the interview, she says some really, really funny things about Kit and his luxurious curls. You can read her full piece here. Some highlights:
She loves Steve Carell: "Anchorman is my favorite movie in the world," she says breathlessly, recounting her nervous glee at landing a seat near Steve Carell at the SAG Awards. "I was yelling, like, 'I love lamp!' and waiting for him to reply."

Who's hair takes more time on GoT, hers or Kit's? "That's a good question. If it was up to Kit, as to how long hair would take, he would take longer on those. But it's mine that takes longer. He wakes up and his is terrific naturally. He's got like the perfect little pin curls. He looks amazing. Mine takes a while. I don't wake up looking like Kit Harington."

How Kit maintains his hair: "He'll kill me for saying this, but if we're on the red carpet, I promise he'll stand in front of the mirror for hours. I've seen him do it. Even though he wakes up perfect, it's never good enough for him. He's gonna absolutely kill me."

She wishes Sansa was more like Arya: "Ugh, yes. Totally. Like the past five seasons, when Maisie is getting to run around with swords and in trousers and stuff, I'm just like, "Gah. Man that looks like so much fun!" But Sansa's never gonna be doing that. Her weapon is her mind. Her intellect. She's a sharp one."

Everyone on GoT fears that they're going to die next: "Yes, oh my God. Yeah. It's crazy. Almost every day we're on set we're like, "Who do you think is gonna go next?" It's almost like living in the Blair Witch project."

What the cast does when someone gets killed off: "There's always a lot of drinks at the bar. But by now we're so used to it. We used to have big things when other people died. But there's so many people who die now, we're like, "Can't really afford it, man. We've been out every night."
Much like my affection for Emilia Clarke, I sort of love Sophie's attitude. She's a ray of sunshine in real life and she's sort of dorky-hilarious. I love that she's telling Hard Truths about Kit's hair and how he stares at himself for hours in the mirror trying to get his curls to look perfect. I love that kind of vanity in men, especially since Kit tries so hard to convince people to take him seriously.
PS… Yes, we'll have a next-day recap of Game of Thrones on Monday!!
Photos courtesy of GQ, Dusan Reljin/GQ, Getty, WENN.