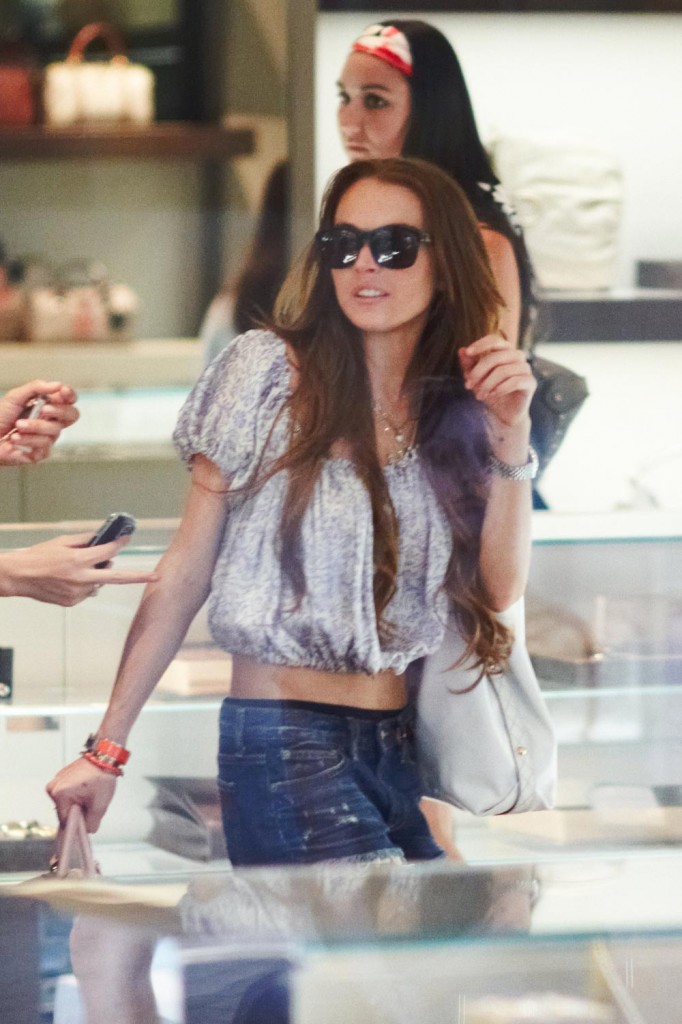 Have you ever been in a relationship where you're drawn to someone but you keep fighting and you just can't make it work no matter what you do? If you get back together with the person after finally finding the strength to break up it's like re-opening a wound. You can't help but pick at it for temporary itch relief, even though you know it will hurt worse in the long run.
That's how I see Lindsay and Sam. Sam is the one who knows better while Lindsay is such a mess she can't see any other alternative than to be in a relationship that provides some kind of stability for her, even though she sabotages it constantly.
At the end of last week, Samantha changed her status on Facebook from "single" to "it's complicated" after spending six hours with Lohan. The two then spent at least two nights together, Friday and Saturday:
Shutterbugs caught Ronson, 31, leaving Lohan's pad at 6 a.m. Friday after spending the entire night with her ex.

Lohan, 22, was spotted heading into Ronson's home later that night and didn't leave until the next morning.
Coincidentally – or not – Ronson changed her Facebook relationship status from "single" to "it's complicated" around the same time.

A source close to Lohan tells People magazine that the "Mean Girls" star's alarming recent weight loss is an attempt to get attention from Ronson.

"She is a self-destructive person," Lohan's "friend" says. "It's all part of her cry for attention. She wants Sam to see how bad she's hurting and she wants Hollywood to see her as a 'tortured artist' who is wasting away … This is a symptom of something much bigger – a desperate need to be noticed."
[From The NY Daily News]
Maybe Lohan's pleas on the cover of US Weekly and in her interview with Ellen Degeneres actually worked. She told Ellen that Samatha wasn't around for a while and then broke up with her and that she had no idea what prompted it "I just hadn't seen her in, like, a week. She.. disappeared. When you don't know you're breaking up. Really weird." [via Huffington post]
The story was that Ronson's family staged an intervention after being fed up by Lohan's bad behavior and sense of entitlement. Maybe Sam's heart wasn't in it, because she eventually caved and gave in to Lindsay's epic text messages and media appeals. I feel kind of sorry for both of them and it just looks like they're postponing the inevitable and making it harder in the long run. People do get back together and make it work, but these two have too many hurdles to get over, especially considering Lindsay's addictions. According to Mike Walker's column in this week's National Enquirer, Lindsay pledged to Sam that she'd go to rehab if she took her back. I hope that's true and that she follows through, but it's doubtful.
Lindsay is now in Hawaii and was spotted in Maui shopping at Gucci and Louis Vuitton yesterday. It doesn't look like she's headed to rehab anytime soon.
Lindsay and Sam are show separately outside Sam's house on 4/25/09 after spending the night together. Credit: INFPhoto.com. Lindsay is also shown shopping in Maui yesterday. Credit: Matingas/Laurent/Bauergriffinonline