Rebecca Romijn is promoting the latest season of Skin Wars, a reality competition show she hosts in which contestants are masters at temporary body paint. I don't watch it but I know two people who do and who rave about the show, which is on GSN. Romijn, 43, started out as a model for Victoria's Secret and Sports Illustrated in the early 90s and so she has some thoughts about trends in modeling, namely more curvy models and the new crop of Instagram models which has come up. I appreciate how candid she was about the fact that she considers social media models just another trend. And unlike Cheryl Tiegs she's able to recognize model Ashley Graham as hot instead of concern-trolling her. Here's more of what she told Entertainment Tonight:
Speaking of Sports Illustrated, Cheryl Tiegs criticized the magazine for putting a plus-size model on the cover of their most recent swimsuit issue. Do you have a different opinion?

Absolutely! Ashley Graham is one of the most beautiful women I have ever laid eyes on. She is incredibly healthy and I think it's fantastic that SI is opening up our standards of beauty to include somebody that a lot more people in our country can relate to. Women don't get sexier than Ashley Graham — she is just as hot as can be.

As a former fashion model, what are your thoughts on the new generation of models such as Kendall Jenner and Gigi Hadid, who are more famous for their social media presence than their runway experience?

No one has proven yet that numbers of followers translates to revenue. So it is frustrating. I know a lot of people — legitimate fashion people — can't stand it. Hate it that these, you know, social media stars are now the supermodels in fashion. They are not true supermodels. And the thing is, I have always looked to Vogue magazine to lead the way, not be a follower. I rely on Vogue to set the standard, not follow what everybody else is doing. So I have been disappointed that fashion magazines have been supporting this trend of social media stars to set our style standards. But it will change; fashion always does.

Your costar from the first three X-Men movies, Famke Janssen, has criticized the apparent "sexism" of the recent time-tripping films in which older versions of the same female character have not been brought back, unlike the older male characters.

I am glad that she said it and put it out there.

Do you agree that this is yet another example of sexism — and ageism — in Hollywood?

I haven't thought about it much because they signed us to these movies three at a time, so my contract was for the first three. It's a contractual thing. I don't have an opinion on whether or not there is some kind of double standard going with regard to bringing back the older men [Patrick Stewart and Ian McKellen] but not the older women. I'd be happy to go back and reprise that role sometime but maybe they have moved on. Maybe they just want to keep going younger. People tweet at me all the time: "Would you ever go back and play Mystique again?" Um, do people realize that it's not my choice? [Laughs] Have I been asked? No, I have not been asked.

How do you feel about Jennifer Lawrence's interpretation of the character that you created?

Jennifer Lawrence is doing a fantastic job. I could not think of a cooler girl to share that role with. It's not like I take issue with who has taken over the role of Mystique. She is a solid actress and she's got an Oscar, so she is doing something right.

Is there any truth to the rumor that your husband, Jerry O'Connell, is being considered as Michael Strahan's replacement on Live?

I have no idea. The news is so new that it just blindsided all of us. He was in the rotation before Strahan was hired — it was down to just a handful of people and he was definitely in the running then.
I like how open she is about everything, she gives a good interview. She cleverly brought up the topic that there's a double standard for the older X-Men actresses being replaced while the men are allowed to stay on, but said she but said that she "didn't have an opinion" on it. She has an opinion, there's a double standard! As for her husband Jerry O'Connell's chances to replace Michael Strahan I get the impression that he's always the goofy runner-up choice, never the front runner. We've heard that Kelly wants Anderson Cooper or Andy Cohen anyway, as she's close to both of them and they're arguably more famous than Jerry, plus his name was not included in the list of guests hosts recently floated by People. So poor Jerry I guess.
Regarding her thoughts on Instagram models not being "real" models, the most famous Instagram models are the beneficiaries of nepotism too. Still, they're working with the technology that's available now and making careers for themselves. If Instagram was available in the 90s you can bet the supermodels would have taken advantage of it. Instead they were beholden to recruiters, editors and modeling agencies who got to make or break careers. As much as some of the Instagram celebrities bug, I don't see how it was better in the past.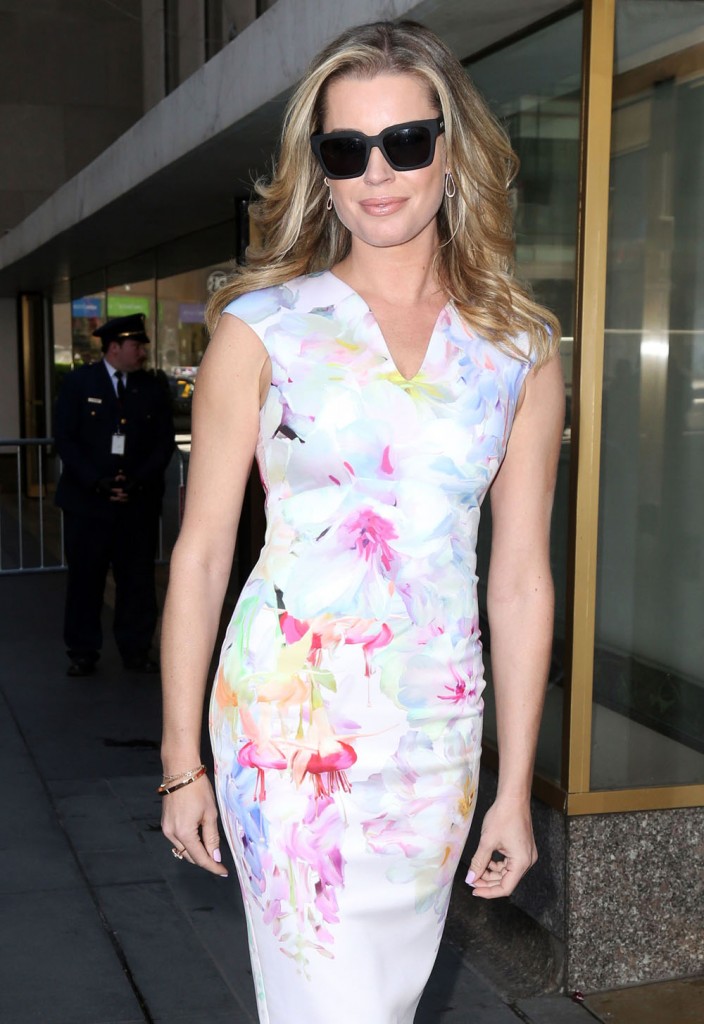 photos credit: Getty, WENN and FameFlynet