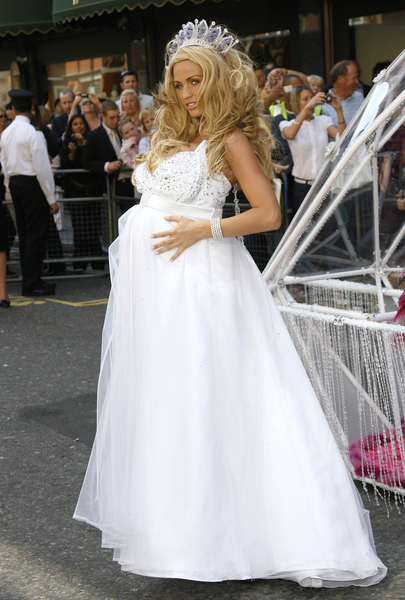 Katie Price, who explained her dream wedding to her manager by showing her a barbie dream carriage, has named her third child, a three week-old daughter, "Princess Tiáamii" with an accent on the first a, to "make it a bit more exotic," as if the name needed any help in that department. Price is better known as "Jordan" and is a British psuedo-celebrity who made a name for herself by appearing on reality shows and showing up to events wearing ridiculous body-baring outfits. She's a great businesswoman also, and has written a bunch of autobiographies, launched lingerie and jewelry lines and put out an album with her husband, Peter Andre. She has a fortune that's said to be around $60 million. [Details from Wikipedia]
Now she's given her daughter a ridiculous name, and can join the ranks of other deluded celebrities who doom their children to years of taunting:
"Her name is Princess Tiaamii. Princess because she is our princess and Tiaamii was Pete's idea because it's taken from our mums' names.

"We've put an accent over the first 'a' to make it a bit more exotic and two 'i's at the end just to make it look a bit different.

"We love it because it's unique, plus it means something special to us. I'm going to get a tattoo on the back of my neck with a crown and 'Princess' underneath."

Former pop star Andre added: "Katie always loved the name Princess but everyone thought it was a bit over the top. I loved it too but I wanted to name her after both our mums and then I just woke up one morning and thought 'I know! We'll just put them together!'.

"If people don't like it, that's up to them. We're really happy and proud."
[From The Daily Mail]
This woman also bragged about how she had sex with her husband again after he battled life-threatening meningitis, saying his manhood was "still nice and big" after his illness, and that his manscaping left him "bald as a badger" down there. She'll find other ways to embarrass this child than just calling her Princess Tiáamii.
This brings to mind the poor children of Paula Yates, Heavenly Hiraani Tiger Lily, Fifi Trixibelle, Peaches Honeyblossom, and Pixie. There are plenty of other examples of celebrity children with odd names, and here are my favorites:
| Baby Name(s) | Celebrity Parent(s) | Gender |
| --- | --- | --- |
| Banjo | Rachel Griffiths | Boy |
| Pilot Inspektor | Jason Lee | Boy |
| Tu Morrow | Rob Morrow | Boy |
| Diezel and Denim | Toni Braxton | Boys |
| Speck Wildhorse and Hud | John Mellencamp | Boys |
| Aurelius | Elle Macpherson | Boy |
| Kyd | David Duchovny and Tea Leoni | Boy |
| Hopper | Sean and Robin Wright Penn | Boy |
| Racer, Rocket and Rebel | Robert Rodriguez | Boys |
| Satchel | Mia Farrow and Woody Allen | Boy |
| Jermajesty | Jermaine Jackson | Boy |
| Reignbeau and Freedom | Ving Rhames | Boy and Girl |
| Audio Science | Shannyn Sossamon | Boy |
| Daisy Boo and Poppy Honey | Jamie Oliver | Girls |
| Kal-el Coppola | Nicholas Cage | Boy |
[Details from Yeahbaby.com, perfect-baby-names and The Sydney Morning Herald]
Apple really doesn't sound that bad now.