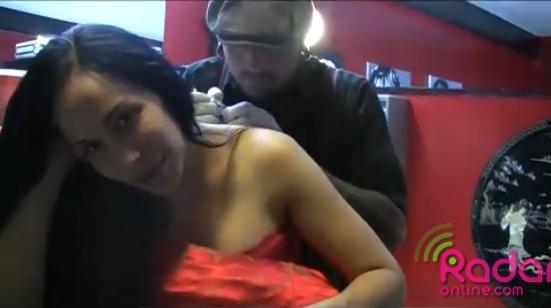 Nadya Suleman – the woman who's so broke she said she's applying for WIC federal benefits to pay for her eight babies' formula, along with food for her other six kids, got a tattoo this weekend, and of course brought Radar along. I'm starting to think they either have a really codependent relationship, or they might have some sort of deal going on. Shocking idea, I know.
Personally, when I'm faced with the conundrum of figuring out whether I should buy a few cases of formula for my eight hypothetical babies or get a tattoo, I generally go with feeding the living, breathing creatures. But that's just me, and I'm overly-conservative that way. In fact, I have neither a tattoo nor eight babies, so you might say I'm downright dull, at least by Octomom standards. Nadya, however, naturally decided to go with the tattoo. She chose an angel with some important modifications, like "make the nose half the size and make the mouth a little rounder" – there was something about making it prettier, and a girl. She added 14 stars to represent each of her children.
Nadya Suleman has paid the ultimate tribute to her children – she immortalized them in ink! Octo-Mom gets her first tattoo in 16 years at Kustom Kulture in Hollywood and RadarOnline.com gives you the exclusive video of the whole trip — and the finished product!

As RadarOnline.com exclusively reported, Nadya already has seven tattoos, but apparently they are in places where only Octo-Daddy has seen! Nadya wanted another tattoo to celebrate her new babies — and this time she gets it in a highly visible place, and it's not small!

Watch as Dik from Kustom Kulture gives Nadya an angel tattoo surrounded by fourteen stars, one for each child.
[From Radar]
The strange thing is that while Nadya says she has seven other tattoos – she seems brand new to the process. She asks all sorts of questions that you wouldn't ask, even if the last one was sixteen years ago. The process hasn't exactly changed much. And yet she is talking about how it feels like she didn't know before. Once "Dik" (real name, I'm sure) starts and stops for a moment, she says "that's it?" about the pain. Later she notes, "It feels like you're swatting a bee off." All of this is said with a tone of surprise. At one point when she looks at the tattoo she says, "This is going to go away, right?" about the redness. If Nadya had gotten a tattoo before, she'd know that. Also… common sense would probably be a great indicator as well. How many people do you see walking around with red tattoos?
Sometimes I think she lies just for the sake of lying. I understand why she wouldn't want to admit to being a stripper or a lot of the other dumb decisions she's made. But why the tattoo thing? I'm so scared for these kids.