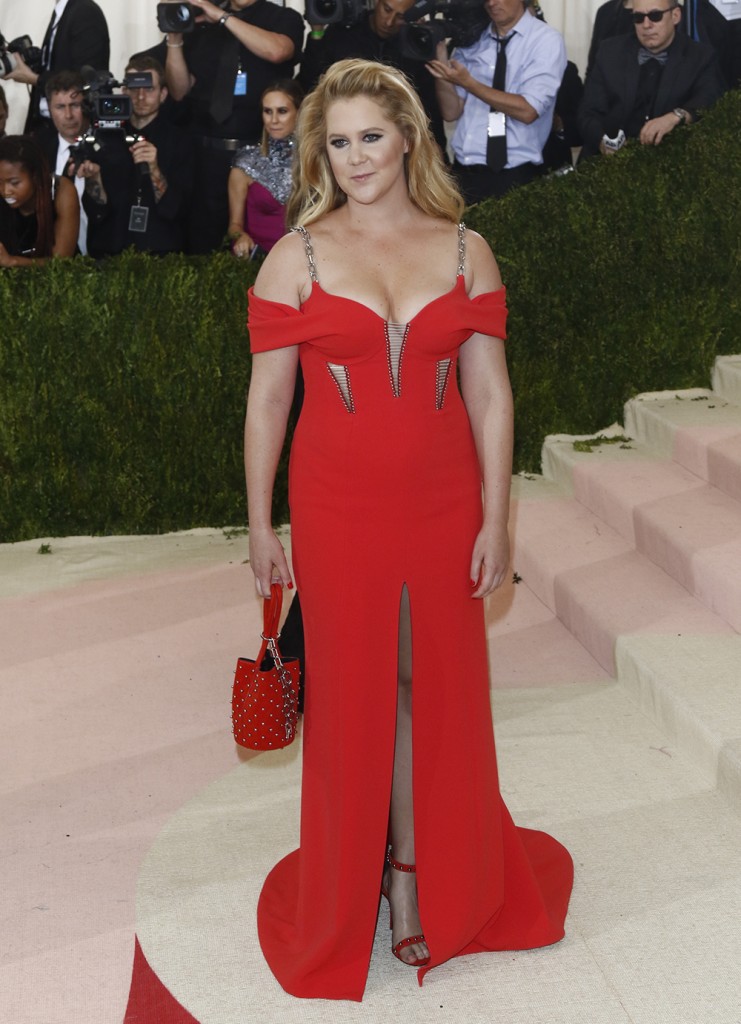 Comedienne and recent Vanity Fair cover model Amy Schumer may not be taking photos with fans anymore, but she posed on the red carpet at last night's Met Gala in a tangerine-hued gown by Alexander Wang. The gown featured chain shoulder straps, cutouts, and an "up to there" thigh high split. She complemented the gown with a matching bag and strappy sandals. There's something off about this gown for me. It makes her look like she has terrible posture and that top part is doing nothing for her boobs. I also wish she would have put her hair up. I do like her makeup though.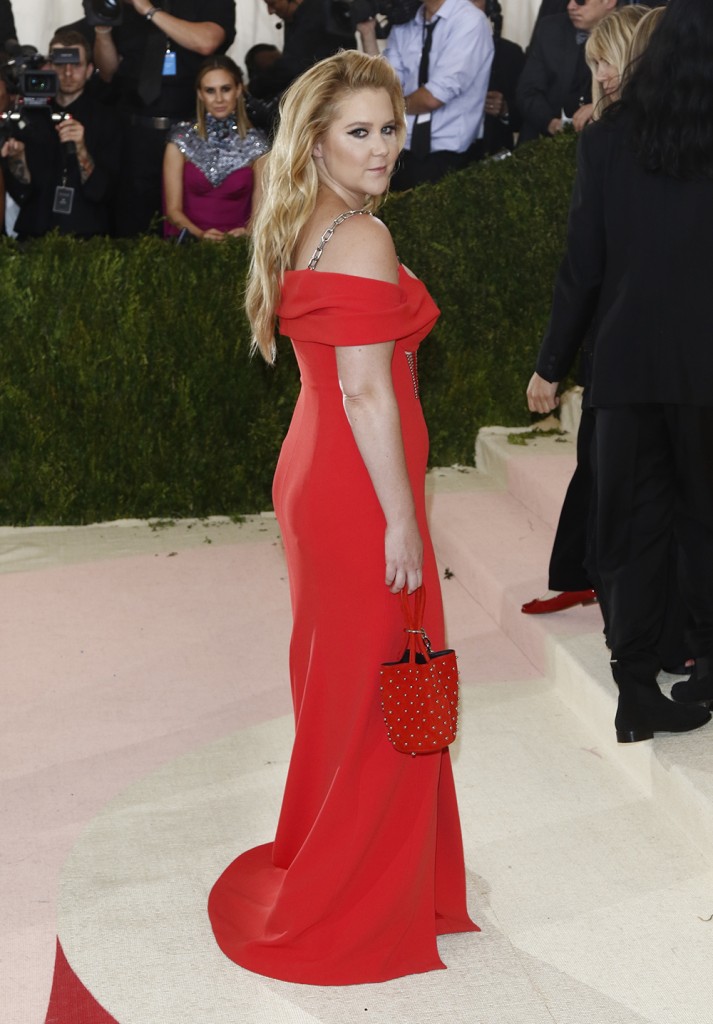 Fun fact: Amy has a unique way of dealing with chafing. She posted a quick video on her Instagram of her applying deodorant to the inside of her thighs with the caption, "No chafe #nothighgapnoproblem." Maybe a little TMI there, Amy? I really can't imagine she really has this issue, I think she's just going for the laugh.
Neighbors 2 star Chloë Grace Moretz attended the event clad in a black gown from Coach. The gown featured a plunging neckline and a front sheer panel. I love her hair and makeup and the fact that she didn't wear a lot of jewelry, opting only for earrings. The dress though…is is just me, or is the fabric giving anyone else a matronly kind of vibe? I know the sheer panel gives the gown a bit of an edge, but this whole look makes her look older, and not so much in a good way.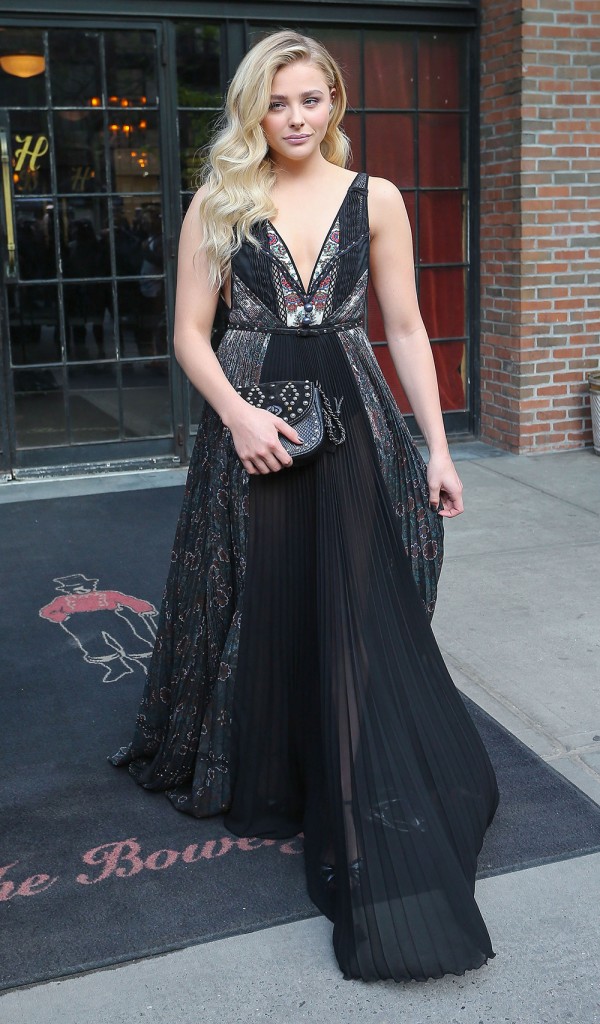 Hailey Baldwin also looks like she grabbed something from her mother's closet. The 18-year-old model wore a black and silver sequined striped gown by Tommy Hilfiger. The dress featured a side split and cutout back panel. She accessorized with a clutch by Edie Parker and strappy Stuart Weitzman heels. I love the back of the dress, but the front is doing nothing for me. I also love her slick ponytail and, no shocker, her makeup was on point.
Juno Temple, who I loved on HBO's Vinyl, gave me a 70s vibe with her gown by Erdem. I'm sensing a trend here, as this lacy number makes the 26-year-old actress look much older. The waistline on the dress is too low to be an empire and too high to be a true waistline. I don't know why that bugs me so much. I do love her ringlets and makeup though. And Juno looks like she likes the dress, she brought the designer as her date, posting a photo with him with the caption, "Best prom date ever." I think a real prom dress may have been a better choice.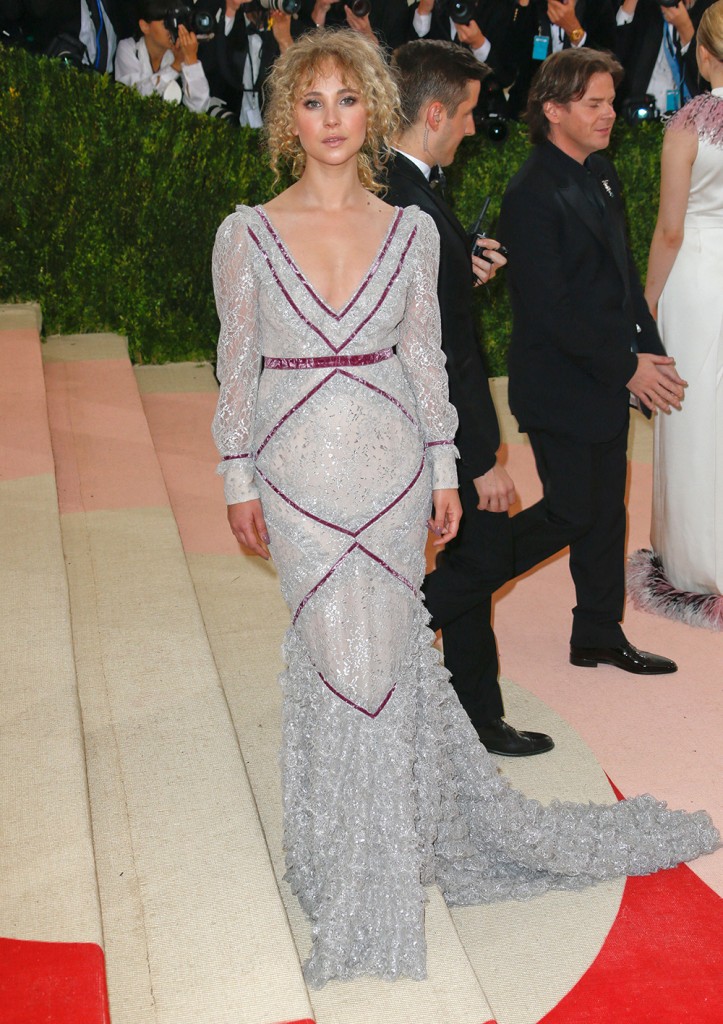 Photo credit: Getty Images, WENN.com, Fame Flynet