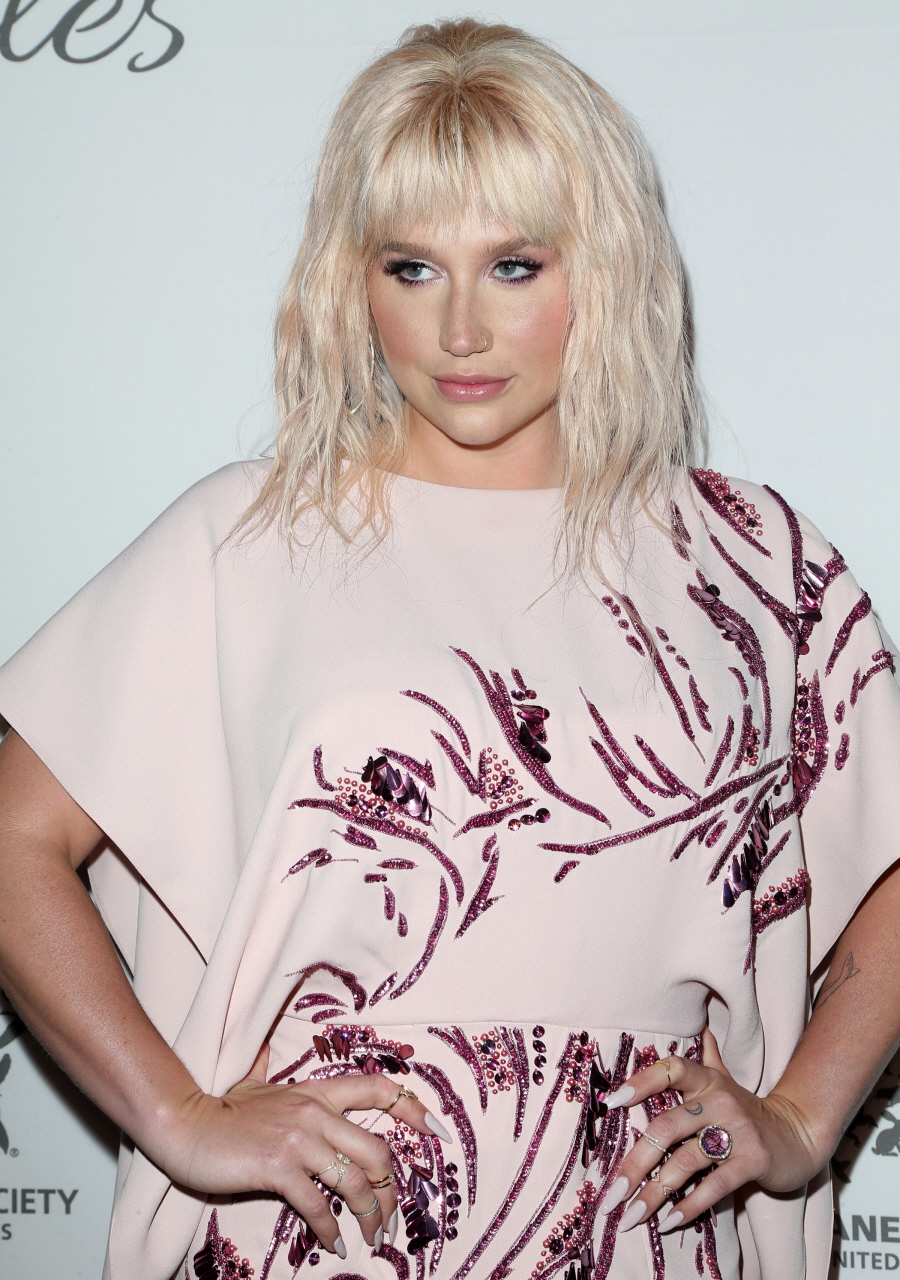 Here are some photos of Kesha at the Humane Society's Rescue Gala a few weeks ago in LA. It's good to see Kesha out and about these days, trying to reclaim her career and her life after everything that's gone down legally and personally with Dr. Luke. The last time we checked in on Kesha's legal situation, the federal judge had thrown out part of Kesha's appeal, and Kesha was and is still legally and contractually tied to Dr. Luke and his label, Kemosabe Records. The judge seemed to believe that even if Kesha's claims of physical and emotional abuse were true, Dr. Luke would still support Kesha's music and give her free rein to record and perform, because capitalism. Let's see how that's working out, shall we? For several days, Kesha and her team were making a big deal about how she would be performing at the Billboard Awards on May 22 (this Sunday). She was going to perform a cover of Bob Dylan's "It's Ain't Me, Babe." She got written permission from Kemosabe Records, but then Dr. Luke rescinded the permission. So… yeah. FREE KESHA.
Sad news for Kesha and her fans. The "TiK ToK" singer has been barred from taking the stage at the Billboard Music Awards on Sunday, May 22. Dick Clark Productions, which oversees the annual awards show, released a statement on Tuesday, May 17, revealing that the 29-year-old's scheduled performance has been canceled by her producer, Dr. Luke, and her label Kemosabe Records. The singer has been in a contentious legal battle with Dr. Luke, 42, over allegations that he sexually abused her.

"Kesha accepted an invitation to perform on the show and she received written approval from Dr. Luke's record label, Kemosabe Records," Dick Clark Productions said in a statement. "Kemosabe subsequently rescinded its approval following a media report on Wednesday May 11 regarding Kesha's appearance on the BBMAs. Unfortunately, Kesha and Kemosabe have since been unable to come to an agreement for Kesha to perform on the show. Dick Clark Productions has a long standing relationship with Kesha. We hope that the parties can come to an arrangement such that we can continue that long standing relationship with a performance by Kesha on the Billboard Music Awards stage on May 22nd."

Not long after, Kesha took to Instagram to respond to the news that her BBMAs set has been canceled.

"I was very excited to perform a tribute to Bob Dylan by singing a cover of 'It ain't me, babe' at the Billboard awards this year. I'm very sad and sorry to say I won't be allowed to do this," she wrote. "I just wanted to make very clear that this performance was about me honoring one of my favorite songwriters of all time and has never had anything at all to do with Dr. Luke. I was never going to use a picture of him, speak of him or allude to my legal situation in any way. I simply wanted to sing a song I love to honor an artist I have always looked up to. thank u all for the continued support."

According to TMZ, Dr. Luke put a halt to Kesha's performance after catching wind that it was reportedly going to make a "statement" about her legal war with her former collaborator and Sony.
Remember how the judge who threw out Kesha's case and her appeal thought it would be easy-peasy for Kesha to record and perform without having to break her contract with Dr. Luke? That for Dr. Luke, it was always going to be about profit and money and not exerting control over his (alleged) victim? How's that working out? It's mind-boggling that Dr. Luke has the authority and the audacity to shut down Kesha in this way, and to do it so publicly. For the love of God… FREE KESHA.
Photos courtesy of Fame/Flynet and WENN.