Here are some photos of Taylor Swift out and about in LA on Tuesday. Fame/Flynet says she was shopping, but I think she was coming out of or going into the gym, just because of her clothing choice here. It's my guess that Taylor has been looking after Calvin Harris the past few days following his terrible car accident last Friday night, but she needed some "me time" yesterday.
Meanwhile, did you know that the American neo-Nazi community loves Taylor Swift? There are a series of disturbing stories about and interviews from the "Aryan race-embracing" community in which some claim that Taylor is an "Aryan goddess." Dude, is this just because she bleached the hell out of her hair?
Neo-Nazis have apparently seized upon the most famous blonde-haired, blue-eyed person they could find and ordained her their new "Aryan goddess": Taylor Swift–award–winning singer Taylor Swift.

"… Taylor Swift is secretly a Nazi and is simply waiting for the time when Donald Trump makes it safe for her to come out and announce her Aryan agenda to the world," explains 100 percent sane white-supremacist blogger Andre Anglin, according to Broadly. "Probably, she will be betrothed to Trump's son, and they will be crowned American royalty."

"Taylor Swift is a pure Aryan goddess, like something out of classical Greek poetry," Anglin told Vice's Broadly. "Athena reborn. That's the most important thing."

Fair hair and eyes aside, some believe her idolization in the Nazi community really took root when a teen named Emily Pattinson began posting pictures of Taylor Swift with Hitler quotes on Pinterest as a joke as a way to lampoon inspirational quote culture in 2013. Of course, like most good memes created by teens, her work got coopted and ruined by adults — in this case the actual neo-Nazi community. In 2009, Swift did face backlash after posing for a photo with a fan in a swastika-print shirt at Katy Perry's birthday party. Wake up, sheeple …
Let's be completely fair to Taylor: she has in NO WAY encouraged this sort of thing. These are just jackasses attaching themselves to her image. The Washington Post had a deeper dive into this Taylor-Aryan-goddess thing, and it basically sounds like most Internet conspiracies, with neo-Nazis claiming that they see "proof" of Taylor's white supremacist leanings in her music videos, her fashion, her social media. The neo-Nazis believe that Taylor has been "red-pilled," meaning that her handlers conceal her true "secret conservative values" in the name of being politically correct. The only thing – and I mean this, the ONLY thing – that could really be used as evidence against Taylor here is her neo-colonialist nightmare music video for "Wildest Dreams." But yeah, Taylor is not a white supremacist. My guess is that her lawyers are already working on a way to shut this sh-t down.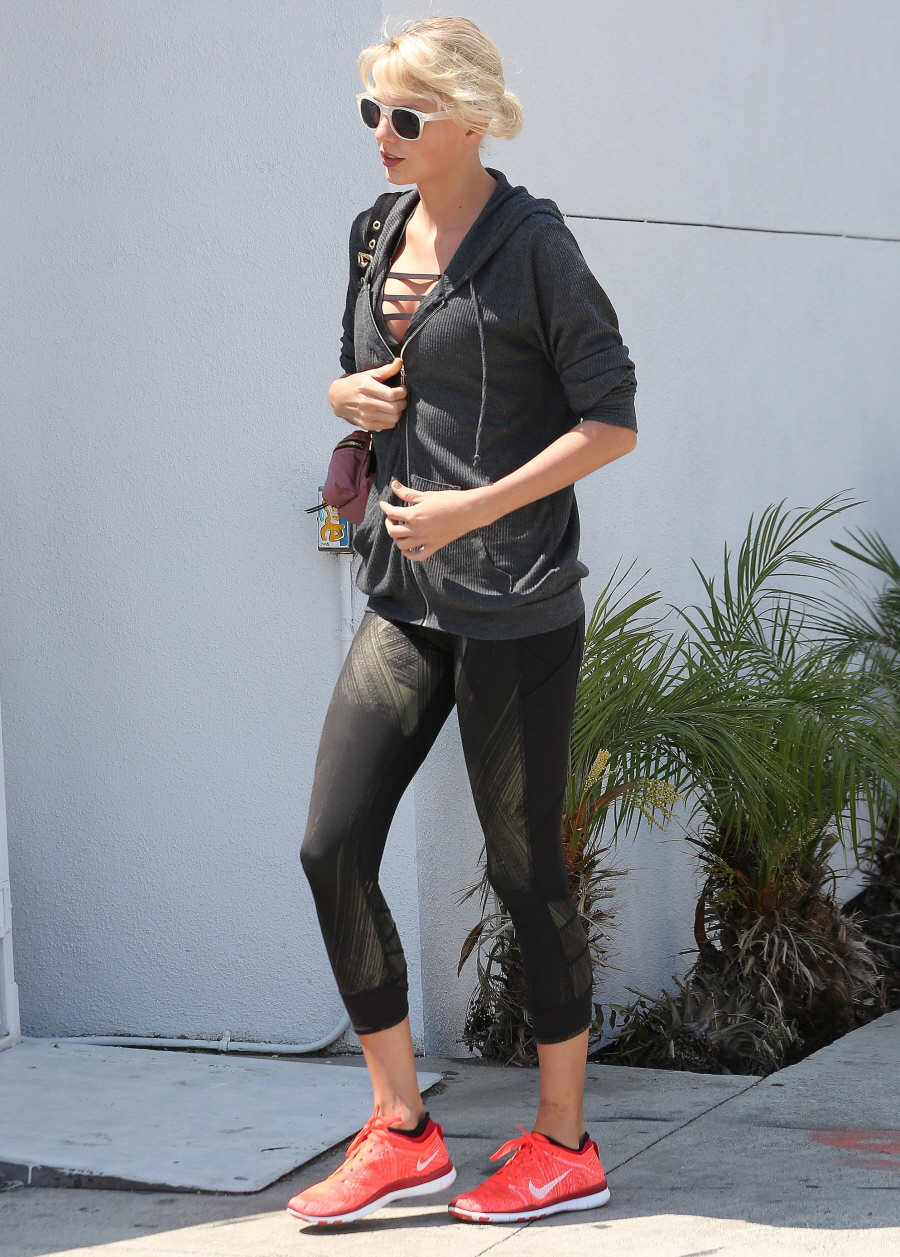 Photos courtesy of Fame/Flynet.