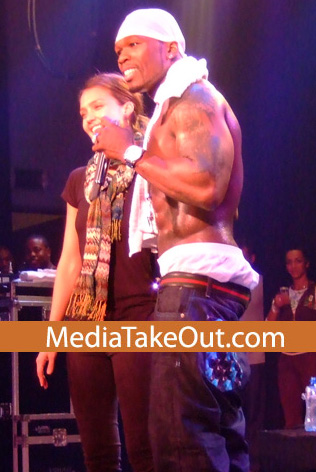 Take this for what it is, pure speculative gossip considering the source, which has been known to make up stories and/or completely misinterpret pictures, but there's at least some circumstantial evidence behind it. MediaTakeOut reported that Jessica Alba joined 50 Cent in The Netherlands where he was on tour last month, and was seen having a romantic dinner with him. He even brought her onstage during his concert calling her " the loveliest woman in Hollywood," and there was video on YouTube (now removed) of the incident. They speculate that he was cheating on his maybe-girlfriend, Ciara, with Alba:
One of MediaTakeOut.com's faithful readers in the Netherlands caught up with 50 and Jessica on what she claims was a romantic evening. Tells the tipster, "Last Friday I was at [a local restaurant named] Van Vlaanderen and you'll never guess who I saw – 50 Cent and Jessica Alba. They tried to sit quietly in the back but I know it was them …. They were talking and laughing like a real couple and it looked very romantic. At one point it even looked like they were going to kiss, but they didn't."

And there's more to the story. The very next night, at a concert in the Netherlands, 50 actually brought Jessica out on stage with him – introducing her as the "loveliest woman in Hollywood."
[From Media Take Out]
This was reported on July 9, and I used to repeat Media Take Out's gossip right away, as it's usually pretty juicy. I found out that they report a lot of BS though, and after getting burned on the "Beyonce is really 32" story based on Photoshopped documents I stopped covering their stories.
Now that Alba has broken up with her longterm boyfriend, Cash Warren, having her assistant move his stuff out of her place, this story might deserve a second look.
Blogger Juju's Jamba does some investigative journalism and notes that Alba was coincidentally in Paris at the same time that 50 Cent was on tour there, not that they were seen together. Was 50 the reason that Alba kicked Cash Warren to the curb? It seems too speculative at this point.
Commentors on Gossip Rocks where we found this story note that there's a recent blind item from the Panache Report that says that "non-black/non-white actress currently on a TV series" and a "rapper/actor" had a secret relationship, and that the actress broke it off when her reps told her it wasn't good for her career. She was said to have regretted it, and to only have realized how much she missed the rapper once he got involved with another woman.
Are Alba and 50 Cent together and did they have a secret relationship in the past? Time will tell, but if there is something going on they'll be sure to try and hide it for as long as possible.