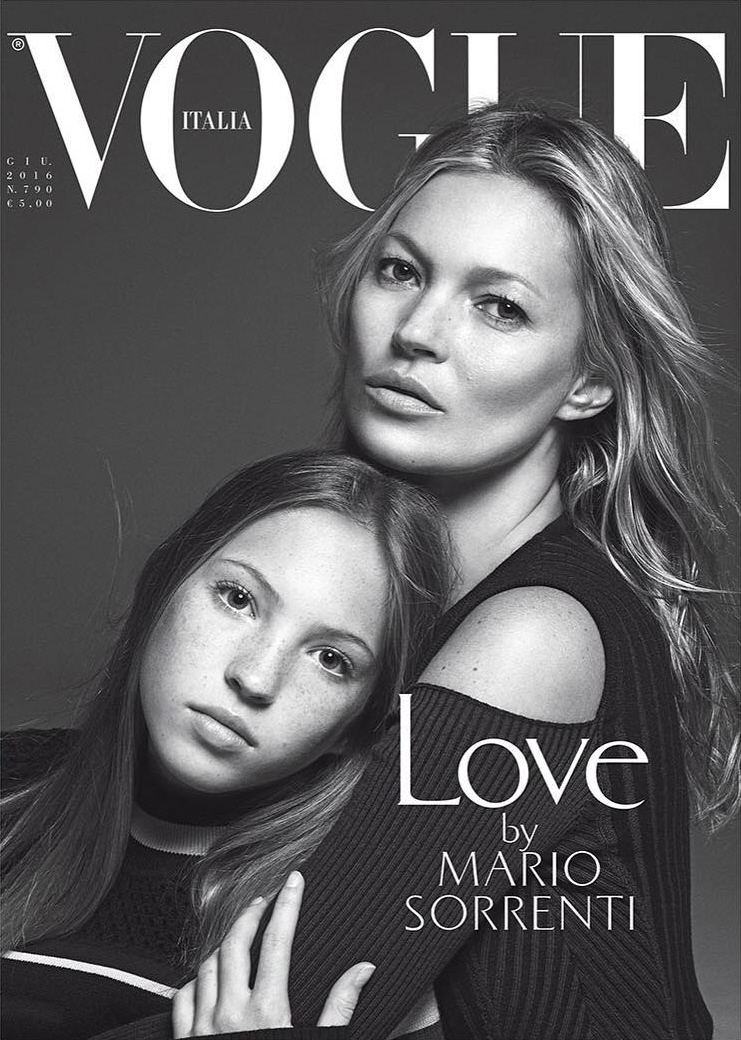 Perhaps the "in" thing for magazines this year is mother-daughter covers? Cindy Crawford and her 14-year-old daughter Kaia covered Vogue Paris several months back, and many people loved and praised the image. And now this – Kate Moss and her 13-year-old daughter Lila Grace cover the new issue of Vogue Italia. Thoughts? I think Lila will look more like her mom as she gets into her mid-to-late teens. Right now, she's just an interesting blend of both of her parents (her dad is Jefferson Hack).
When Cindy and Kaia covered Vogue Paris in March, I sort of assumed that Cindy was trying to gently open some doors for her daughter, who already has representation at a modeling agency. Like, the deal between Kaia and Cindy is that Kaia can model but only if Cindy gets to be hands-on about her career. I wonder about Lila and Kate's dynamic, whether Lila is even interested in modeling like her famous mum, or if Lila is just a normal kid, untouched by her mother's career. Jefferson Hack did provide some clues in a recent interview, saying:
"I spend a lot of time with Lila Grace. She's 13 and my relationship with her and her mum, Kate, is the thing I'm most proud of. That is life with a capital L. Everything else is window dressing. I have Lila at least one night in the week and every other weekend. We use FaceTime most evenings. She thinks me and her mum are deeply uncool. I don't think her music tastes are cool – Capital radio and Justin Bieber. She keeps me real. I'm not on Snapchat. It's wrong when parents act like their kids. I don't buy into the 'my mum's my best friend' ethos. Kate's a great mum and they have a fantastic relationship."
Yes, when you're 13 years old, everything about your parents is deeply and profoundly uncool, even if your mother is literally the coolest person in England. In Kate's recent Edit cover interview, she even admitted that Lila isn't even into clothes right now. So now I'm imagining Kate and Lila as Edina Monsoon and Saffy. It would be absolutely amazing if Kate Moss ended up with a tightly-wound conservative daughter who has no interest in clothes or cool parties.
Photos courtesy of Vogue Italia.