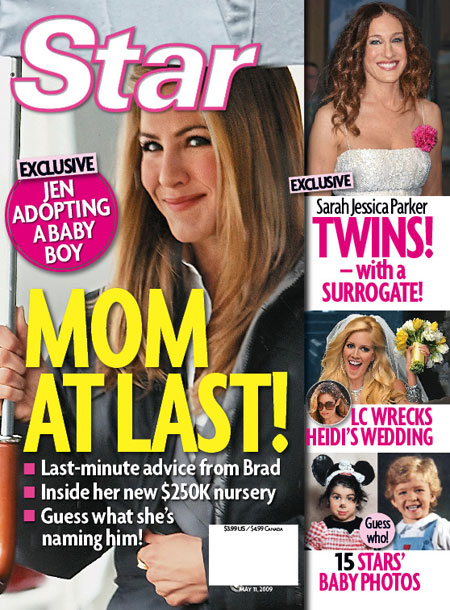 Star magazine is reporting that Jennifer Aniston is in the process of adopting a baby boy. Let the Aniston v. Brangelina insanity ensue. Star claims that Aniston has wanted a baby for years, and is no longer willing to wait. And unlike her nemesis Angelina Jolie, Jennifer is sticking with the 'go local' movement and taking home an American baby. I can actually hear the Brangeloonies screaming through the tubes of the interweb as I write this.
After years of yearning for a baby, Jennifer Aniston is finally doing something about it: she's taking her cue from arch-rival Angelina Jolie and adopting.

Star has learned that 40-year-old Jen has already started the paperwork with an agency in California and is planning to take home a baby boy. "She doesn't want to wait," says a friend.

"Her best friends all have kids, and Jen sees how much motherhood changed their lives for the best," says the source. "She's dying to have that!"

Jen has already started planning a $250,000 nursery at her home in Beverly Hills, and has even picked out her nanny. Unlike Angie, she wants a baby from the USA.

Jennifer is getting help from close friends including Sheryl Crow, who adopted a baby boy two years ago. "Sheryl is walking her through the process step by step," says another insider.
[From Star]
Of course Star had to take an adversarial approach to the story with the Angelina jibes. Unlike the Enquirer, Star is rarely correct. They're still following their old school tabloid model of "I dreamed it last night so it must be true" style investigative work. That said, it wouldn't be crazy if Jennifer were adopting. She's more than financially secure and perhaps at a point in her life where she's ready to settle down and focus on a child. I honestly don't think she's as man desperate as the tabloids try to make her out to be. So it makes perfect sense to me that she'd want to raise a child on her own.
But she's no J-Lo. I'd like to know how it'd even be possible to spend $250,000 on a nursery. Even in Hollywood. Even if you had the whole room coated in a layer of gold (maybe it's antimicrobial? Dial gold soap is), I don't think it could come to more than $150,000 max. If there's any truth to the story, then congratulations to Jen. If there isn't, I think she should go ahead and consider adopting, because a version of this story is going to come out every month until she does.
Here's Jennifer on the set of "The Baster" in New York on Monday. Images thanks to WENN.com and Fame Pictures .