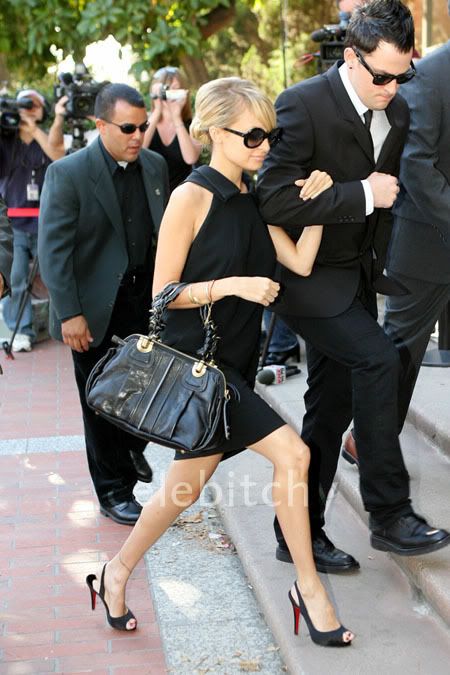 TMZ is on top of the Nicole Richie DUI trial. There were plenty of reporters and paparazzi outside the hearing, but in the videos of her entering the courthouse they seem to leave her relatively alone. She strolled into the courtroom arm in arm with her boyfriend, Joel Madden, and was wearing a loose black sleeveless dress and big 'ol sunglasses. At first TMZ says she doesn't look pregnant, but it's hard to tell from the camera angles and pictures available. In their next article TMZ is calling her pregnant, and says she received five days in jail and will serve four days as she received credit for six hours served, in exchange for a guilty plea in her DUI case.
She received a $2,048 fine and will get three years probation. She was also ordered to take a 21 day alcohol education course. Richie was said to be calm and non-emotional during the sentencing.
Richie made a wise decision in light of the media circus and harsh sentence that were likely to result from a full blown trial. Given the latest details in the Lohan incident, driving the wrong way on the freeway while under the influence of Vicodin and pot seems minor when compared to stealing a car, kidnapping three people, chasing multiple other people, and refusing to pull over despite passengers' pleas for their life. Richie's transgression has been overshadowed by the severity and deliberate nature of Lohan's DUI, and she's likely to be grateful for that.
Richie has to report for jail by September 28. Her baby is thought to be due in January.
Thanks to Splash News for these photos and TMZ for the story.