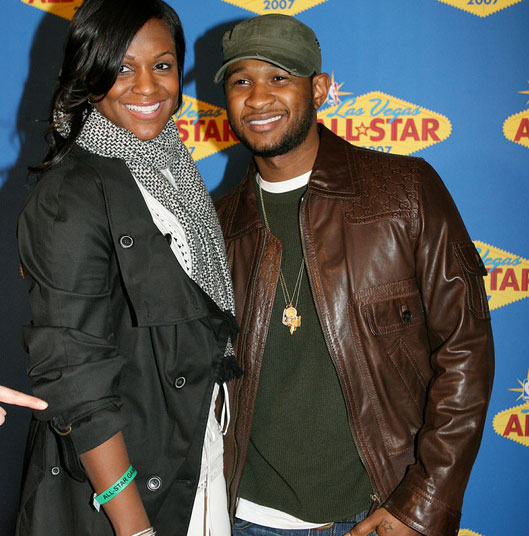 Usher, 28, and his pregnant fiance Tameka Foster, 37 (or 36 or 38 according to various reports) pulled a Ben and J.Lo this weekend, canceling their hastily-planned lavish wedding at the last minute. It was due to be held at famed record producer LA Reid's estate in the Hamptons on Saturday and between 70-100 guests had to be told that it was called off. Usher's publicist announced that it will not happen, and leaves all the speculation up to us:
"It was announced today that the wedding ceremony for Usher Raymond IV and Tameka Foster was canceled. No additional information will be given."
[The AP via Indystar]
This news comes right after details came out about Foster's criminal past. The National Enquirer just published a story about Foster's two arrests, one for petty theft in 1991 in which she served 20 days in jail, and another for what was said to be welfare fraud, for which she was sentenced with community service.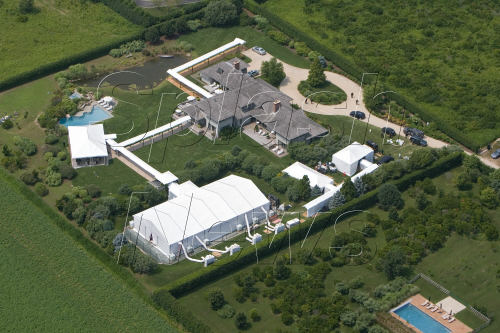 What's more is that Tameka's first boyfriend was killed "in a drug-related execution-style shooting," claims the Enquirer. That sounds like it has nothing to do with her, and they're adding it because it's a salacious detail. All that happened a long time ago, but do you think it might have been news to Usher too?
Tameka is an ex-con whose first lover was gunned down in a drug-related execution-style shooting." Poor Usher has no idea who he's marrying," Tameka's half sister Valencia Foster told The Enquirer. " He's a wonderful guy – but Tameka is giving him a big-time snow job." The scene for deception was set at a "getting to know the in-laws" dinner in Tameka's hometown of Oakland, Calif., on July 7 as the couple finalized plans for a July 28 wedding. Valencia, 49, explained that Usher led a prayer before dinner, then turned to her and said: "'You know all the family secrets – tell me about them.' Before I could say a word, Tameka kicked me so hard under the table she almost put a hole in my leg," Valencia said." Then she pulled me aside and whispered: 'Don't tell him anything.' "Tameka, fleeing from a troubled home life, moved in with Valencia when she was 11. "She arrived with $14 in food stamps in her purse," recalled Valencia. "She turned out to be a nightmare. "By 14, she had become involved with a married drug dealer five years older than her, Valencia says. "I banned him from the house – but four years later she was pregnant with his baby when his car was ambushed and he was riddled with bullets. Tameka missed being with him in the car by minutes.

"Court records show that Tameka has been arrested twice. In 1991, she served 20 days in the Los Angeles County Jail for petty theft and was placed on probation for two years. Records indicate she had previously served jail time. An earlier arrest in Alameda County, Calif., involved "some kind of welfare fraud, and she was sentenced to perform community service," said Valencia. Tameka, Usher's former wardrobe stylist, has three children and is expecting the singer's baby in the fall. Usher, 28, recently shocked fans by reportedly firing his manager mother and replacing her with Tameka. The 38-year-old I thought she was susposed to be 36 bride asked her father, John Foster, to give her away at the wedding in the Hampton's, the tony New York enclave. But Tameka threatened to ban her mom from the ceremony – because she had lost her false teeth! "Tameka told her: 'You're not coming to my wedding without teeth,' " Valencia said. "I asked her why she didn't buy her mother a new set, and she told me: 'Let her get her own f&$#ing teeth- she didn't take care of me when I was young.' "Valencia says Tameka's mom bought the new teeth herself – and she believes one day Usher will discover the truth about his new bride. "Usher is so much in love he's under her spell," she said. "But he's going to find out she's a wolf in sheep's clothing."
[From The National Enquirer via Rhymes with Snitch]
Usher went off a couple of weeks ago on bloggers and fan sites for bashing his older fiance. He wrote an asinine "open letter" claiming "I am happy, excited, completely clear and independent on my direction, feelings, decisions and I am NOT BEING LED. Some media and bloggers have been totally intrusive, they have misconstrued aspects of my personal life and, because of this, my 'true' fans are not sure about what is fact and what is fiction."
Many fans were wary of Foster and weren't hesitant to warn Usher about her on blogs and message boards. Rumors about Tameka focused on the fact that she may be pregnant with another man's baby considering when she first started dating Usher and how far along she is, and that she forced Usher to fire his mother as manager and is trying to control him. Usher targeted a fan site, UsherForever.com, for reprinting stories critical of Foster that originated on gossip site MediaTakeOut. The creator of UsherForever was sent a harsh cease and desist by Usher's lawyers, and she claims that it came after she refused to turn over the site to Usher's people.
I bet all that legal crap will be dropped by Usher's lawyers, because it sounds to me like he figured out that everyone was right about Foster after all.
Picture of LA Reid's home all set up for the canceled wedding is from Splash News. Photo of Tameka's record from Rhymes with Snitch.