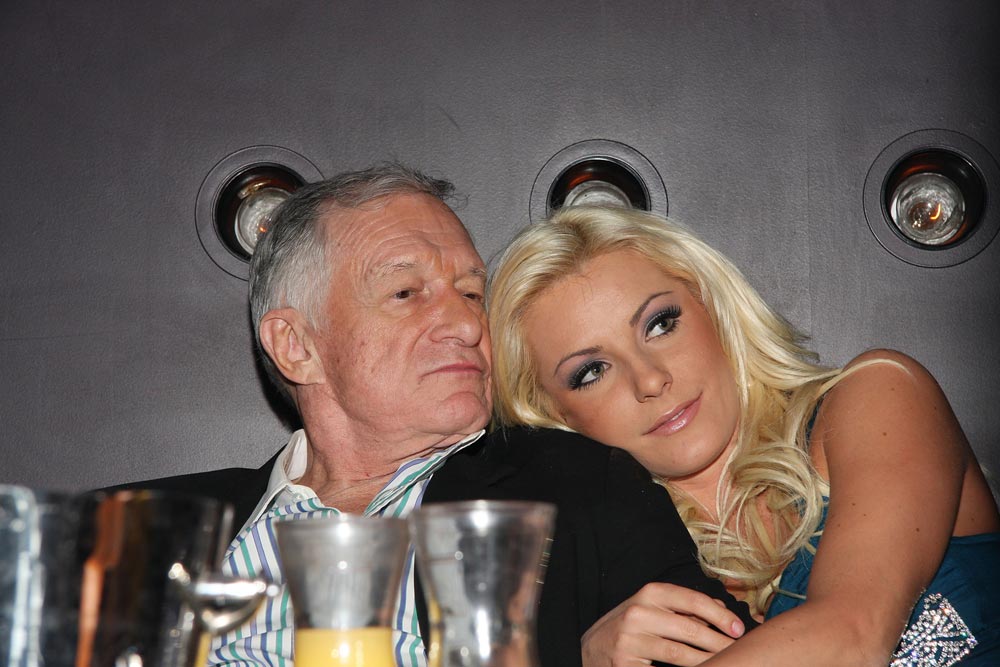 Hefner with newer, younger Crystal Harris
Yesterday the news came out that Hugh Hefner supposedly said in an interview to be published in the upcoming issue of LA Confidential Magazine that he missed his old girlfriend Holly Madison and wanted her back. He also semi-dissed his new relationship with now 23 year old co-ed Crystal Harris and said "How serious, and intimate… that works out to be, [with Crystal] well we'll have to wait and see." Hefner's other two new girlfriends are semi-scary 19 year-old belly-baring bottle blonde twins Karissa and Kristina Shannon. The thought of him getting up to anything with those two is just too creepy to bear.
In a new statement to E! News, 83 year-old Hefner calls it "bizarre" that he would want Holly back. I've e-mailed LA Confidential to confirm that they have those quotes from Hefner because it's hard to tell if Hefner is saying that he never gave that interview and that those quotes are made up. The first impression I have is that he's trying to backtrack here. He says that he wouldn't trade Crystal for anyone and that it was just her birthday and this news is upsetting to her. Look – he even bought her a puppy:
Hugh Hefner is not sitting in the Playboy Mansion pining away for former girlfriend Holly Madison.
Hef came to me today to clear up new reports that claim—he says, falsely—that he's trying to win Madison back because she is the true love of his life. "The notion that I would want her back as a girlfriend is bizarre," he said.

Holly is a good friend, but nothing more, he said.

Besides, he's got his new girls in his life…

"I am now in one of the best relationships in memory with Crystal Harris and the twins," he said. "I'm not going to screw it up with former girlfriends."

Shortly after the 83-year-old Playboy mogul and The Girls Next Door (Holly, Kendra Wilkinson and Bridget Marquardt) broke up, he quickly began seeing Harris and 19-year-old sisters Karissa and Kristine Shannon.
"I would not trade Crystal Harris for anybody in the else in the world," he swooned. "And then this thing comes out and today is Crystal's birthday…It's ridiculous."

Hopefully, Hef's birthday present made her feel better. "I got her a puppy," he said. "It's an English Spaniel. It's absolutely wonderful. We've been trying to come up with a name for it."
[From E! Online's Marc Malkin]
It's possible he gave that interview weeks ago when he was actually pining for Holly and before things started to pick up with Harris. Maybe he had just met Harris and that's why he wasn't all gung-ho about the relationship yet. That's cute that he bought her a puppy! I doubt she'll have 1/2 the personality of any of Hef's last three girlfriends but adding a cute pet into the mix can only help The Girls Next Door.
Hugh Hefner and Crystal Harris are shown at Aubrey O'Day's birthday party on 2/12/09. They're also shown with the twins on 3/21/09. Credit: WENN.com