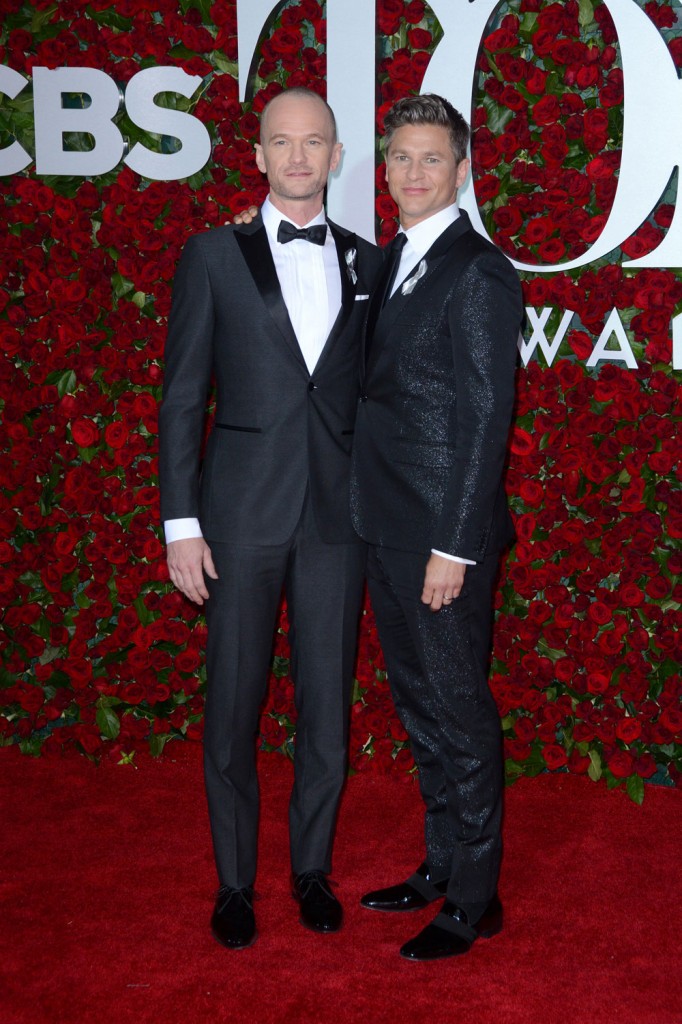 This is Neil Patrick Harris at the Tonys, where he debuted a newly bald head. As some of you may know I have a thing for bald guys. I thought NPH looked pretty good when I saw him on the show actually but he's not as hot bald as other guys I'm used to seeing that way, like Jason Statham or The Rock. (I've shared this cartoon before which pretty much captures the hot bald guy phenomenon.) That reminds me that beefier guys look better bald, but NPH has a certain hotness which comes through, bald or not. He looks kind of badass to me here. He's more Walter White than Shemar Moore.
E! reports that this look is for a role, as he's playing Count Olaf in A Series of Unfortunate Events, a series in production now which is coming to Netflix. You may remember Jim Carrey in this role in the film version. E! also points us to some disappointed tweets about NPH's new look.
Urgent urgent Neil Patrick Harris is bald and it is not cute 🆘

— Evie Rose (@just_evieeee) June 13, 2016
But in more important news, why is Neil Patrick Harris bald? #TonyAwards is this his silent host protest?

— DivaV11 (@DivagirlV11) June 13, 2016
It's so frustrating that Neil Patrick Harris made Octavia Spencer watch the locked box containing his hair all night.

— Daniel D'Addario (@DPD_) June 13, 2016
I don't know, I kind of like it. I think he looks sufficiently mean. He could get a little more muscular but then he would be more beefcake than menacing. Plus I assume some kind of crazy hairpiece is involved. Here are some positive tweets!
I mean the Tonys were okay… I personally would appreciated more screen time for newly bald Neil Patrick Harris but what can a girl do :-//

— Tori Schott (@tori_schott) June 13, 2016
WHEN DOD NEIL PATRICK HARRIS GO BALD I LOVE IT HES SO CUTE

— rox (@roxanacue) June 13, 2016
Look at him with hair though. It's like he's not meant to be bald. Maybe only the guys who are naturally going bald can actually work it.