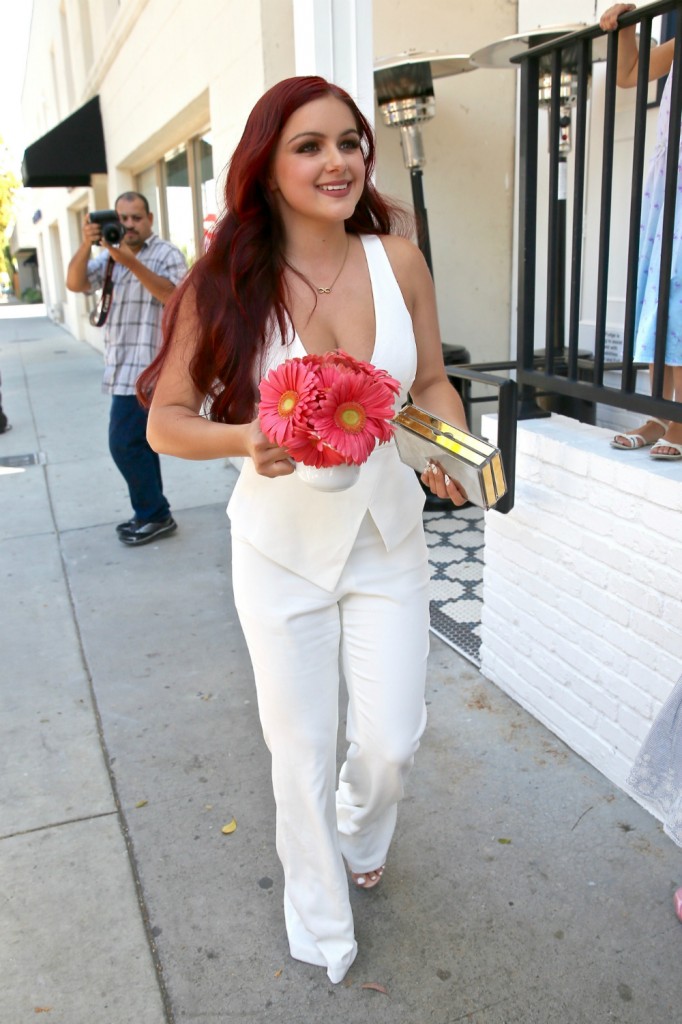 Actress Ariel Winter can now tick the "high school graduate" box on applications. Ariel, who joyfully announced she'll attend UCLA this fall, officially graduated from Campbell Hall School on Monday. To commemorate the event, she posted the following to Instagram:
Ariel only started attending school in 2013 after having been on-set tutored prior. Since enrolling, she has lived the experience out to it's fullest; like going to prom. In addition to Monday's graduation, the school held a Baccalaureate (a service or mass that honors a graduating class) Sunday, to which Ariel wore this lovely white lace gown:
Remember that Ariel has had a thriving high school career both socially and academically all while maintaining a full time acting career. And she did it all in Louboutin heels!
Ariel Winter is officially a high school graduate.

The 18-year-old Modern Family star graduated from high school on Monday in Los Angeles, the ceremony taking place at the Walt Disney Concert Hall. Winter looked glamorous on her big day, sporting a knee-length nude dress, matching Christian Louboutin stilettos, and styling her bright red hair in voluminous waves.

The actress had her sister and former legal guardian, Shanelle Gray, and her two adorable nieces on hand to support her.

Winter graduated from Campbell Hall School, a private school in Studio City, California. She is headed to the University of California, Los Angeles (UCLA) in the fall.
Aaaaaw, I have watched Modern Family since the beginning, I feel like I know all the Dunphy kids personally. The Walt Disney Music Hall is one of my favorite places in Los Angeles; the ceremony looked beautiful:
You can see pictures of Ariel in cap and gown (along with the cute minidress she wore under it) at the Daily Mail. Ariel's bright red hair is for her role alongside Burt Reynolds in Dog Years, which she is currently filming. It looks pretty stunning with that blue gown. When asked about her plans at UCLA, she told Access Hollywood that she'd love to be in student government as she aspires to get a law degree. As for how she will juggle her collegiate life with her career, Ariel said she's been doing it for three years already so why stop now? I have said it before but I feel it bears repeating – Atta girl, Ariel!
Photo credit: Fame/Flynet Photos, Getty Images and Instagram