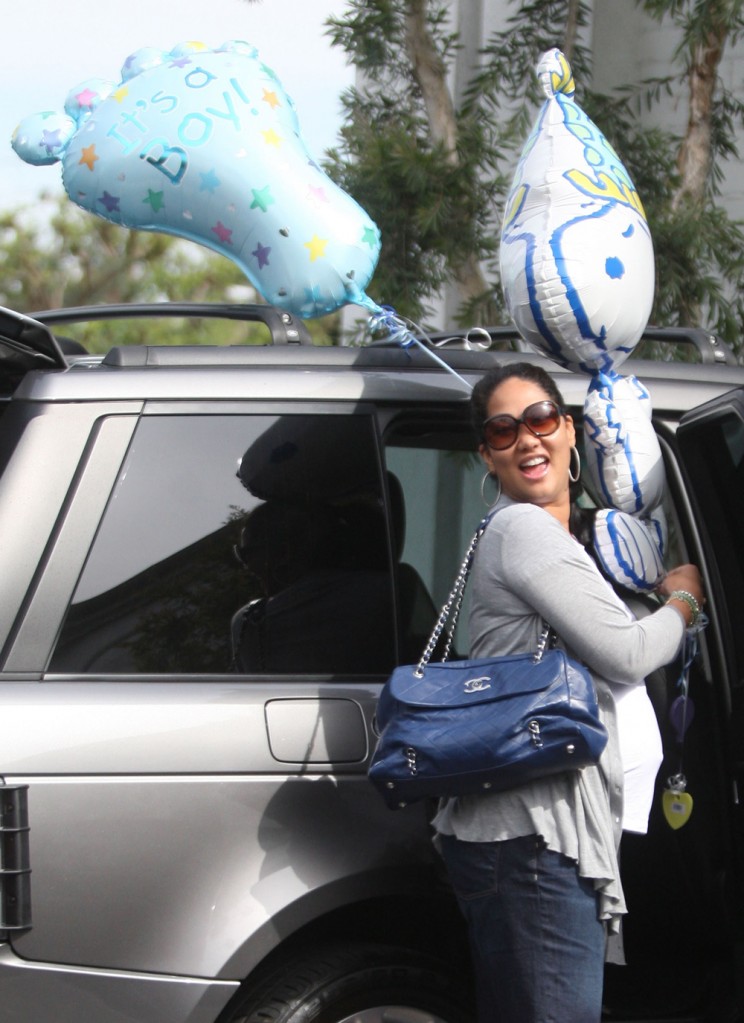 Kimora Lee Simmons plucks everyone's nerves, right? It's not just me? It's the combination of her attitude and her voice for me. So here's the question – how in the world did she land Djimon Hounsou? That man is fine. She's not only with him, he got her pregnant! And he's sticking around! Does Djimon have a thing for high-maintenance women? If he does, he should try me.
Anyway, Djimon is sticking around, even when Kimora throws herself a baby shower and invites OK! Magazine along for the ride. Apparently, the birth of the baby is "imminent". Both Kimora and Djimon feel strongly that the baby is a little boy, but they haven't had the sex confirmed.
Kimora Lee Simmons left her baby shower until the last possible moment. "I'm about to have a baby," says Kimora, who's due in June. "I'm ready to go, so it was kind of last minute and low-key," she tells OK!.

The model and Kimora: Life in the Fab Lane star, 34, invited OK! to her L.A. home on April 19 to herald the imminent arrival of her third child (her first with actor Djimon Hounsou, 45).

Among the 50 guests were Stevie Wonder and his wife, Kai, Holly Robinson Peete, and Kimora's daughters with ex-hubby Russell Simmons, Ming Lee, 9, and Aoki Lee, 6.
Kimora hasn't had the sex of the baby confirmed yet, but she confides, "We're leaning heavily toward the blue team!"

Crazy cravings: "I've been eating a lot of spicy food. I put jalapeños in everything."

Shapes and sizes: "With the girls I was wider in the belly. Now I'm narrower, but if I turn side-ways I can't fit through the door!"

Dream dad: "Djimon is a spiritual person, and it's a big deal for him to have a baby. When he first saw the heartbeat at the ultrasound, he said he felt very humbled."

Big sisters: "The girls say, 'We're going to dress the baby up!' Djimon's like, 'No, you're not going to be pinning tulle to the boy!' "
[From OK! Magazine]
I'll buy that Djimon is a spiritual person. So what's he doing with Kimora? The most interesting part, for me, is that idea that women carry differently depending on the sex. Some people say that's an old wives' tale, some say it's absolutely the truth. There might be something to it if Kimora is carrying differently now than she did with her daughters. I'm also a little surprised Russell Simmons didn't show up – yes, his ex-wife is having a baby with another man, but Russell and Kimora are still really close, and I bet he's totally happy for her. I wonder what Russell sent the baby? Ten bucks says it's a statue of Buddha.
Here's Kimora Lee and Djimon Hounsou grocery shopping at 'Bristol Farms' in Hollywood on April 13th. Images thanks to Fame Pictures .