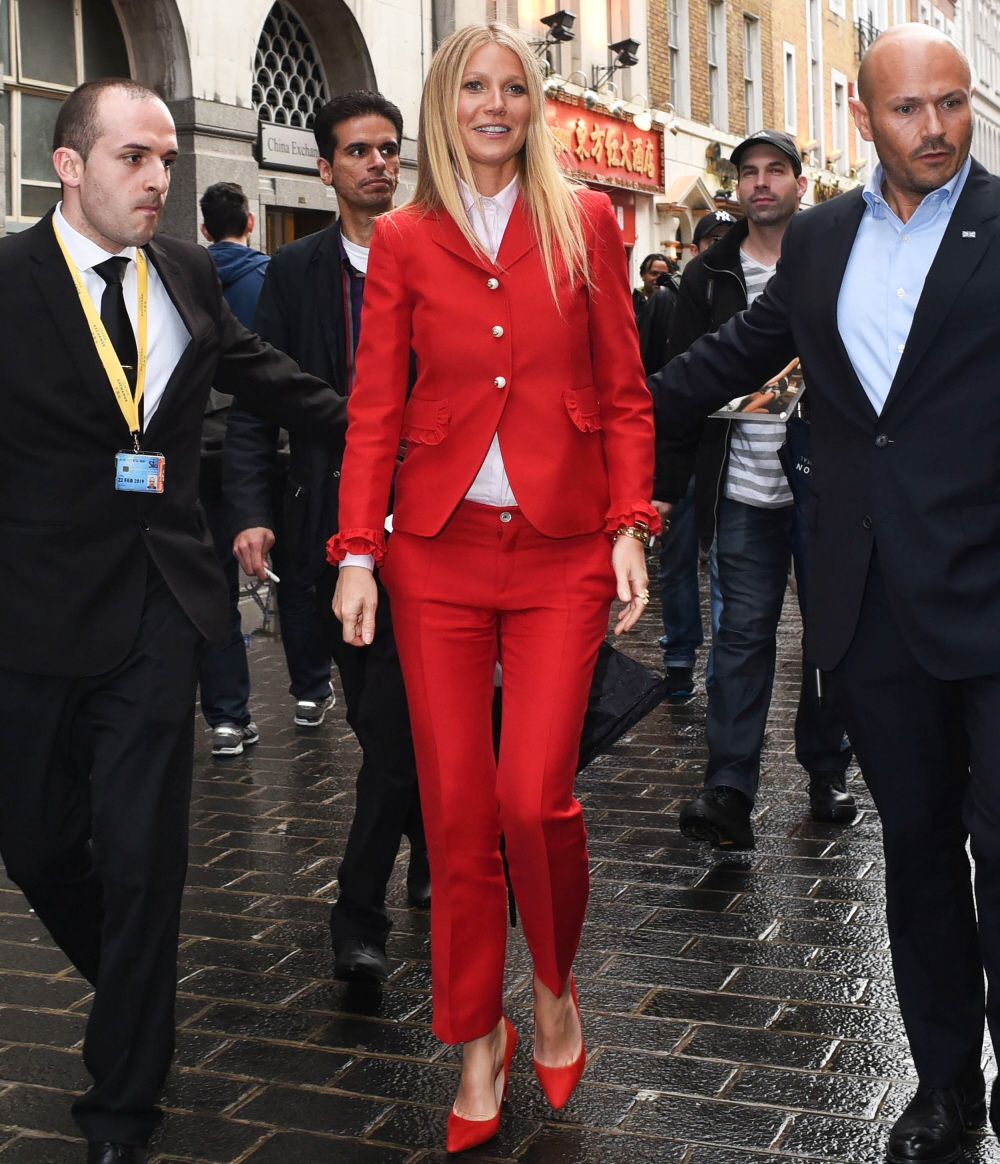 Here are some photos of Gwyneth Paltrow in London on Thursday, June 23rd. I'm going to be really nice to Gwyneth in just a moment, but I need to get some residual negativity out, because… it's Goop, and it's a habit at this point. This Gucci suit is TERRIBLE. It's easily one of the worst things she's worn in a few years now. The color is awful (she looks like an uncomfortable tomato), the pants are weird in the hips, and that jacket is simply the worst. The ruffles on the cuffs and pockets, the placement of the buttons, the fit, everything is hideous. This suit needs to be burned in a cleansing fire.
Now, to be nice. In these photos, Goop was either in her way into or out of a speech at the China Exchange, a ritzy venue in London's Chinatown where speeches are made, Q&A sessions held, etc. Gwyneth was there to talk about Gooping, her life, her family and more. In the speech, she talked about her 12-year-old daughter, Apple, and this was probably Gwyneth at her most relatable. She talked about her conflicting emotions and instincts as she sees her daughter grow up in a world with "post-feminist imagery."
Her lifestyle blog sees her dishing out advice on everything from diets to parenting. But Gwyneth Paltrow has revealed she is struggling with one problem just like any other mother – how to manage her daughter as she approaches adolescence.

The actress, 43, said she finds it hard to strike a balance between wanting to allow 12-year-old Apple to 'express herself', and feeling worried about her child wearing short skirts and make-up. She added that she is concerned young girls are being brainwashed by 'post-feminist imagery' that portrays provocative behaviour as empowerment.

Speaking at the China Exchange in London on Thursday, she said: 'It is concerning because I think there is a very denigrating set of imagery and behaviours happening. Women are so powerful and so capable and to have it inferred that you have to generate yourself in any way to be likeable is abhorrent to me. With my daughter I try to find a balance of being an example for her as a woman who … works and tries not to go out in public naked. I am her mum but at the same time I want her to express herself. Sometimes it is hard when she is wearing something really, really short and a lot of make-up and I have to resist the instinct as I want her to experiment and find her own identity. It is an interesting balance right now being a mother of a coming-of-age girl as there are a lot of conflicting messages in our culture.'
See, this sounds completely relatable – mothers want their daughters to find their own identities and have the freedom to experiment and make mistakes, but you also want your little girl to not feel like she has to walk around half-naked to feel "empowered," or that the only way to achieve power or success is through one's body. It's finding the balance between telling your 12-year-old that she's not leaving the house in that miniskirt and teaching your 12-year-old that it's her body and no one else owns it, controls it or can tell her what to do with it. There's no real answer, and I think Gwyneth knows that. It's part of a life-long conversation for girls and women, obviously. But I do appreciate how honest Gwyneth is about it.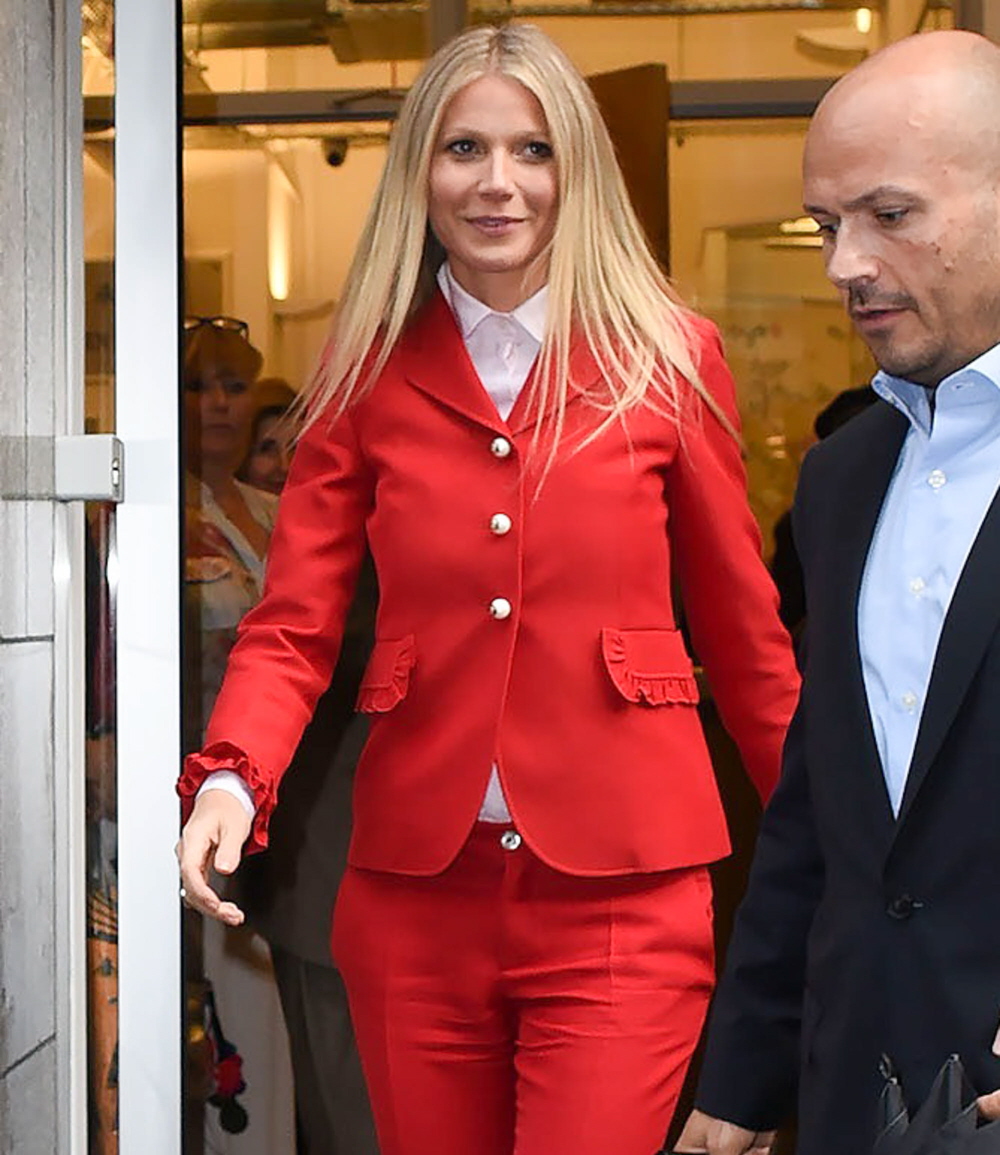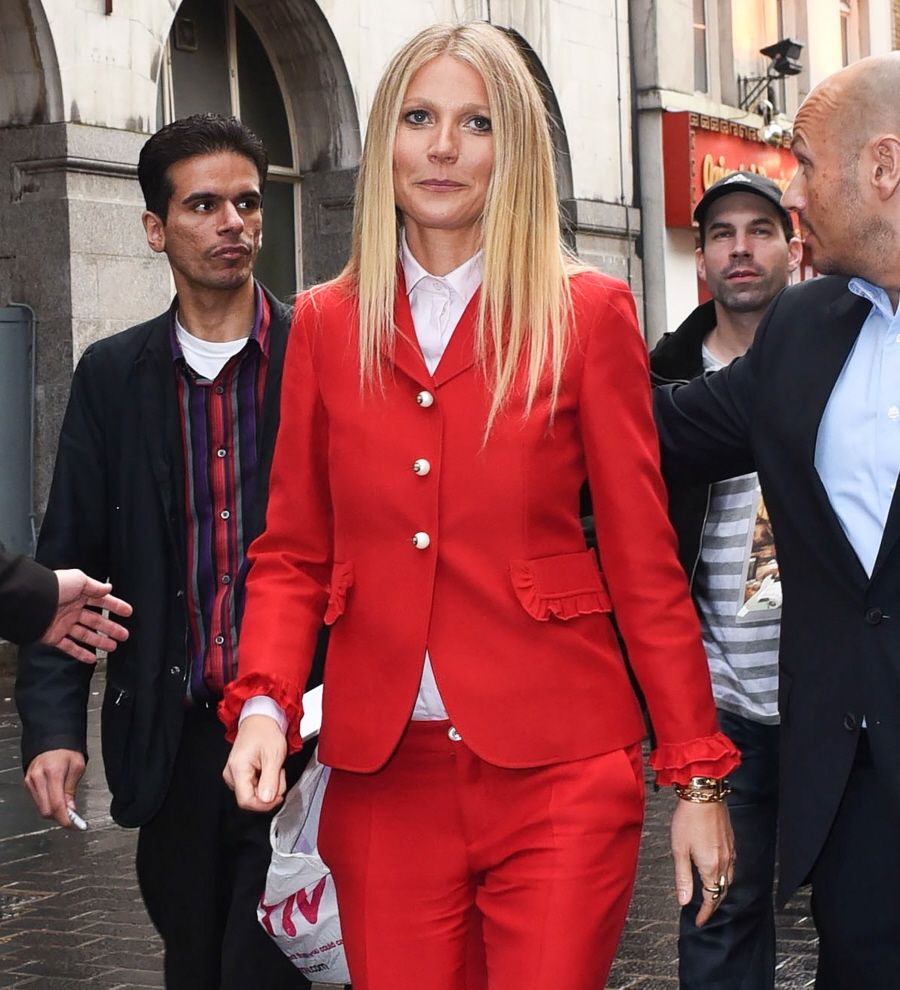 Photos courtesy of Fame/Flynet.