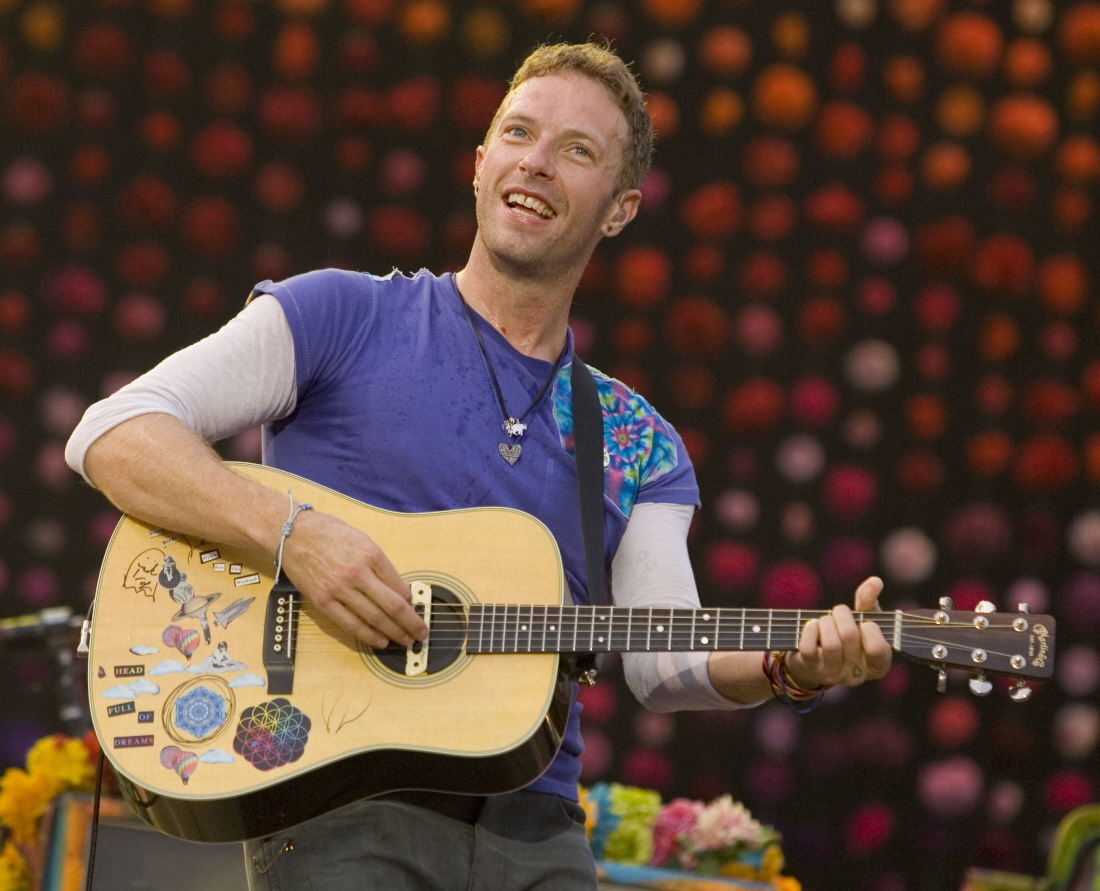 I've been rolling my eyes at Chris Martin for years, but I have to say, I actually liked him a lot after reading this Guardian interview. The Guardian interviewed Chris and the other Coldplay guys ahead of their performance at this year's Glastonbury festival, which will probably (??) be their last Glastonbury as a band. Who knows? It was widely believed that their current album would be their last, but Chris walked that back a few months ago, so I have no idea. Maybe Coldplay will last forever! As for this interview, Chris just comes across as really nice. He talks about the process of songwriting, why he thinks Rihanna is like Frank Sinatra, and why he loves emojis. Seriously. Some highlights:
Martin's life philosophy: "I don't want to go through the whole of my life feeling sh-tty about myself. Because it's not making anyone happy… my philosophy at the moment is that I'm great – and so is everybody else. You have to fit your own oxygen mask. That's really my philosophy now: our band is the best band in the world. And so are all the other bands."

He loves the Mike Posner "I Took A Pill In Ibiza" song: "I'm not [joking]! The Seeb remix of it. I want to write a song as good as that…That song, or One Dance, that new Drake song, they just get me. In my body … sometimes it's that indefinable quality – it always fascinated me. This person loves tangerines, this person loves raspberries, and my son won't even look at berries. Isn't that amazing? And so I have to apply that to music, otherwise I would always hide in a hole, because of all the people that don't like Coldplay."

He loves emojis: "Someone said that if you send a text with emojis I can't be friends with you, and I thought, there are some things that I can't say without emojis. So I hope they don't go away. Today I was texting someone and I thought, there's only one emoji that can express what I'm feeling… what was it today? It was a princess and a heart. I was like, I couldn't express that in words. So, basically, what I'm trying to say is that I need emojis in interviews, because there are some things I have no words for. How do I write a hook? I'll tell you. With a musical note, a thumbs up, happy face, and then people clapping. That's basically it."

On Rihanna: "She is the Frank Sinatra of our generation. She can turn anything into gold with that voice. Here's the thing: if you speak to a good singing teacher about great opera singers, they will talk about consistency of tone. Or there's a book by Alfred Tomatis about why some people like certain people's voices and other people hate them, like Bob Dylan or me or whoever, some people say, 'Oh, I hate that voice', so there's a thing about people's frequency responses – what they are pleased by. Rihanna has this thick tone, so it's very hard to annoy anybody. It's like a beautifully squeezed tube of toothpaste. When you think of Rihanna's voice you think of this whole, rich thing, solid like a tree trunk, and. Drake is pretty similar. But Rihanna's voice is just delicious for your ear. Sinatra had the same thing; anything he sang sounded pleasing to most people."
There's been a lot of discussion about his comments about Rihanna and whether he's full of it or whether he's on to something. While I've never thought of Rihanna as technically one of the greatest singers – as in, she doesn't have a technically amazing voice – there is something very pleasing about her voice. Chris is right that there's something thick and delicious about Rihanna's voice, although comparing her to Sinatra seems… I don't know, a bridge too far? She doesn't have the range.
When someone compares another singer to any of my favs… pic.twitter.com/dJaxqoiJ9H

— Patti LaHelle (@_maleficentt) June 20, 2016
Photos courtesy of Fame/Flynet, WENN, Getty.