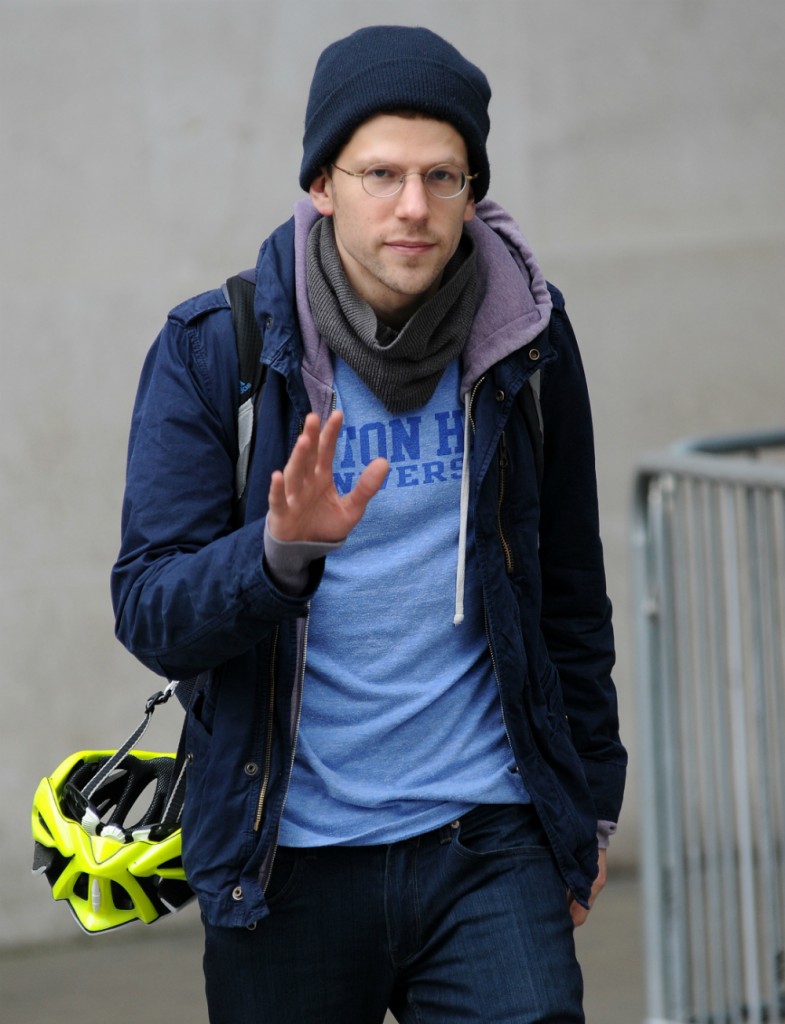 Jesse Eisenberg can be a mixed bag when he speaks his mind. In the past, he's said incredibly insensitive comments but this time, he called out hatred. Jesse is currently living in London where he is performing alongside Kunal Nayyar and Alfie Allen in The Spoils, which Jesse also wrote. Saturday was London's annual Pride Parade, part of their Pride Festival. Mostly, the Parade was marked by surprises like police officers publicly getting engaged. Unfortunately, Pride events also bring out bigots and London's was no exception. As Jesse was biking by, he stopped to listen incredulously to a group of religious protesters. When one of the protesters tried to give him a pamphlet, Jesse responded, "Is my mind closed? Dude, that's so f–ked up."
An anti-gay protester in London had part of Jesse Eisenberg's attention—he had the minimum amount…but it was just enough.

As seen in a recent video, the 32-year-old Social Network and Batman v Superman: Dawn of Justice star was pushing a rented city bicycle and approached a small demonstration near a street on the route of the Pride in London Parade, which took place Saturday and is part of a more than two-week-long Pride Festival.

The actor walked slowly while looking at a man preaching into a microphone and several people holding signs with Bible quotes. He stopped near them and another man then asked him twice, "Is your mind closed?"

"Is my mind closed?" Eisenberg responded, shaking his head. "So f–ked up."

He then walked away.
Jesse, who is also starring in Now You See Me: The Second Act, recently gave an interview to The Guardian in which he said, "It was totally understood, growing up, that we should support people who are struggling. This was not debatable – in my family, no one talked about, you know, the value of lower taxes. We talked about the value of education, of social security, of universal healthcare." Since there have been rumors of Jesse mocking people for what he considers a lesser profession, it's nice to know that he does speak up for what he believes when it's right as well. He didn't get into a screaming match with the protesters, which is usually what they want, he simply stated his disgust and moved on in a peaceful manner. I don't often say this but in this particular instance, I can get firmly behind Jesse.
Here is the video of Jesse's interaction: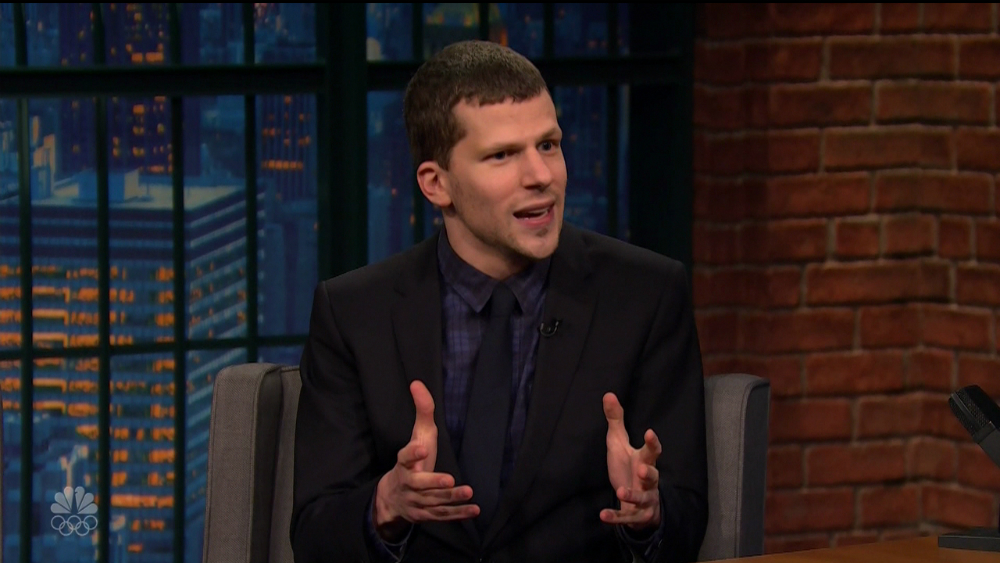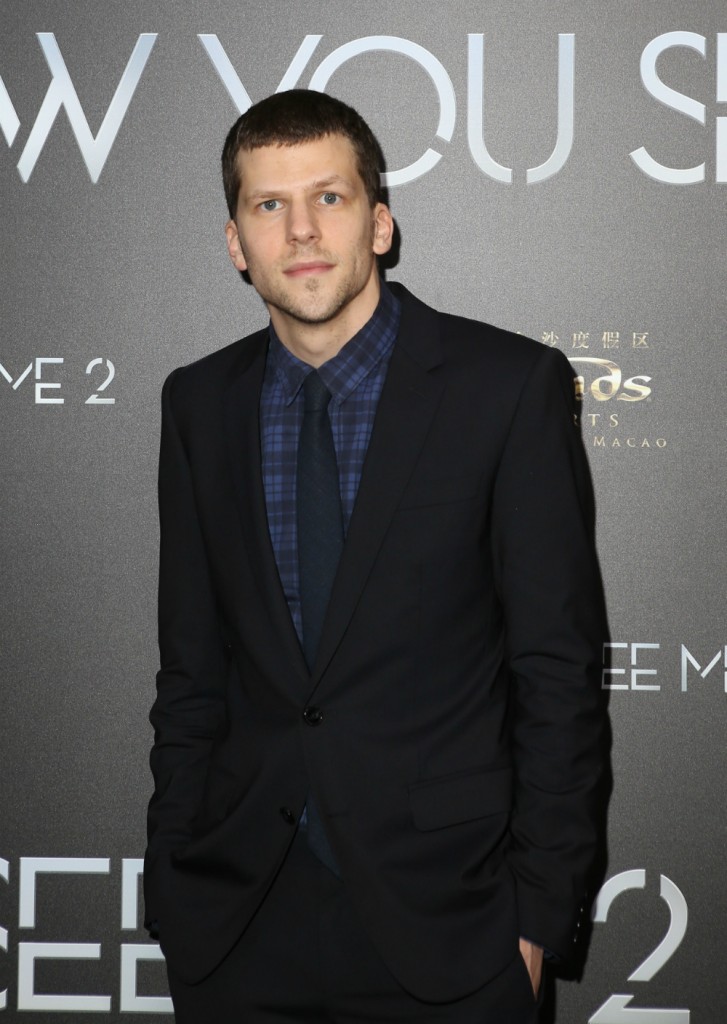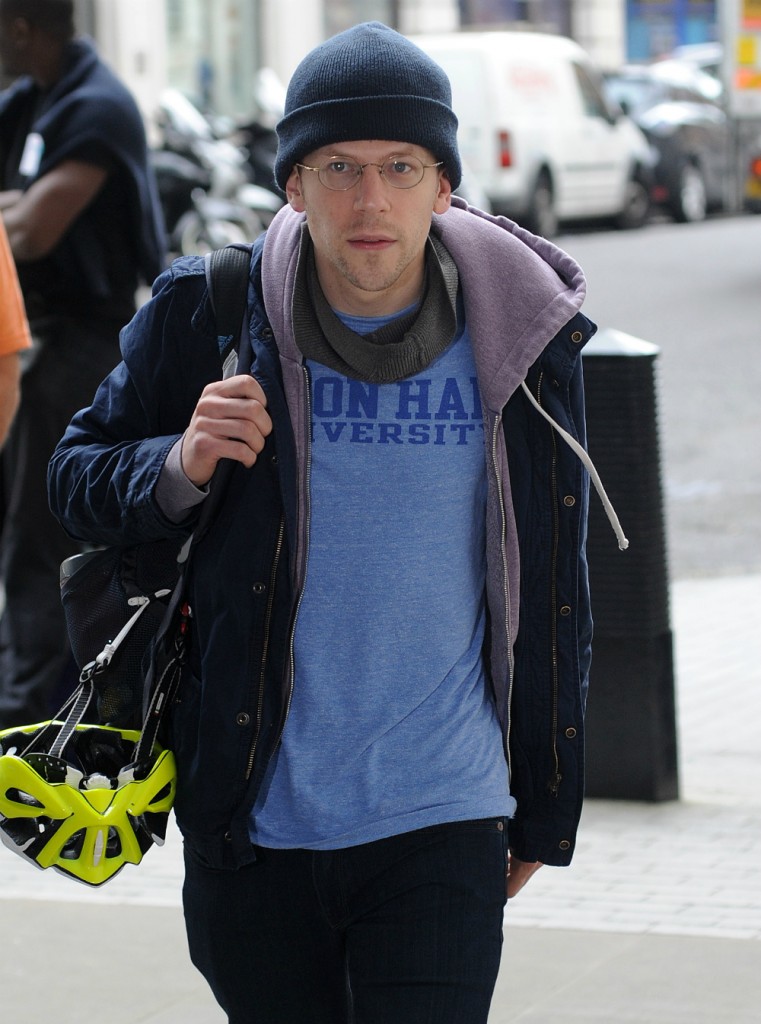 Photo credit: WENN Photos