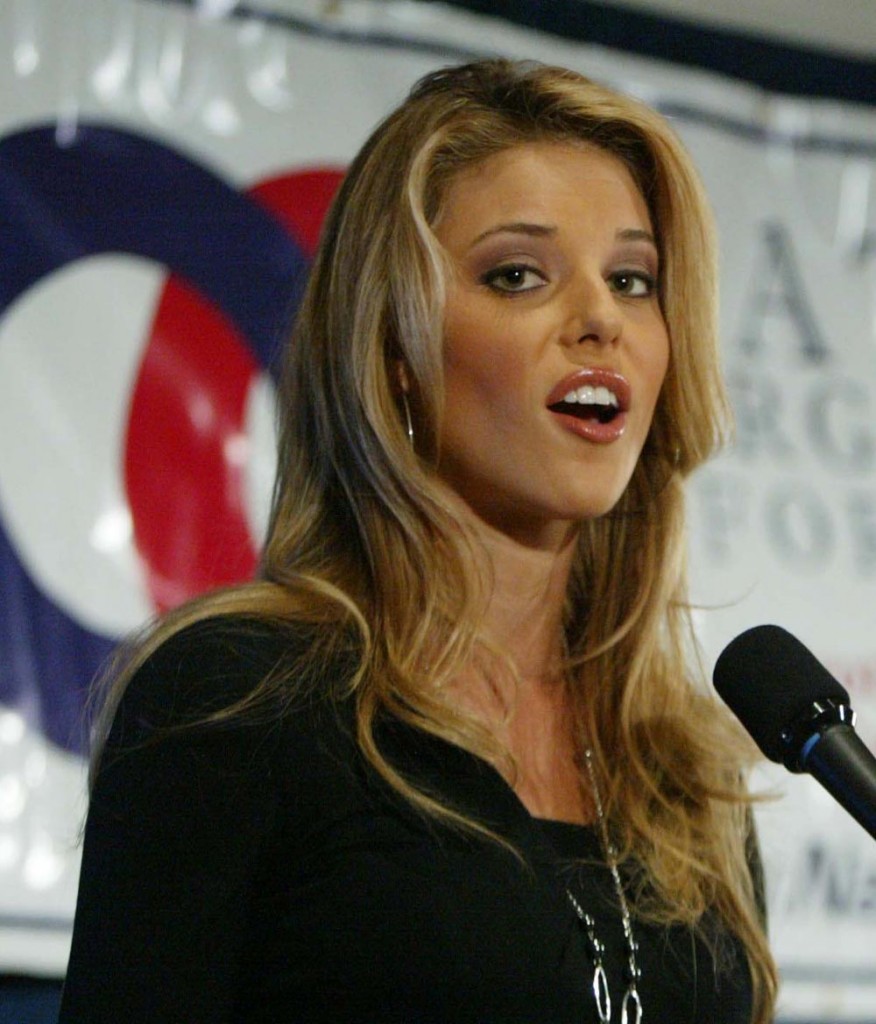 Elisabeth Hasselbeck is on her way out from The View – whether it's just for maternity leave, or a permanent change, only Barbara Walters knows. According to Mike Walker's column in The National Enquirer, Barbara is so sick of Elisabeth's "shrilly-silly views" and her "looney-toon responses" that she might hire someone else for the "conservative" seat on The View.
I have to say that Barbara lacks imagination. It's like Barbara has a "conservative = ditzy blonde" equation in her head, because she's really not stretching out the criteria for Elisabeth's replacement. Barbara is thinking about… Carrie "Miss California" Prejean! Yes, fresh off her spokesperson deal for the National Organization for Marriage, Prejean is now being mentioned as a possible replacement for Hasselbeck. Not cool, Barbara.
"Adam and Eve… Not Adam and Steve!" That loud scream you heard was terrified Elisabeth Hasselbeck wailing that Baba Wawa – aka Barbara Walters – keeps plotting to bounce her from "The View" because of her shrilly-silly views.

But this time, "Elisabeth really has something to worry about," said a show source, who revealed that while Dizzie Lizzie's on maternity leave, Walters will audition, as her fill-in, the right-wing babe on the block – Miss USA runner-up Carrie Prejean, who made national headline with her "no gay marriage" bombshell during the pageant.

And it could turn into a permanent gig for the controversial beauty queen, say show insiders, because Barbara's seriously fed up with Elisabeth's coo-coo-conserva-babbble – and her looney-toon responses to co-hosts Whoopi Goldberg, Joy Behar and Sherri Shepherd.

When Joy asked, for example, why she kept defending Mel Gibson – refusing to admit he's a hypocrite for divorcing, despite his much-avowed Catholic faith – the exchange got reeeally ugly.

Said Joy: "Listen, Elisabeth, there's a self-righteous-ness to the guy." Shrilled Elisabeth: "Isn't it self-righteous to call someone self-righteous?"

Groaning like an embarrassed granny, Barbara quietly gasped: "Oh, Elisabeth!" Stay tuned.
[From The National Enquirer, print edition, May 11, 2009]
That replacement would not only be cheap, it would be… dare I say it… ageist. Torpedoing the "aging" thirty-something Hasselbeck for the 21-year-old beauty queen is just wrong. Now, it wouldn't bother me at all to see Elisabeth replaced, but Barbara should actually try to get a conservative voice of some authenticity, education, and sense. There are some conservative women out there that would fit the bill. How about Dana Perino, former Bush White House press secretary? She's got more sense than Hasselbeck and Prejean combined.
Carrie Prejean is shown at a press conference for the National Organization for Marriage on 4/30/09. Credit: WENN.com Elisabeth Hasselbeck is shown out in NY on 1/8/09. Credit: Fame Pictures