What do you see in this photo? Do you see a world-class athlete in the middle of doing her job? Do you see Serena Williams, the woman, the legend, the #GOAT? Or do you see a woman with nipples, gasp? Serena has been killing it at Wimbledon this year, and many believe she's on the path to pick up her 22nd Grand Slam. She had a rocky game against Christina McHale in the second round – that was where Serena smashed her racquet and got fined for it – but otherwise, Serena has been in great form. She's playing Elena Vesnina today, as I'm writing this, and by the time this is published, I expect Serena will have won.
But that's not the point of this story. The point is that Serena has nipples and sometimes when she's exerting herself, people can sort of see them through her tennis ensemble. Who cares, right? As it turns out, a lot of people care, and they took to Twitter to complain about Serena's breasts. I'll admit that I think about Serena's breasts when I watch her play too, but I'm mostly thinking "How can she play so well without wearing three sports bras?" She moves so much but her Nike gear keeps her girls in place, despite the fact that Serena has much larger breasts than most of the women on the circuit. Anyway the BBC actually received complaints about Serena's nipples. Seriously. And people were on Twitter complaining, then other people shouted down the whiners.
With all the money Serena Williams earns, why can't she buy a decent sports bra which covers her nipples properly

— Katie Fathers (@katiefathersxx) July 5, 2016
BBC inundated with complaints about Serena Williams' nipples. 😂😂😂😂😂😂
Viewers can't concentrate on the game????
How sheltered a life you lead

— Joe Morgan (@henry_lee_lucas) July 7, 2016
Serena Williams flashes 'distracting' nipples in see through tophttps://t.co/vmxXGROnY4 pic.twitter.com/c8b5LphukC

— Daily Star (@Daily_Star) July 7, 2016
I've been watching Wimbledon a lot this year (it plays on ESPN while I'm at the gym), and you know who else has distracting nipples while they play? Roger Federer. Andy Murray. Even Novak! But no, let's "shame" Serena. I wonder why that is?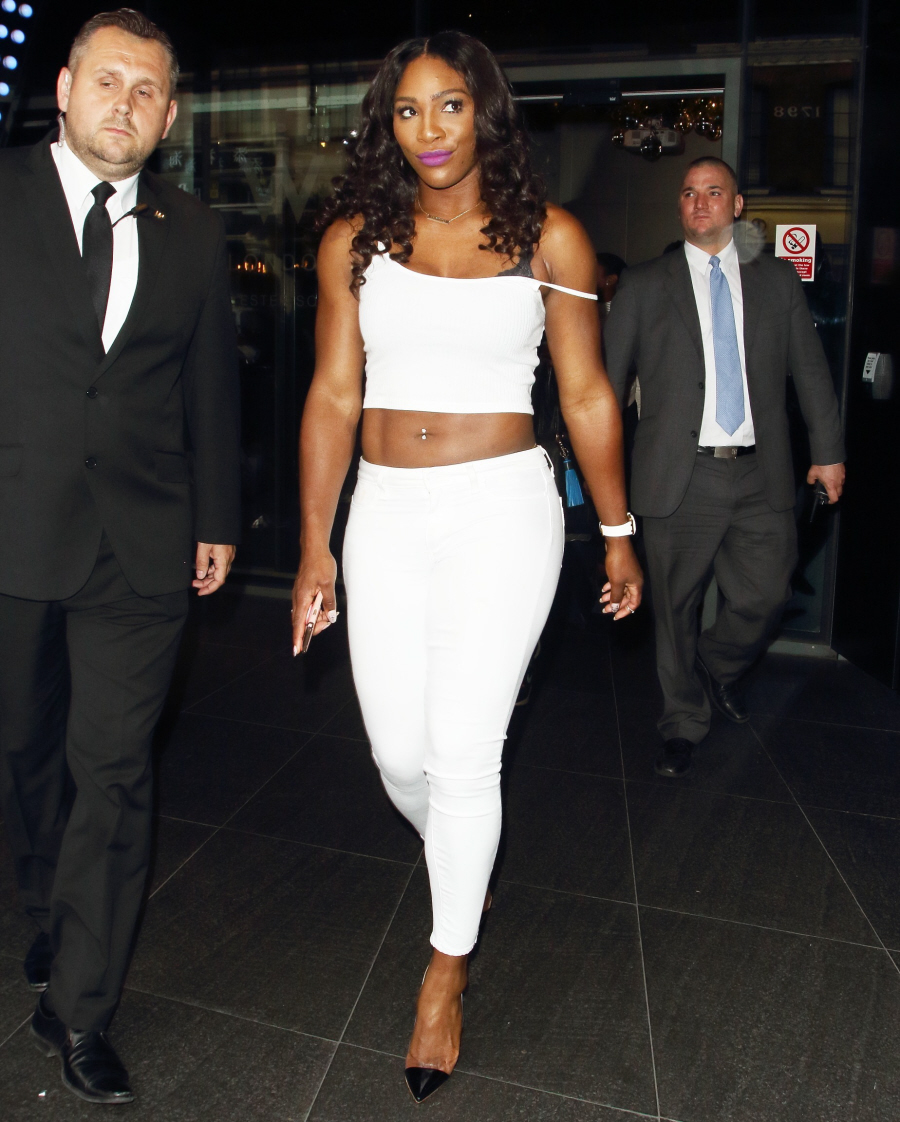 Photos courtesy of Fame/Flynet, WENN, Getty.