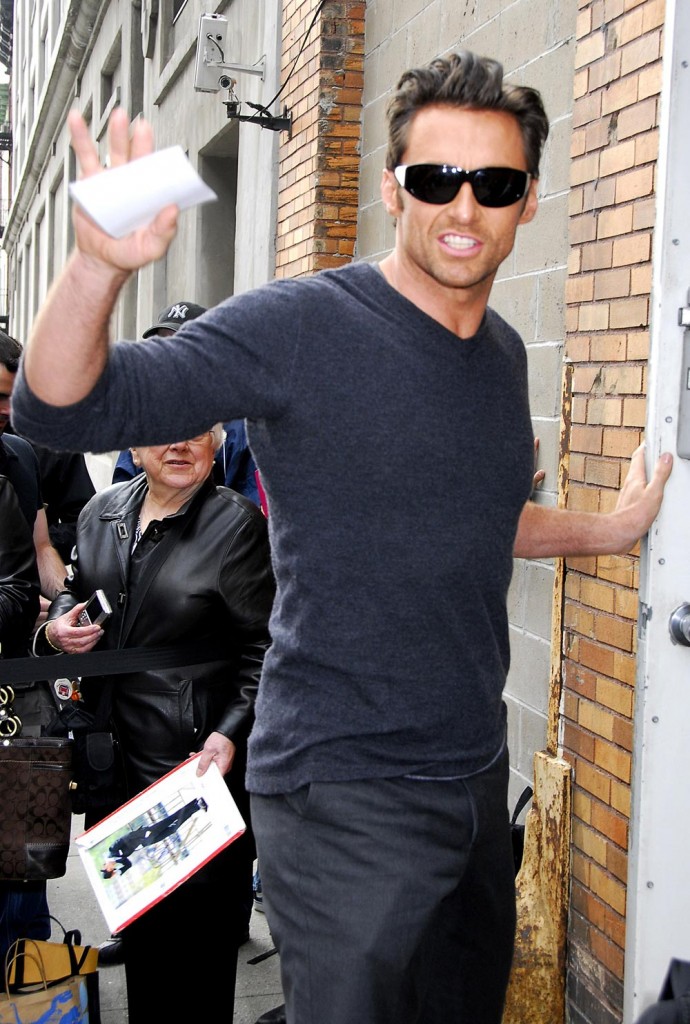 Why is it that the name "James Roger" suddenly seems so unbelievably sexy? Oh, that's right – because that's the name Hugh Jackman gave his wang. James Roger is a pretty formal name for a penis, although Roger could be either a middle name (as in Hugh's wang's formal name is James Roger Jackman, or Jimmy Jackman, to friends), or Roger could be the wang's last name, as in Jimmy Roger the Dodger.
Hugh's wang is pretty famous – to the point where his penis becomes an inside joke for directors and crews. For X-Men: Origins, apparently Hugh Jackman was naked so much, the director had a lot of extra footage of Hugh's Jimmy Jackman. I had no idea Hugh was naked so much in the film, but perhaps that's why the movie took in more than $80 million this weekend? Makes sense. Anyway, the director gathered up all of the Roger the Dodger footage and gave it to Hugh… as in, the director put Hugh's d*ck in a bag.
Aussie movie hunk Hugh Jackman has revealed his nickname for his wedding tackle is "old James Roger".

The X-Men Origins: Wolverine star explained he strips off in a tank for the new film, though cinemagoers don't see his private parts.

Hugh said: "It's a PG-rated movie so old James Roger down there wasn't going to be seen on the big screen."

The actor also told how director Gavin Hood had personally handed him footage showing his willy after it was cut from the film's final version.

Hugh, 40, revealed: "He said, 'There you go, mate — I've put it in a bag."
From The Sun
Men naming their wangs is no big deal – most men have a formal name or a nickname for their bits and pieces. There's the unoriginal "Little Buddy", or, as I was just watching some Arrested Development DVDs this weekend, perhaps "Charlie Brown" or "Linus". I had a friend who named his junk "Little Roy" – and my friend's name wasn't Roy (I think it was from an Owen Wilson movie). I had another friend who just took to calling his penis "The Brain", which was both apt and funny. I applaud Hugh for his wang's formal name, and I hope that one day I can be introduced personally to James Roger.
Hugh Jackman is shown on 4/30/09 outside the Daily Show and on 4/28/09 at the premiere of X Men Origins: Wolverine. Credit: Juan Rico/ Fame Pictures