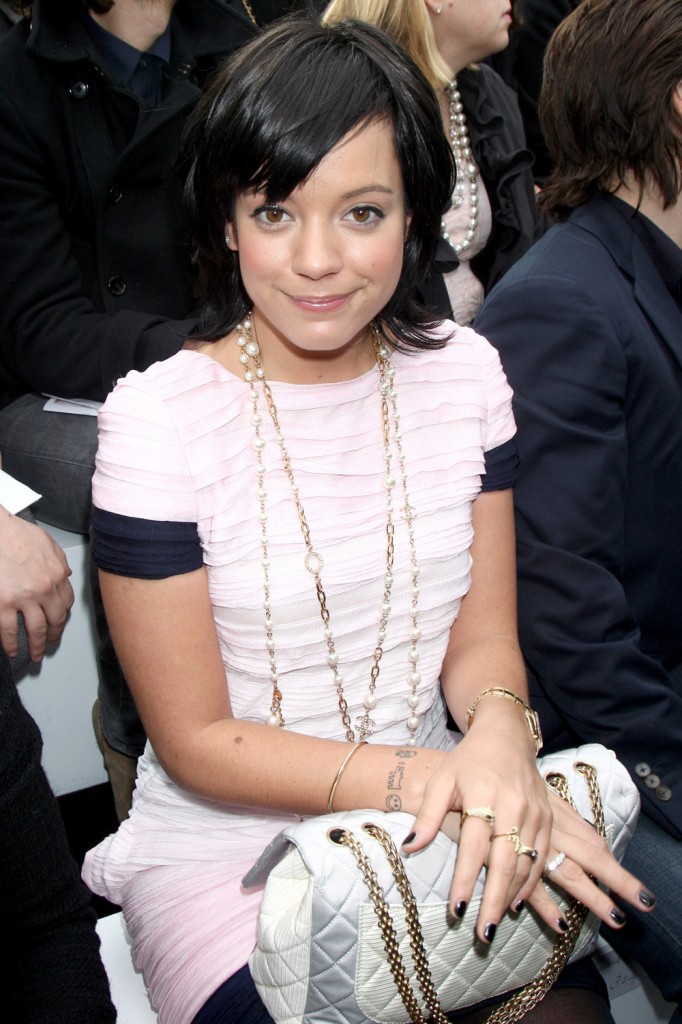 Lily Allen has been keeping relatively quiet recently. Her sophomore album was a critical success, and it has been at least a month and a half since she's attacked a papparazo. She also recently went on The View and partially blamed sexism for her party-girl image, but at least she was honest about her partying.
Now she has something else to keep her name in the papers: as the face of Chanel's handbag line. Karl Lagerfeld has little to say about the pick other than that "she's fun."
Karl Lagerfeld has cast another surprising personality for his next Chanel handbag campaign: Lily Allen. "She's fun," enthused Lagerfeld, who plans to turn his lens on the British pop star next week.
[From WWD Fashion]
Karl Lagerfeld has never been one to waste words, but he really cuts to the chase here. Chanel has traditionally been represented by more… demure… celebrities. These include Nicole Kidman, Audrey Tatou, Kiera Knightley, and Kate Moss. (Although Kate is considered a party girl, she was actually dropped after her cocaine scandal.)
Chanel handbag ads are not usually as sexy as those for Coco Chanel perfume, but Lily still isn't the first name that comes to mind when brainstorming potential Chanel spokespeople. She's too "fun." Still, Lily loves Chanel, and is photographed with their handbags and clothes often, so in some ways it makes perfect sense.
It will be interesting to see if the ads take a more lighthearted spin on the brand in keeping with Lily's personality, or if they mold her to Chanel ideal.
Here's Lily looking relatively demure at the Chanel Autumn/Winter show at Paris Fashion Week on March 10th. Images thanks to WENN.com .