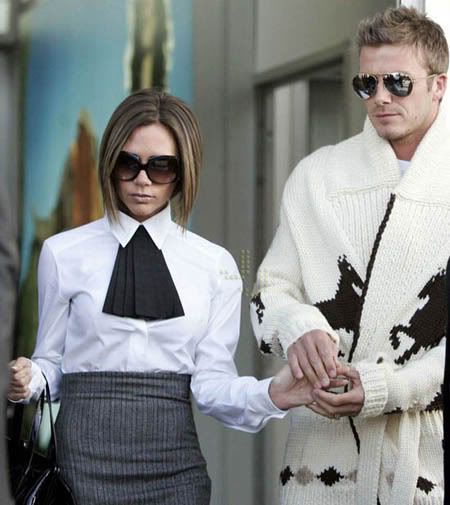 The Vanity Fair best dressed list is out, and I'm wearing my very best pair of sweatpants while reading it. Oh, not that kind of best?
Women
Charlotte Gainsbourg
Princess Alexandra of Greece
Marjorie Gubelmann
Princess Mafalda of Hesse
Fran Lebowitz
Michelle Obama
Bee Shaffer
Tilda Swinton
Ivanka Trump
Renée Zellweger

Men
Tiki Barber
Jonathan Becker
Count Manfredi Della Gherardesca
Lapo Elkann
Richard E. Grant
Lenny Kravitz
Luis and Rafael Medina
Hidetoshi Nakata
Nicolas Sarkozy
Gay Talese

Couples
David and Victoria Beckham
The Earl and Countess of Cawdor
Damon Dash and Rachel Roy
Frédéric Fekkai and Shirin von Wulffen
Mitch Glazer and Kelly Lynch
Ashton Kutcher and Demi Moore
David Lauren and Lauren Bush
Viscount and Viscountess Linley
Brad Pitt and Angelina Jolie
Ruben and Isabel Toledo

Fashion Professionals
Amy Astley
Tory Burch
Jefferson Hack
Liya Kebede
Alexandra Kotur
Margherita Missoni
Stefano Pilati
Michael Roberts
Katherine Ross
Hedi Slimane

Fashion Originals
Peter Beard
Carlyne Cerf de Dudzeele
Lisa Eisner

Hall of Fame
Alba Clemente
George Clooney
Marina Rust Connor
Anderson Cooper
Sofia Coppola
Jemima Khan
Anna Piaggi
While I can't dispute most of these. Actually, a few of them I'm not sure I've heard of. But one notable exception has to be Helen Mirren? It's not easy to look fabulous at that age you know? It doesn't just happen!
Apparently the list is based not only on physical appearance, nor is it in any order of style greatness.
"It's not just about how much someone spends, it is about having real elegance, style, and individuality," Vanity Fair special correspondent Amy Fine Collins said in an interview.

The September issue of the magazine, which hits national newsstands on August 7, gave nods to musical, literary and philanthropic icons alike, whether known for their brains or their beauty.

The magazine said it searched beyond the silver screen and fashion runways to select 61 stars of style for the list.
I really like how diverse the list is, including not just celebrities who are famous for fashion. Interestingly, the list has been held annually since 1940, and over 1,000 people vote. They are retailers, editors, fashion designers, restaurant owners and hairdressers.
Picture note by Celebitchy: Thanks to JustJared for the header image of the Beckhams arriving in Italy for the TomKat wedding. Also I know it's in alphabetical order, but it doesn't seem like they should even be on this list, not to mention first. Thanks to PRPhotos for the other images.