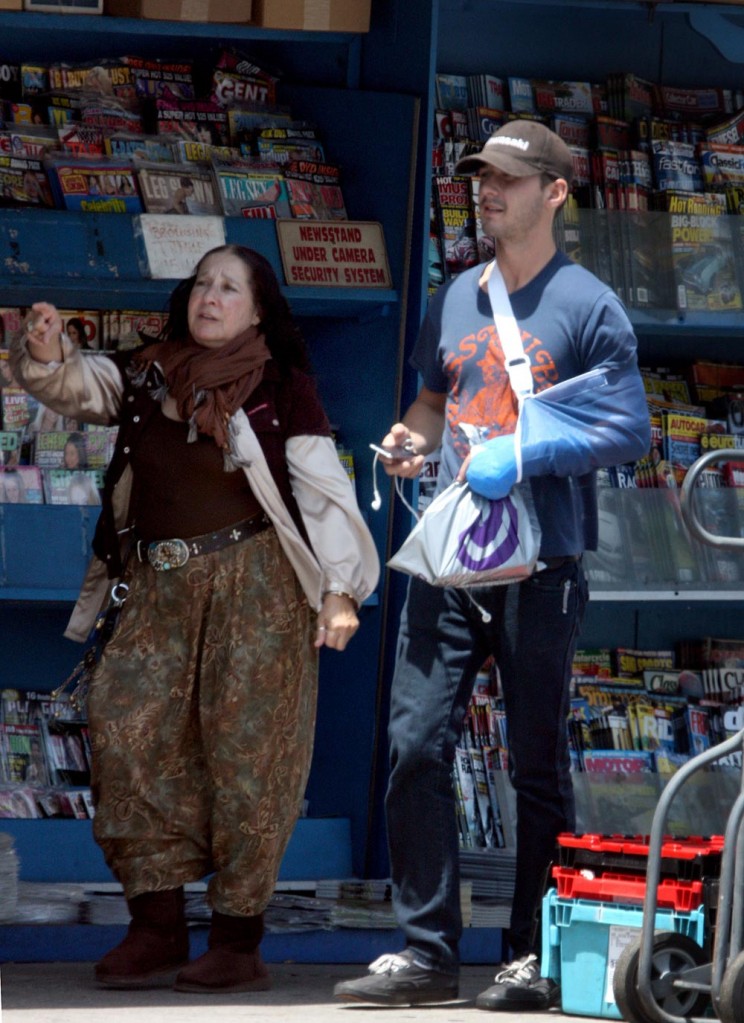 In the same interview with Playboy in which Shi LaBeouf reveals that he beat off to the thought of Cameron Diaz and Lucy Liu nearby in their trailers on set, he also talks about his "hippie" parents, smoking pot with his family, and his nudist mother. He's mentioned some of this before, but one particular sound byte is worth it – Shia says that his mother is the sexiest woman he knows and that if he could, he would marry her.
Paging Freud.
"The nudity was weird, especially when her friends came over," he tells Playboy in their June issue — on sale May 15. "All of them would just be naked around the house. That was strange for me, and it was really bizarre when my friends were there. You've got your little buds over, and Mom's, like, playing naked connect the dots or whatever. She's in the middle of goddess-group time, where it's literally a bunch of naked women tracing auras around one another's bodies with incense and then sitting together and humming for prolonged periods of time."

His mother and father were also open about their drug use, which has given him a liberal attitude toward it as well. "I grew up with a bunch of hippies, and marijuana was always around," he says. "Pot was never looked at as a negative thing. I could smoke it on holidays with my parents, and we were all good. I like pot. It has never been a monster for me. I can put limits on it. But I definitely saw from a very young age what drugs can do to you."

As for his love life — he was with model Isabel Lucas at the time of his car crash — it sounds like he's kinda hung up on… his mom.

"Probably the sexiest woman I know is my mother," he says. "She's an ethereal angel. Nobody looks like that woman. If I could meet my mother and marry her, I would. I would be with my mother now, if she weren't my mother, as sick as that sounds."
[from Star]
You have to keep in mind that Shia is a comedian, so the beating off on set and wanting to marry his mother could be just completely outrageous comments meant to be funny, and taken out of context. It's sometimes hard to pick up on humor through transcribed interviews. But maybe what Shia needs to take away from this is the fact that he should keep his mouth shut. He has a promising career on his horizon, and he doesn't want to be known as only a jokester – even if he is one. We all know that even the most innocent of jokes can go horribly wrong when picked up by news outlets, and though this one is pretty harmless, who knows what will come out of his mouth next.
Shia is shown out with his mom on 5/4/09. Credit: Fame Pictures