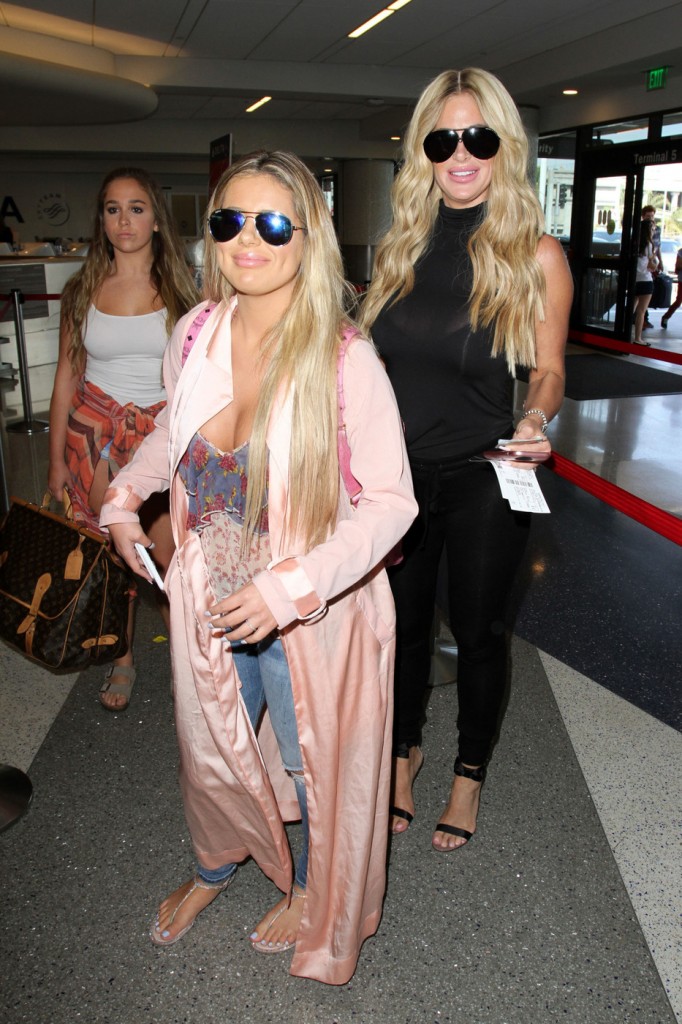 Real Housewives of Atlanta's Kim Zolciak-Biermann and her daughter, Brielle, 19, were spotted at LAX on Tuesday sporting over-inflated lips. Like mother, like daughter, right?
The 38-year-old reality star was in Los Angeles to work on the launch of her new skincare line, Kashmere Kollection. While she was there, she paid a visit to her plastic surgeon, Dr. Garo Kassabian. Being the social media monster that she is, Kim documented the trip on Snapchat. Dr. Kassabian is quite the in-demand plastic surgeon in Beverly Hills. Kim could only get in to see him at 9 p.m. on Friday night. As she states numerous times in the video, it's "only the best, baby" for her. The Daily Mail posted a video of Kim's L.A. Snapchat adventure and it's kind of refreshing to see that her videos are just as dull as those from someone not in the public eye.
Kim didn't reveal exactly what happened at the good doctor's office, but she definitely emerged with noticeably larger lips. Of course, she's no stranger to going under the knife, telling E! News back in May that she's had some plastic surgery, including a tummy tuck and breast augmentation. She also thinks it's okay to not be 100% natural, telling E!:
"I will always nip and tuck if I feel the need to do so, but I'm open about it. I don't care. You only go around one time, and I especially understand that. And life is very short, so there's no reason for me to lie."

"If I chose a life of reality television, which is an open book, so I share with people what I've done. There's no secrets. I want women to feel as beautiful as I feel, and so, with that said, it's not all natural. My boobs aren't natural. I had great boobs until I breastfed Brielle and then they just shriveled up to B raisins. They were horrible. So I must fix them." LOL!"
Kim's 19-year-old daughter also got a lip tune-up while in L.A., visiting cosmetic dermatologist Simon Ourian. Mama Kim is completely on board with this, telling US Magazine, "She bothered me for five years about her lips. She was like, 'I hate my lips, I hate my lips.' So I'm like, then go fix them! You only go around this planet once. If it makes her happy, so be it."
Brielle's lips are the star of many an Instagram selfie. After she got her first round of injections back in November, she posted her full pout with the caption, "My lips are my biggest insecurity and I'm so happy w my results now!" I thought she looked better before she started getting the injections, but that's just me.
At least Brielle has lips that can enhance her duck face selfies and shameless promotional posts for sunglasses and teeth whitening kits. She did take a break from hawking things for a "stuck in Atlanta" traffic selfie.
I look like that when I'm sitting in Atlanta traffic, sans puffed-out lips, of course. The struggle is real, people.
I don't know about you, but I can't stand these crazy, puffy fish lips. That's why God created lip liner. It's easy to overdraw your lips a little and it's way cheaper and far less painful. Don't get me wrong, I'm all for a little nip and tuck, and if I hadn't been so chicken in my 20s, I would have gotten a boob job, but I just can't with these lips.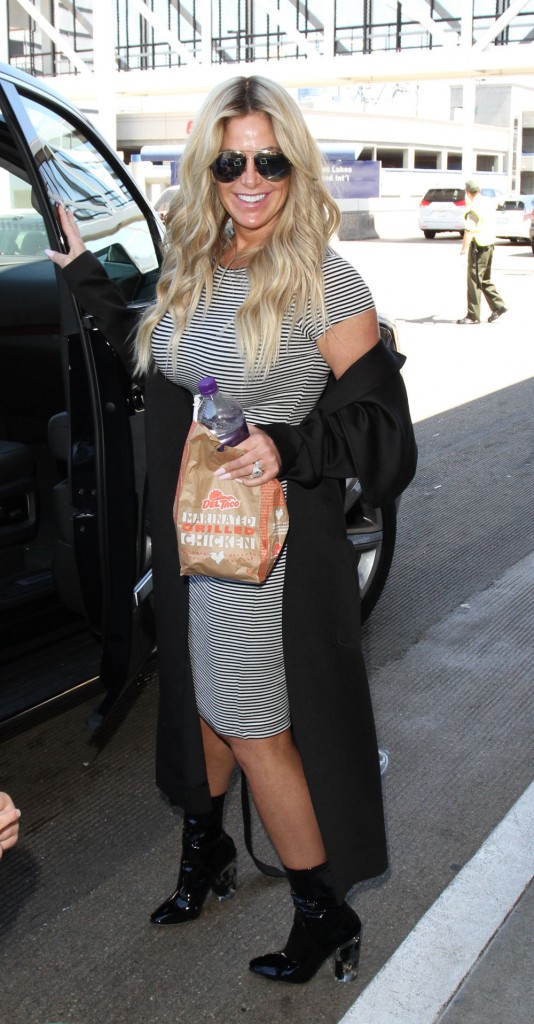 Photo credit: Pacific Coast News, Getty Images, Fame Flynet, WENN.com