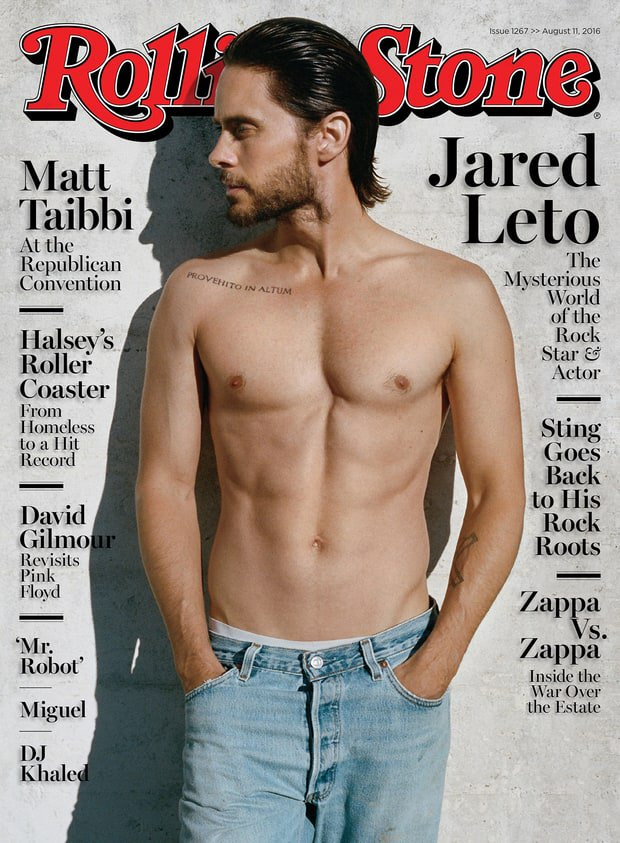 I've been wondering, more and more, if Jared Leto is pissed off because no one really cares about his portrayal of The Joker in Suicide Squad. Leto was cast soon after he won his Oscar, and many thought that Leto would be the stand-out. But in all of the advanced publicity around Suicide Squad, Margot Robbie is the stand-out. People are really excited to see Harley Quinn, not so much Leto's Joker. So, Leto is back to hustling a little bit, which is how he ended up shirtless on the cover of Rolling Stone. Since I don't know much about Leto's life, I found the RS interview pretty interesting. Random notes: he drives a non-descript "GMC Yukon SUV he's owned since 1996." He has an honest-to-God guillotine at his home, which is a former military base. He buys crazy stuff at auctions and he's a really smart investor, making early investments in Nest, Reddit, Uber, Airbnb and Slack. You can read the full RS piece here. Some highlights:
He's vegan-ish: "I'm actually a cheagan, a cheating vegan. I don't eat meat ever. But if someone's mom made a cookie and handed it to me, I'd probably take a bite, or if I'm in Alaska and there's wild salmon out of the river, I'd probably eat it."

The roles he turned down: "There were so many people that didn't understand. There were people in this town who thought it was insane. There were films that I decided not to do because I had tiny little tours, and people would just lose their minds. And some of them turned into the biggest movies ever made."

He used to think he would die young: "It's a pretty common thought, especially for any maniacal narcissist. And if you live a life with some risk, or have seen people die young, it's easier to understand that could be a possibility."

His preparation for Requiem for a Dream. He hung out with actual junkies on the street and "they would shoot up dope and I would shoot up water. People would be uncomfortable if they're all shooting up and you're not. I wasn't sharing a needle. To shoot up anything is intense. That was a long time ago. I wouldn't do that again."

His thoughts on Heath Ledger's performance as The Joker: "Heath did an impeccable, perfect performance as the Joker. It's one of the best performances ever in cinema. I had met Heath before. I didn't know him well, but he was a beautiful person. I think had it only been portrayed by Heath and it was never a comic book, maybe I would have felt that would be inappropriate. But I thought that given the history, it was OK. The good thing about other people having done this is that you know what direction not to head in."

Drugs: "My experience with drugs? I did them, lots of them. A lot of them were really fun. There are just those few that tend to kick you in the ass. I guess at some point, too, there's a decision: Is this going to be my life? I made a choice to pursue other dreams. I guess that's just the kind of f–ked thing about a lot of drugs: The opportunity cost is too high. Some drugs are incredible, but the risk versus reward is out of line. I just saw too many examples of what not to do."

His criminal past: "I was always really fast. I guess there were some undercover cops at one store, and they came out running after us. My friend ran out of steam and kind of slowed down. They grabbed him and threw him to the ground, and I just kept running. There are few greater feelings in the world than running from the police and getting away."

His romantic life: "Even if I was in a relationship or maybe if I was having kids, I don't know if I would share that information publicly… You know what I've learned about women? I know absolutely nothing about women." There are no truths, he suggests, that apply to women as a group. "The older I get, it's just people. I just see people."

He doesn't know if he'll ever marry: "It's just how things are. I don't think there's a definitive decision that I've made."

He might have a kid out there: "You never know. Someone could always come up to a show and give me a little surprise visit. 'Dad?' In a way, that would be kind of f–king beautiful. What an incredible surprise that would be!"
Leto is 44 years old right now, and he tells RS that he feels "old." I kind of like that we don't know much about his personal life these days, and he really does seem enigmatic (although some of it comes across as an affectation). Oh, and he also talks a bit about My So-Called Life, basically saying that it was a "short period in my life" and he never really understood why it was so popular. When RS points out that Jordan Catalano was the "object of desire," Jared seems pleased with that interpretation, saying: "Oh, yeah. It was about time. I'm happy to have taken that, uh, baton or whatever."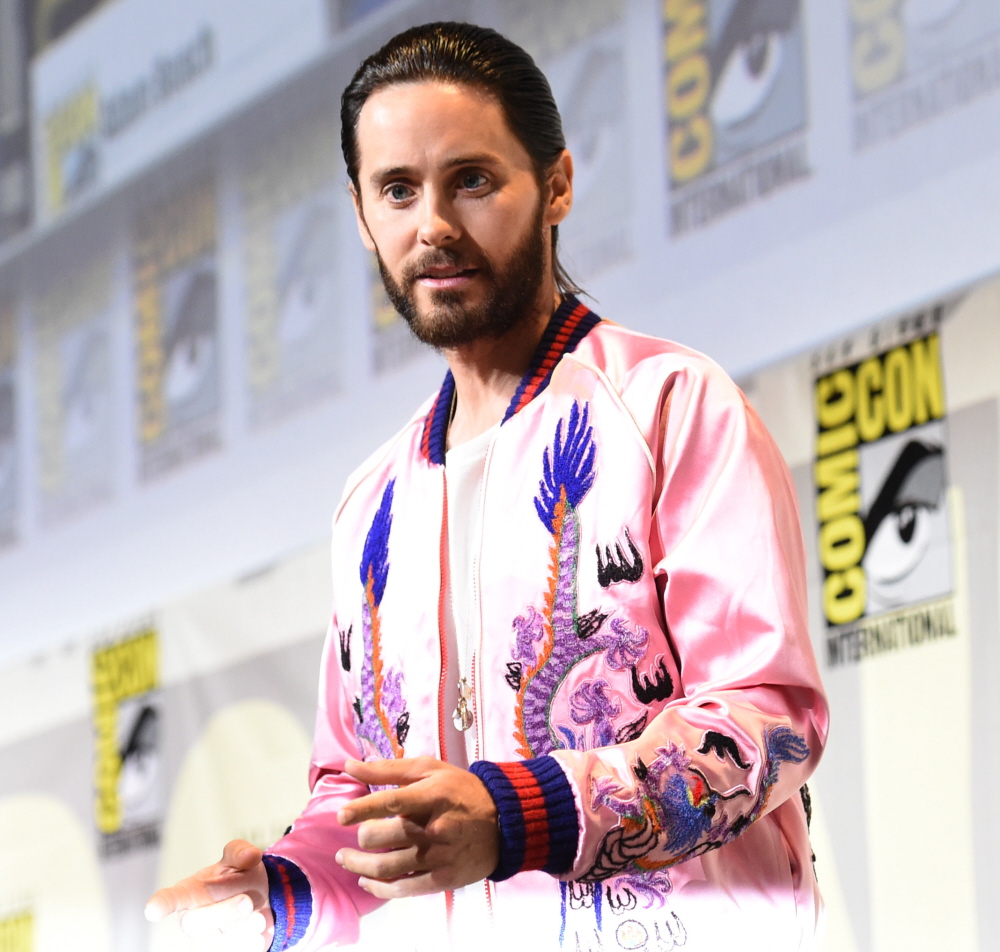 Photos courtesy of Rolling Stone.