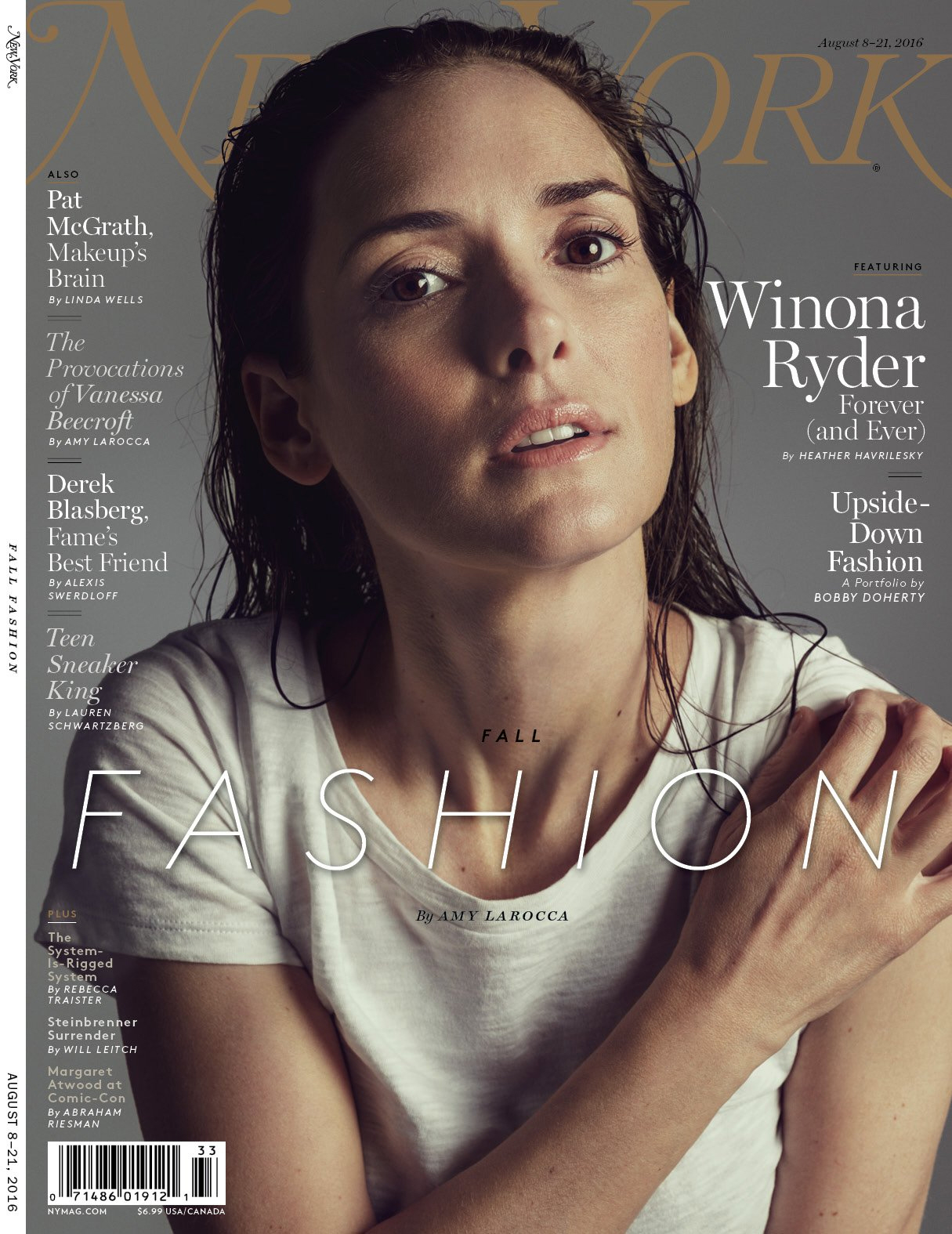 Winona Ryder covers the latest issue of New York Magazine, following what can only be considered a "Winona Revival." Winona got largely great reviews for her role in Stranger Things, which is the latest TV-show obsession. So now Winona, at the age of 44, has another chapter in her career. That's what this NY Mag piece is about, how Winona was always cool before we realized it. That she was the original Manic Pixie Dream Girl, that she destigmatized her own depression and anxiety before those were the celebrity-causes du jour. She was vintage and one-of-a-kind and individual before we knew we wanted that. Winona IS forever. You can read the full piece here. Some highlights:
How society pathologizes women's emotions: "I'm so sick of people shaming women for being sensitive or vulnerable. It's so bizarre to me."

Playing a mother despite not having kids: "I'm getting asked a lot, 'You don't have kids, so how do you know how to act like a mother?' I know nothing could compare, and I haven't had that experience, but when my niece was born, I felt like I would jump in front of a car and die for this little person I didn't even know yet." Ryder pauses, then returns to talking about her character, Joyce Byers, a store clerk with a deadbeat ex who's unraveling from frustration and grief. "I actually felt tremendous compassion for her. I feel like she was one of these people that had dreams [for her life]. But she had kids. And it made me think of all the women that I know who have kids, who when they talk about [anything negative about their lives as mothers], they always say, 'But I love my kids, I wouldn't trade them for the world.' Like they feel guilty for even hinting that they'd want something outside of kids! It's a weird thing."

Sensitive and fragile: "I wish I could unknow this, but there is a perception of me that I'm supersensitive and fragile. And I am supersensitive, and I don't think that that's a bad thing. To do what I do, I have to remain open… There's a line in the show where someone says [of her Stranger Things character], 'She's had anxiety problems in the past.' A lot of people have picked up on that, like, 'Oh, you know, she's crazy.' And I'm like, 'Okay, wait a second, she's struggling.' Two kids, deadbeat dad, working her ass off. Who wouldn't be anxious? Even that word, anxious. It's a bad word. And so like all of these words — it's kind of what I tried to do with Girl, Interrupted, and why I was so invested in that book and trying to get it made [as a movie]. My whole point was, this happens to every girl, almost."

Opening up about her depression & anxiety at an early age: "I remember I did Diane Sawyer, and I talked about my experiences with anxiety and depression when I was that age. And I think by doing that, maybe coupled with my physical size, there's this 'crazy' thing. And I've realized recently it's literally impossible to try to change that story…I've always been super-private and protective of certain experiences and certain friends. I don't regret opening up about what I went through [with depression], because, it sounds really cliché, but I have had women come up to me and say, 'It meant so much to me.' It means so much when you realize that someone was having a really hard time and feeling shame and was trying to hide this whole thing … And even the whole, like, sensitive, fragile thing. I do have those qualities, and I just don't think there's anything wrong with them. There were times when I let it feel too overwhelming and almost, like, shamed, but I had to just get over that."

Her break from Hollywood: "I did get a chance to explore during my 'hiatus.' I was really lucky, because when all you've done is this one thing, you become sort of insecure because this town can be isolating and you don't feel like you're capable of doing other things." She says she got "really into constitutional law for a while and really into linguistics and etymology for a while."

On social media: "I'm not on social media. I don't actually know how to use it."

Spending time in her own head: "I have that weird archivist gene–slash–hoarder gene where I keep everything, like every journal. And I think, Do I even want this to exist? But it is sort of interesting to go back and read them. And then all my books … It's a struggle because it can get — I can overdo it. Between books and then great shows and nowadays you can watch films instantly — I just discovered that same-day-release thing. But I've always been that way. Both of my parents are kind of like that, I don't know. I've always been very nocturnal."
She also tells a confusing story about how a fan – I think? – came up to her when she was with her parents and called her a C-U-Next-Tuesday. Which is bizarre. As for the rest of it, I've never really thought about how Winona was the first one, the original, and all of the Kristen Stewarts and Rooney Maras and Zooey Deschanels and yes, even the Carey Mulligans are all sort of following in Winona's path. Winona is the archetype! I don't think there's anything wrong with being sensitive and fragile either, although I do think that Winona does spend too much time in her own head, which she freely admits.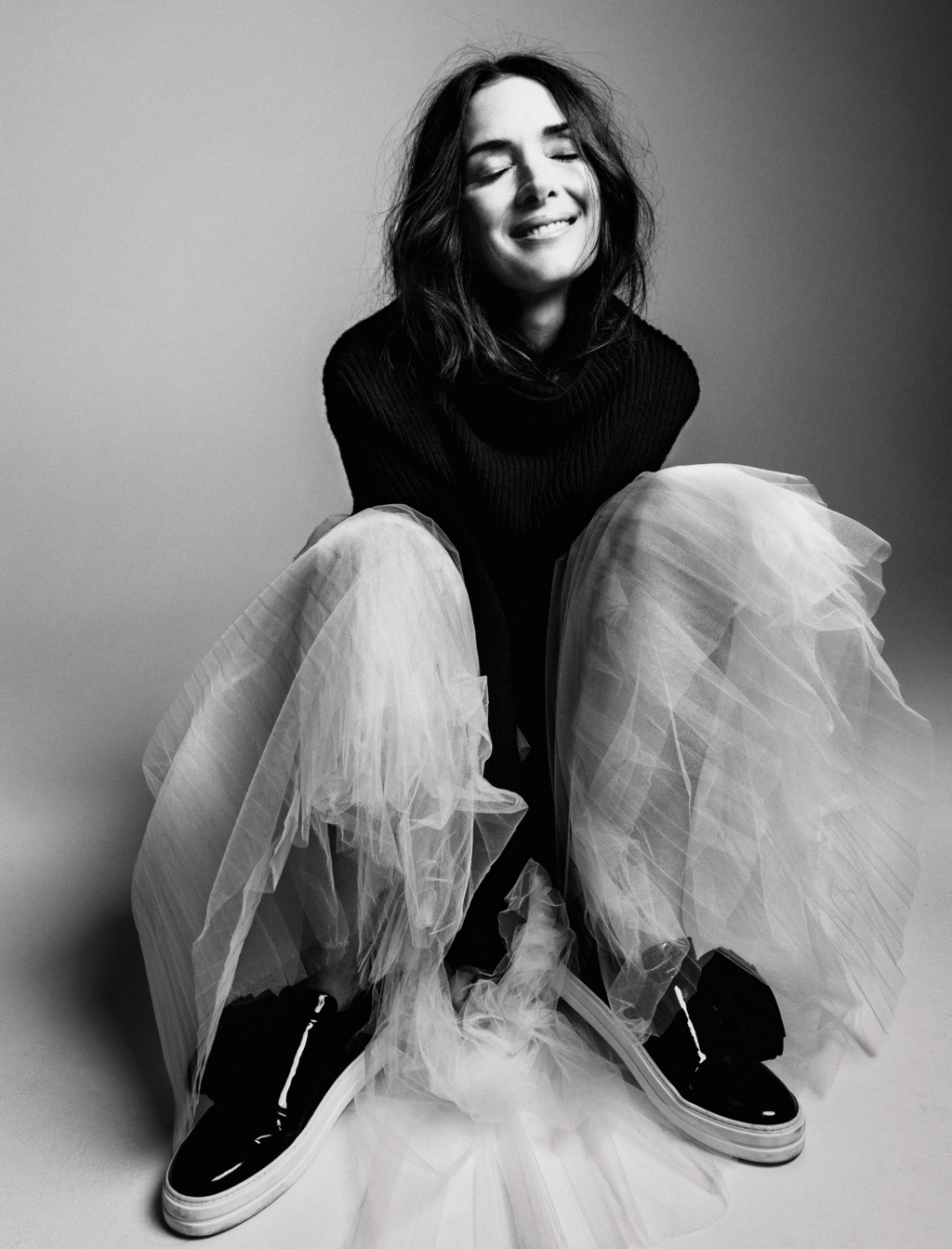 Photos courtesy of Norman Jean Roy/NY Mag.