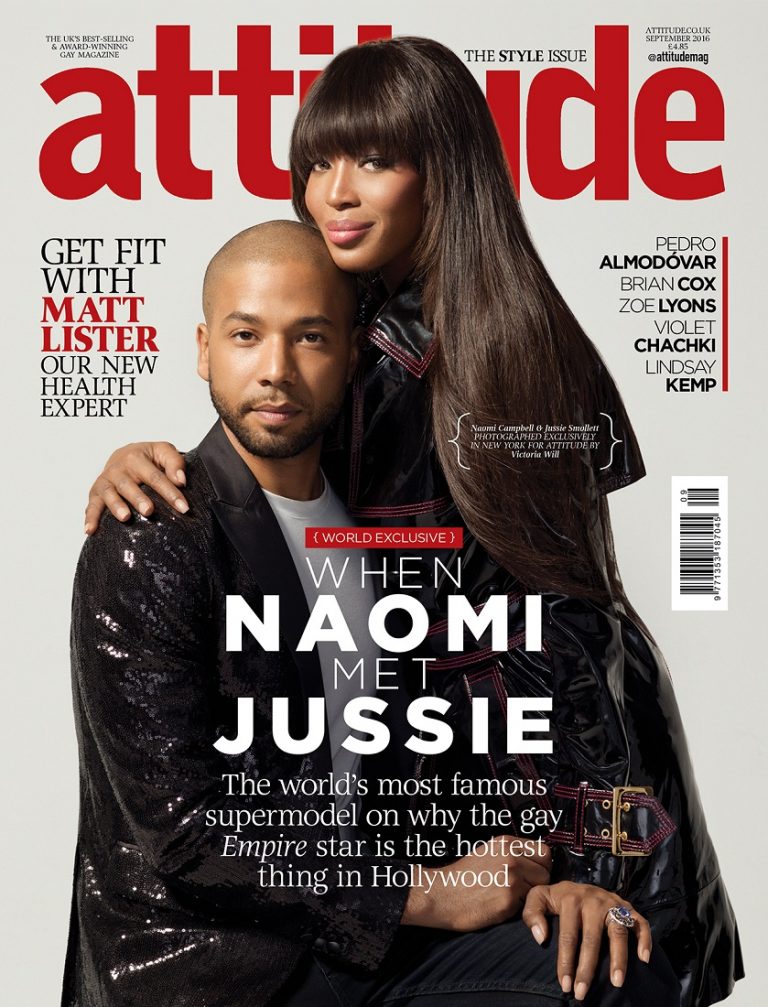 When I think of Naomi Campbell, generosity is not usually the first word that comes to mind. However, that is exactly the way to describe Naomi's recent interview and magazine cover with the amazing Jussie Smollett. Not only does she share the cover of the September issue of Attitude magazine with her Empire co-star, but she is effusive about how much she adores working with him.
She's carved out a dominant niche in the modelling industry.

Yet Naomi Campbell happily shared the spotlight as she graced the cover of Britain's Attitude magazine with her Empire co-star, Jussie Smollett.

Drawing inspiration from the hunky actor's limitless talent- regardless of his sexuality- Naomi enthused: 'I've always said without gay men, I wouldn't be where I am today.'

Draping her arm around the 33-year-old actor signalling their tight bond, she continued: 'I have been surrounded by gay men my entire life, and because I have grown up working in the creative and fashion industries, many of them have become like family to me.'

'Jussie is an unbelievably talented, intelligent, kind and courageous human being and I have enjoyed working alongside him. He has incredible presence and energy' she gushed about Jussie who donned a sequinned blazer for the shoot.

The California native, who takes on the role of Jamal Lyons in the series, also spoke out about the frustrations of keeping his real identity hidden in Hollywood.

'I get tired of the idea of someone telling me what my truth is. I've said from the beginning of my journey: I do not hide who I am. I love who I love.

'No one is going to tell me that somehow that is going to be my disability. I am told so many times that I should not walk truly in my blackness, that I should not walk truly in my sexuality, I should not walk truly in who I am. I say thanks but no thanks, f*** you and goodbye.'
Despite some of her less attractive personal traits, Naomi Campbell is such an amazing model and she makes it look effortless. Knowing just the little I do about Jussie, I agree with Naomi's assessment of him. He continues his advocacy for LGBT and civil rights, which he has been doing since a very young age. In the Attitude article, Jussie says he think coming out helped his career, "I honestly think that me being myself has actually helped my career move forward." He also credit's Frank Ocean's coming out in 2012 because, "he eased the punch for Jamal, therefore easing the punch for me". I really want to hear more from Jussie. The way he frames his confidence, by not letting someone else tell him what his truth is, is wise. When I read his words, I see how I can apply them to my own children in their realities and it makes me especially grateful. Jussie is working on his album for Columbia Records, he just finished filming Marshall – in which he plays Langston Hughes to Chadwick Boseman's Thurgood Marshall – and he's also in Alien: Covenant, out next year.
I absolutely love this picture.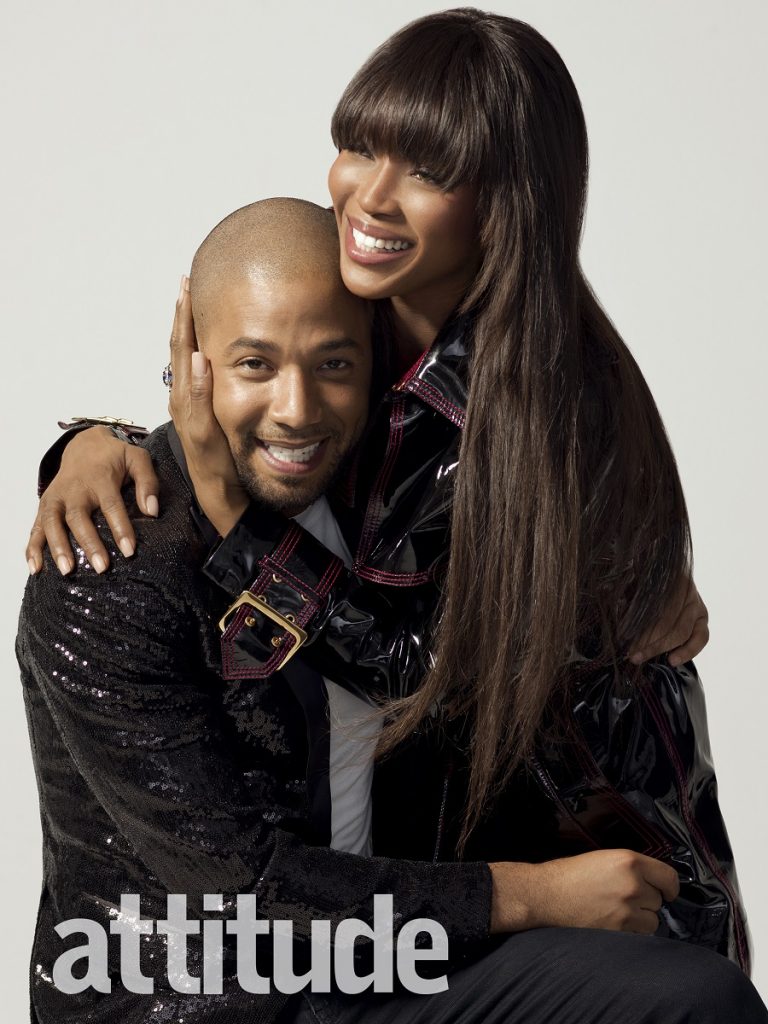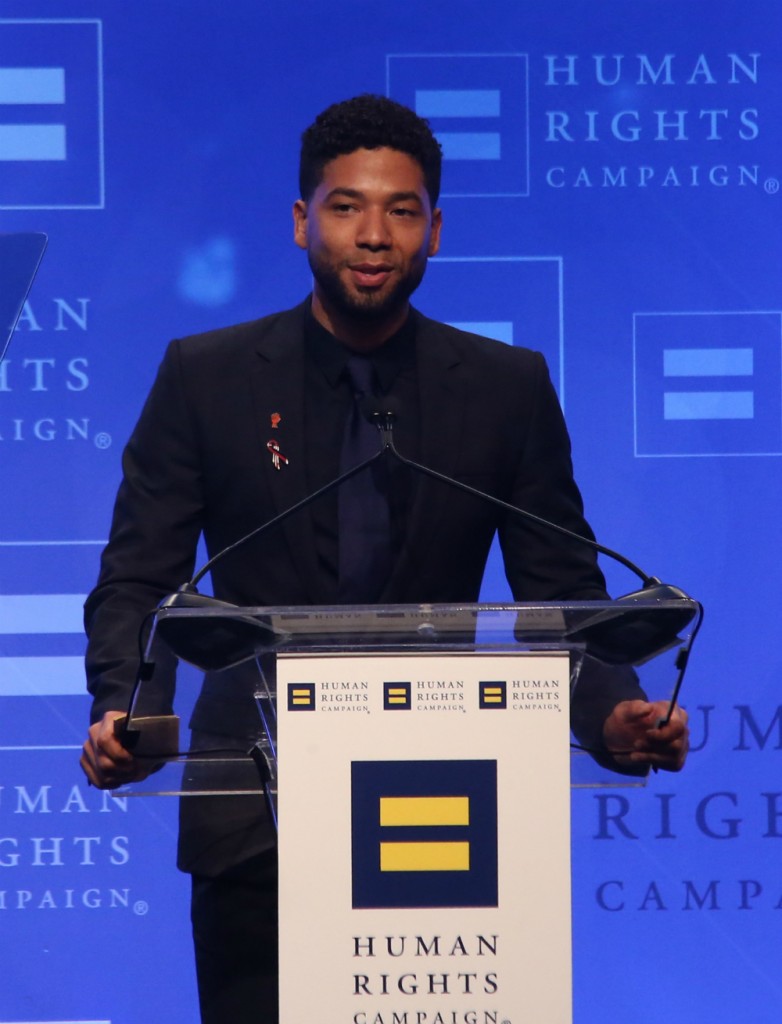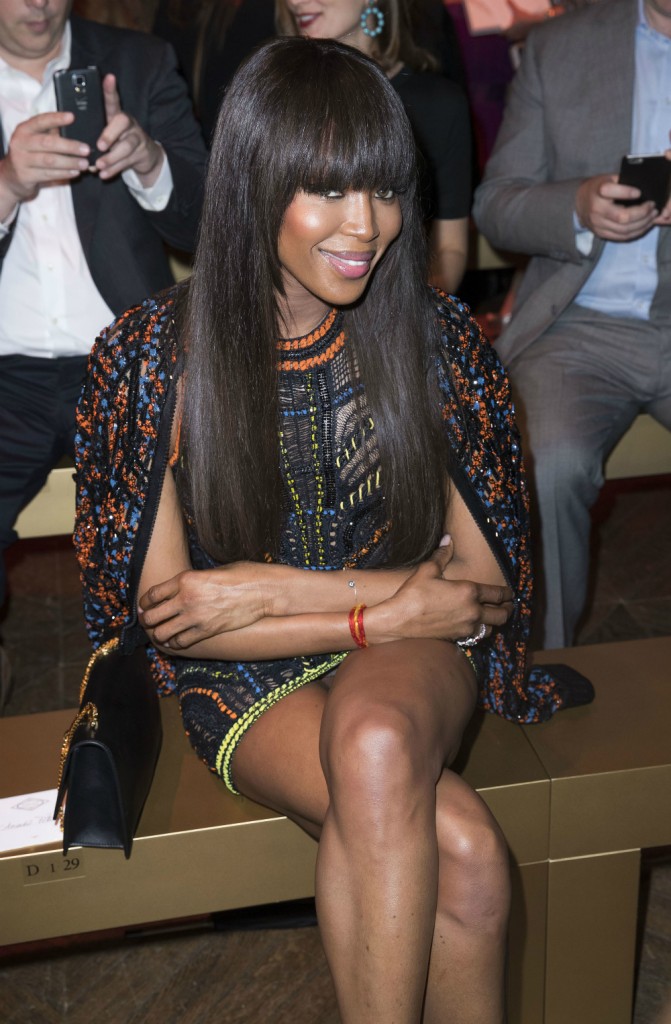 Photo credit: Attitude magazine, WENN and Fame/Flynet Photos