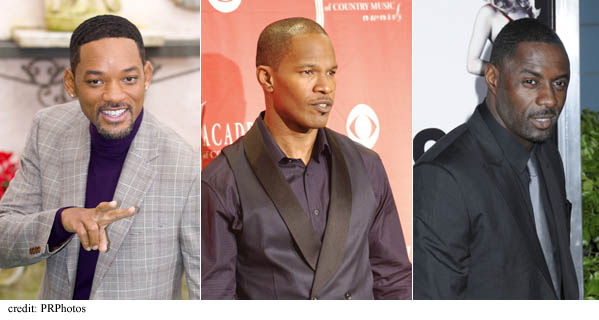 Although Daniel Craig doesn't seem eager to vacate 007's shoes, there has been a rash of rumors about who the next James Bond will be. Apparently, there's a growing cry for the next Bond to be black – maybe it's The Obama Factor? Obama wouldn't be the worst James Bond, actually, so that's my first choice.
Will Smith is chiming in about Bond casting – he thinks he's up against Jamie Foxx and Puff Daddy for the role. Lord, I hope he's joking. Will thinks he has an edge, because he can "guarantee the box office". He's got a point – currently, Will is the reigning box office champion, but it doesn't seem like the James Bond franchise is really hurting. The past two Daniel Craig-helmed Bond movies took in something like a billion dollars worldwide. Extra TV talking to both Will Smith and Jamie Foxx about the casting:
Actor Will Smith is dishing to "Extra" about who he thinks should play the first black James Bond on the big screen.

"Extra" caught up with the megastar last night, as he was presented with the Simon Wiesenthal Center's Humanitarian Award. When an "Extra" friend asked Will who would make a better black James Bond — himself, P. Diddy, or Jamie Foxx — Smith responded, "Puff probably lives the most like James Bond… Jamie Foxx got the swag for James Bond. He can sing too, so he can add a new element to Bond. Wooing the ladies… and I think I can guarantee the box office!"

Jamie Foxx wants fans to know that he is definitely in the running! He told our Mario Lopez that he wouldn't mind donning the 007 tux. "Might be kind of cool. What would my drink be? Not vodka. I'd have to drink Hennessy or something like that. Little yak attack for James Biz-ond!"

Smith is no stranger to playing secret agents on the big screen. He played Agent J in two "Men in Black" blockbusters — and hopes to return for a third! "We've had a couple of meetings. We're looking at it," Smith says of a potential third round of the hit franchise.

"The team has committed, so we have to do it service with the creative part of it. Everyone is on board, so we will see what happens."

"Extra" also caught up with Jada Pinkett-Smith at the ceremony, who brushed off rumors that Tom Cruise and Katie Holmes are planning on sending little Suri to Will and Jada's new Los Angeles area school. Pinkett-Smith tells "Extra," "No, Suri is not going to the school. That's just rumors."
[From Extra TV]
Perhaps this all started because Idris Elba, that cool drink of water from The Wire, The Office and that horrible-looking "what hath God wrought?" Beyonce film Obsessed, started talking about how he would make a pretty decent James Bond. Yes! Okay, President Obama is my first choice for Bond, Idris Elba is my second choice. Idris told the Guardian (quotes via The Press Association): "I can run around, flirt with ladies and drink. Plus I'm English… Who wouldn't like to play Bond? Do I think it will happen? No, but I've got what it takes to do it." Amen to that.