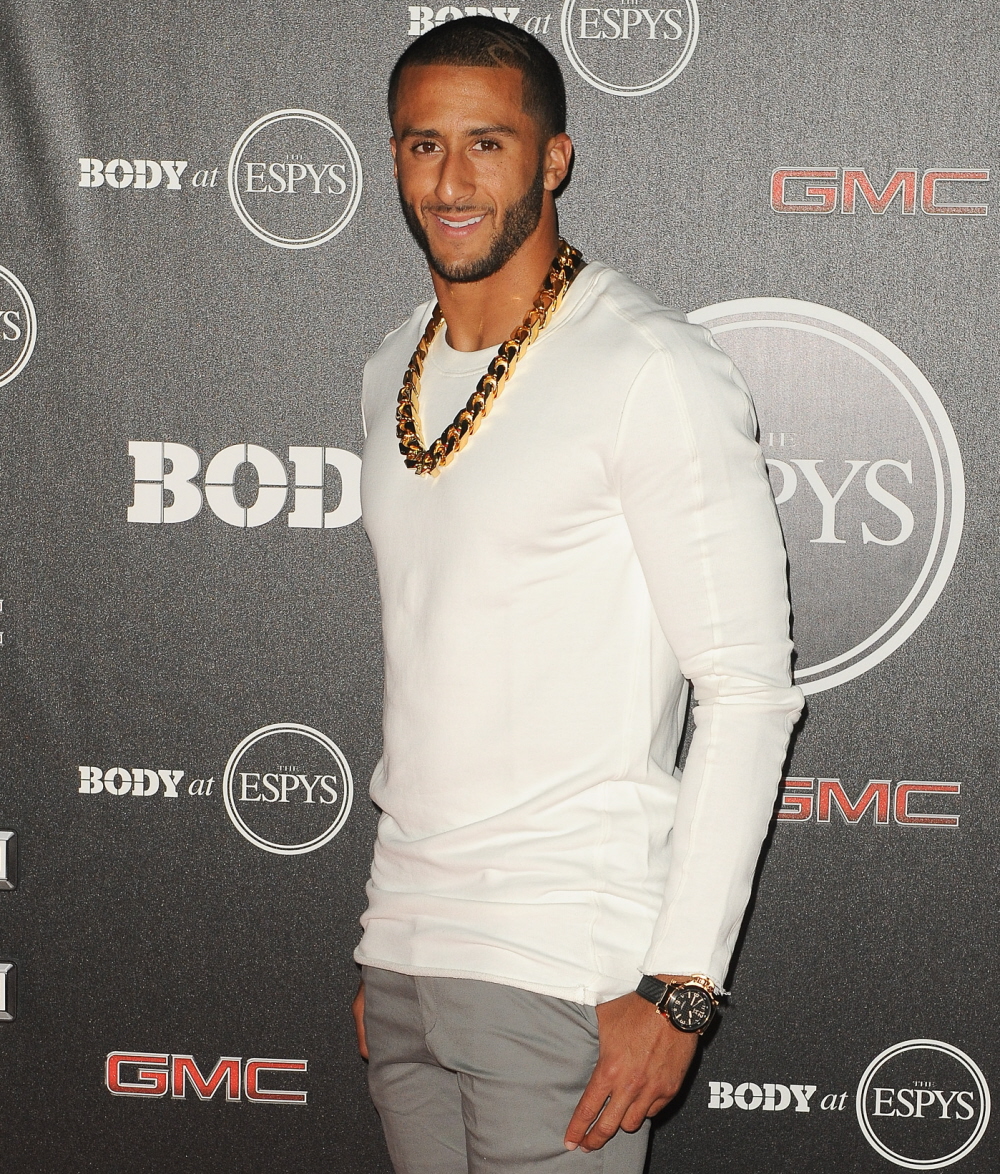 I never would have predicted that in the summer of 2016, we would have two major stories about African-American athletes and their relationships with the National Anthem. The first athlete was Gabby Douglas, who was widely slammed and criticized for merely standing at attention (as opposed to standing with her hand over her heart) while the National Anthem played during the Olympics. The Gabby Douglas criticism was ridiculous, because she was so obviously not "disrespecting" anyone or anything. But this new story is different. San Francisco 49er Colin Kaepernick sat down for the anthem on Friday night, and he did on purpose, for a political reason. He told NFL.com why he sat out the anthem:
"I am not going to stand up to show pride in a flag for a country that oppresses black people and people of color," Kaepernick told NFL Media in an exclusive interview after the game. "To me, this is bigger than football and it would be selfish on my part to look the other way. There are bodies in the street and people getting paid leave and getting away with murder."

The 49ers issued a statement about Kaepernick's decision: "The national anthem is and always will be a special part of the pre-game ceremony. It is an opportunity to honor our country and reflect on the great liberties we are afforded as its citizens. In respecting such American principles as freedom of religion and freedom of expression, we recognize the right of an individual to choose and participate, or not, in our celebration of the national anthem."

Niners coach Chip Kelly told reporters Saturday that Kaepernick's decision not to stand during the national anthem is "his right as a citizen" and said "it's not my right to tell him not to do something."

The NFL also released a statement, obtained by NFL Media Insider Ian Rapoport: "Players are encouraged but not required to stand during the playing of the national anthem."
I'm actually a little bit shocked that the NFL is officially so "whatever" about this. I expected more of an "official" backlash against Kaepernick, but I guess he's just going to get it everywhere else. Personally, I think it's disrespectful to sit during the anthem and I think that's the wrong use of one's celebrity to make a political statement. The point of America – and the point of being an American – is that we still have work to do, that we will never be done, that the struggle continues, and the anthem is a moment to show pride in that struggle (for me, at least). Then again, Kaepernick is obviously politically active (dare I say "woke"), and sitting out the anthem has raised his profile considerably. His statement got widespread coverage and not just in sports media. And that was the point.
Photos courtesy of Getty, WENN.